Sharing is Caring:



Yoga, yoga, yoga…that is all I can think about these days as my teaching day is Saturday!! However there have been many treats lately. I think these treats help to keep me going some days. Joining in with Becky today!!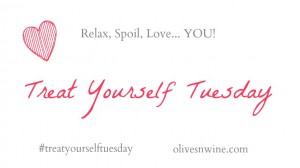 First treat, I pre-ordered Kelly Clarkson's new CD. I don't even know if I have heard any of the songs on this new CD, but I needed a new CD for my car and I love Kelly Clarkson so hopefully it will not disappoint. The CD is released today so maybe there will be a package at my door later this week 🙂
Thursday I went to Trader Joes because my office is next door to it. I think this has caused me to go there more frequently…anyway I picked up a chocolate bar filled with cookie butter. I always see these near the check out and usually resist, but Thursday I was like, why not?!? It was delicious by the way.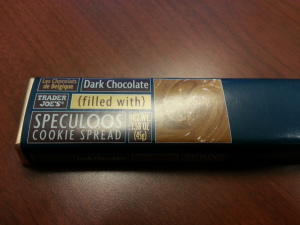 For Valentine's Day, Brian got me a gift certificate for a manicure and pedicure, which was nice. I don't usually spend money on manicures and pedicures, because I bite my nails and my feet aren't pretty, but I guess the pedicure helps that. Friday night after work I walked over to this nail and spa place and was happy they were able to take me. This was pedicure #2 and manicure #3 in my life! Yep I can still count them together on one hand. It did feel nice to have my cuticles cleaned up though and now that they are all nice and done, I am not biting them (for now). I especially enjoyed the hot stone massage on my legs during the pedicure and the wax on my hands during the manicure. The woman who did my nails even gave me a neck and shoulder massage while my nails were drying. This place is awesome!! Too bad I will be moving this month….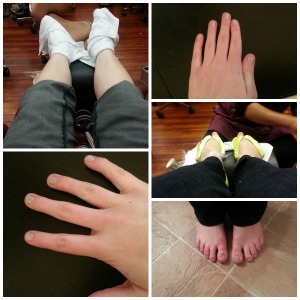 On Saturday I headed to Target and couldn't resist that Easter section. I know it is early but I only buy peanut butter m & m's in egg form. They just taste better that way, even though the bag is only like half full…they were on sale too. I may have already dug into them, but I am portioning them out. I will probably buy one more bag before Easter since that is still a month away. A few years ago, I made Easter eggs out of homemade rice krispies with these m & m's inside. It was a ton of work and not as pretty as it looked on Pinterest, go figure. Need to find a new fun recipe for this year. I will have time to bake over Easter since I have an Easter break for yoga and things won't be as crazy.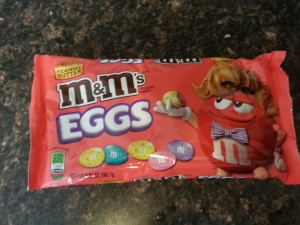 On Sunday I treated myself to seeing the Philadelphia Flower Show, which I already talked about yesterday in more detail. It was cool to see. Pricey but for a one time thing but a good theme, so it was enjoyable.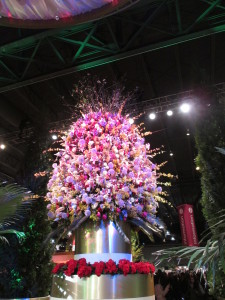 After all the walking I did in the morning, I was exhausted by the time I got home and it was only 3pm. I blame the fact that it was cloudy and snowing/hailing outside. So I needed an energy boost. I don't drink coffee or things with caffeine so I made a deep dish cookie and had some tea to warm up. My deep dish cookie turned out better than my last one and I cut out half of the sugar so I could feel like it was slightly better for me 😉 Good sugar boost though to keep me going as I had lots of yoga work to do.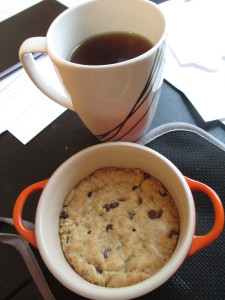 Do you prefer sugar or caffeine?
Do you enjoy getting manicures and pedicures?