It has been a good 5 months since I have done a Treat Yourself Tuesday post. I have definitely been treating myself during those months. I seem to be buying more clothes than I used to, but considering I would go months without buying clothes and my current ones are getting worn, it was needed. I spent a few hours at the mall on Memorial Day. I wasn't looking for anything particular, though I am in need of a new purse, but rather we were enjoying browsing the sales. Of course I didn't find a purse, because when I am searching for something specific, I never find it, but I did find a few other things.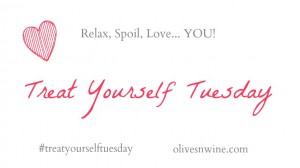 For one, I finally bought myself a lunch bag. I actually can't recall the last time I had a lunch box of any kind. From elementary school to high school, I would just bring my lunch in a paper bag. In fact, I so believed in saving the environment, I would use that same paper bag for 5 days and throw it out each Friday. That helped me to feel less wasteful. In college when I lived off campus junior year, I would bring my lunch in a paper bag as well. It was easier to squish a paper bag lunch in my backpack than a lunch box.
Since I started working, I have either used a plastic bag, a Lululemon bag or Athleta bag. Even those bags get worn overtime though and I thought it was time to upgrade to a real lunch bag that was big enough to hold my salad container and my water bottle. Thank you Memorial day sales this was about 70% off. I can't wait to use it daily.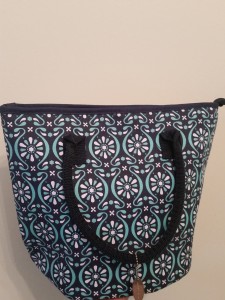 With getting engaged and friends getting engaged and married, I have more parties (baby showers, bridal showers, weddings…) to attend than ever before. Actually compared to some, I really don't have that many, but I don't like to wear the same dress to EVERY event. I also have my own engagement photos and bridal shower one day soon, which means more dresses. I pretty much only buy dresses to wear to events, but it is nice to have a couple summery dresses for hot days and also a dress for a pool cover up.
I got one dress from Express. Don't mind the dressing room photo.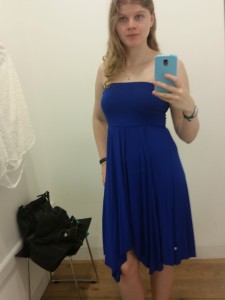 I also found a $6 dress from this British store Primark that is fairly new to the mall. Their stuff is crazy cheap. I think of Forever 21 when I go to the store.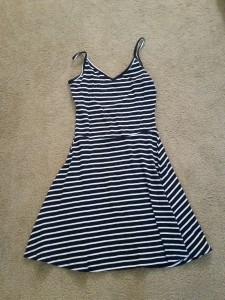 In addition to those treats, there was a cookie that has no picture because it was eaten immediately. Mrs. Fields is the best! Another treat has been the sunshine this past weekend. May has been so rainy and even though it rained Sunday evening, Monday actually turned out to be pretty nice. I love the summer temperatures and wearing shorts again.
Do you enjoy summer dresses?