Sharing is Caring:



I haven't done a Thinking out loud post since November!! Time for that to change and my first thinking out loud post for the new year. YAY!! Thank you Amanda for hosting!!

1) Yesterday my high school closed because it was cold. They were closed last year on Jan 6 & 7, 2014 because it was cold. This WAS a school that NEVER closed when I went there. Then a snow storm in Feb 2011 ruined their record when they closed for a snow day for the first time in 37 years. In 2014, they closed for 4 days in January due to the temperature with wind chill being -40 degrees. Yesterday was only -20 with wind chill. I mean…come on…they seem to be getting soft. Kids seem to have it easy these days somehow…meanwhile I walked a mile to high school (my sister was always driven, baby of the family), sometimes me and my friend had to "ice skate" half the way while carrying those heavy backpacks too. Or that time in my senior year when the high school decided to have a late start but the snow storm came later and I walked to school in the snow storm, had random neighbors ask me where I was going and trying to tell me the school was closed, but it wasn't. I remember I had a Chemistry AP test that day and we had to turn in our binders and mine was soaked from the snow (sorry I had to walk…).
2) Luckily the weather in Philadelphia was 20 degrees warmer than Chicago, so basically it was 0 degrees with wind chill. Good thing I moved to a slightly warmer place. People complained it was cold all day long. Normally I'd be right there with them, but I just keep thinking how it could be worse/colder. I will put up with the cold weather for now. Those walks to high school made me tougher right?!
3) Tuesday night I had a wonderful work dinner. Dinners are fun as we get to know each other on a more personal level. I love talking about the blogs I read, cooking, baking, yoga, and exercise as well as the changes in my life this past year leading to where I am today. Once we got to ordering and eating, there was some business talk, but also lots of stories leading from one thing to another about our lives. Then I was slightly forced into dessert after a delicious steak, salad and some fries I might add.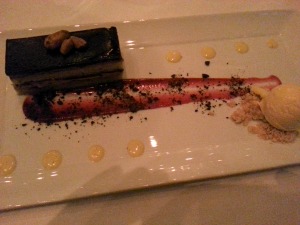 4) I have been so good with my eating since the new year began, but one night won't hurt. I am trying to eat more protein and less snack foods/carbs. However after eating most of that rich chocolate peanut butter dessert, I just didn't feel that great coming home. I think I was dehydrated too though. Trying to drink more water too. I took a cab home, per my boss, and I would have been waiting for the train for nearly an hour anyway. However the cab driver got lost because he did not seem to know many towns outside of the city. He missed the turn he should have taken and then pulled into a gas station, finally asking me for my address and typing it into his GPS. Why he didn't do that in the first place, I have no idea…but I eventually made it home, took a hot shower to warm up and went to bed.
5) I have been enjoying some blogilates workouts in my apartment at 5am some mornings and also some HIIT workouts from bloggers (thanks 🙂 ). However I am so limited and workouts are tough when you live on floor 2 and your whole apartment is carpeted. I feel like my feet aren't steady with the carpet so I really feel limited. It has only been 1.5 months without my gym membership. I don't know how I will survive till May (when yoga teacher training finishes).
6) Speaking of yoga teacher training. I love yoga and I love everything I am learning, but quickly discovered that my body likes all the variety. I can't just do yoga. Yes there are different intensities but I need my weight lifting and I miss zumba for a bit of cardio and really really miss having a swimming pool for when my muscles are a bit sore. I feel so tight in my hips and so stiff in my body. I walk nearly 10K or more steps a day which is good and I have added some weight lifting with dumbbells in my apartment. I hope if I continue to do more weight lifting exercises that my body will be good, but I also need more stretching and foam rolling time. Those are my ideas for now.
7) With yoga, I was feeling really well balanced in half moon pose last night. I also love my new top from Fabletics 🙂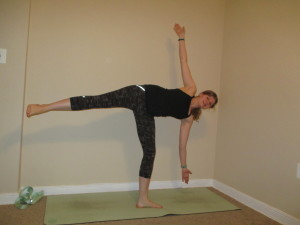 and still working on my headstand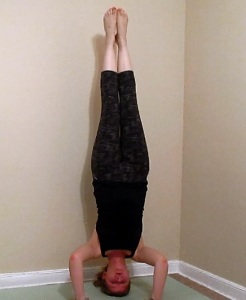 8)  In other news, I finally got a ginger grater!! My mom got it for me for Christmas but the package it was in was somehow delivered but I never received it. We have had 1 other case of this at my apartment so far. I checked with all the people in my building and they said they didn't see it. I honestly had nearly a package a day for a week or so from my own ordering of presents and my parent's packages, so they probably couldn't keep track, but I am pretty sure they wouldn't steal my ginger grater even if they had opened it. Williams-Sonoma was kind enough to send a replacement package and I was happy that it arrived yesterday.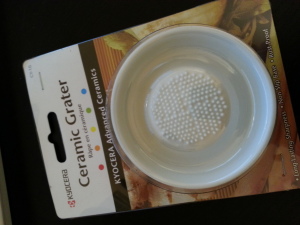 I am excited to make stir fry again, but this time with fresh ginger. I made pork stir fry last weekend and it turned out really well after marinating the meat for a couple hours beforehand.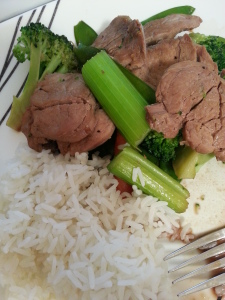 That's all I have for now. I hope everyone has a wonderful Thursday. These 5 day work weeks seem longer after the holidays, but it is nice to be back in somewhat of a routine again 😀




Sharing is Caring: