Sharing is Caring:



Happy Monday!! I am happy this is another holiday week even though I only get New Year's day off and have to go back to work Friday, it will be nice to have that mid week break. I don't really have any New Year's plans other than a yoga class on New Year's day and some relaxing with a good book.
I did have a wonderful almost 5 day weekend for Christmas though. It was so nice to have time to celebrate Christmas, even if it didn't really feel like Christmas with the warm weather and I didn't go home. I had a great Christmas with Brian's family. His parents even got me an essential oils starter kit and diffuser. I have been looking at essential oils a bit in the last few months so it will be great to try them out, learn more about them and grow my collection in time.
I really enjoyed sleeping in the past few days. It was so nice to not have to set an alarm and Friday it finally decided to be sunny so I woke up to sunlight!! I am happy the days are finally getting longer. December has seriously been the gloomiest month, but it hasn't been too cold which is nice. Weird to think about this time last year and the crazy snow and cold that was just beginning. I have no complaints about this recent weather. Yes I do prefer a white Christmas because that just makes it feel like Christmas and the holidays but since I was driving for a few hours Christmas Eve, I was fine with just rain and then drove home Friday in the wonderful sunshine. Sunny drives make the drive seem sooo much faster!
Getting to the rest of my actual weekend. I got back Friday afternoon and had a couple hours to find places for my new things and unpack. Then I headed to yoga, where I was the adjustee for a fellow teacher trainer. She adjusted me in almost every pose throughout the class. We each have to be an adjuster twice. One time is with a fellow trainee and the next time is with a whole class where we adjust people we don't know. It is definitely weird getting used to lightly touching strangers to adjust them into poses. I have been practicing my savasana adjustments on Brian lately. Those adjustments are the best as they are like short neck massages. I find myself much more relaxed when I get one at the end of class. I never realize how tense I am until the teacher comes by to adjust me. I felt at the end of the class that I got a really good workout in. There were also some surprisingly tough poses thrown in Friday's class. I started feeling the soreness kick in from the class by the time Saturday evening hit.
After yoga on Friday, the rest of my night was pretty laid back. I headed to bed pretty early for a weekend night, but it was nice to be back in my own bed and I also had my lavender oil diffusing as I went to sleep.
Saturday I did not want to leave my comfy bed. I got a good 9 hours of sleep which was so nice. Eventually I got up and made some 3 ingredient protein pancakes (banana, egg, protein powder) for breakfast. Then I was super productive. I did laundry and cleaned up the apartment and finally got to vacuuming. There is so much space in the living room again after clearing away some boxes from the numerous packages. Then I went for a walk to drop off a package and pick up some photos I printed. I was actually sweating in my light jacket, it was so warm and sunny outside. I decided to wear just a sweatshirt later as I headed out to Wegmans to eat lunch (since I had no food at home) and then grocery shopped.
When I got back home, I quickly put away the groceries and decided to take advantage of the 50 degree weather and walked to the park with my yoga book. The grass was still really wet from all our recent rain, so I found some concrete to sit on next to the grass and did some of my yoga homework and some yoga in the mix too! I also had some fun with plank jacks and push ups. A short little workout. I had tons of energy after sitting so much the past couple of days. I got so warm, I was hanging out in my short sleeve shirt in December!! Again no complaints! Walking outside and not freezing makes walks so much better. There were so many kids at the playground too.
After a little over an hour at the park, I headed back to my apartment and did some food prep and decided on my dinner. I then worked on my blog and watched Gilmore Girls on Netflix.
Sunday morning I had to set an alarm again…boo. I had to wake up at 6:30 so that I could be ready in time for the 7:50 am train to the city to head to a yoga class with one of my teachers. The class went well and I made it in time for the next train back home. I got off a stop before mine and walked around a bit. I was looking at apartments online the other night seeing as I have to move in 3 months, so I walked around the other town to see what apartments had signs for rent and such. It was another beautiful day even though it was a bit drizzly in the morning. Still pretty warm so walking around was perfect. I also stopped in the grocery store on my walk back to get some cilantro because I really wanted to make fresh salsa and had everything except cilantro. I was laughing at myself as I was walking home with a yoga bag over my shoulder and carrying a bag of cilantro. That must have looked strange lol. I was definitely ready for lunch when I got back after all that walking. I hit 10K steps before noon!!
I made my fresh salsa to go with my lunch, ate lunch and then did more food prep and cleaning. I think I live in the kitchen when I am home, but that's ok.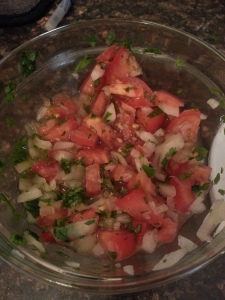 Then I was able to spend some time writing and relaxing before heading out to the movies. I have never been one to go to the movies alone. I just think it is so lonely, but I have heard of people going to the movies alone. When I saw that "Into the Woods" was playing at the theater around the corner from my apartment, I couldn't pass it up. I headed to the 4pm show and enjoyed the movie. Brian probably would have hated all the singing anyway 😉 but I loved it. It was definitely different from what I expected and I even thought it was over and then it wasn't during it. I was glad it was not a predictable ending.
When I got back from the movie it was time for dinner. I loved that I was able to prep so much food this weekend as I whipped up a delicious dinner with lots of veggies. Then spent the rest of the evening watching tv and reading.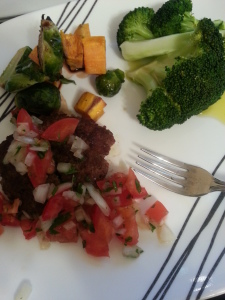 It was great to have so much down time this weekend. Now back to the short work week. Thanks Katie for hosting!!
Hope you all have a great day!
Do you ever go to the movies alone?
Were you able to relax after Christmas?




Sharing is Caring: