Sharing is Caring:



I can't believe I just finished weekend 5 of 13 of yoga teacher training. Yoga teacher training certainly keeps me busy which is nice. I know I never did a recap of weekend 4 which was last week, so lets catch up a bit. Last weekend I had unexpected plans come up as I had to attend a funeral for my boyfriend's grandma, so I missed Friday's teacher training and the beginning of Saturday's but made it just in time for our anatomy presentation. However you can probably imagine my head was just not in it after a bit of an emotional 24 hours. I made it through the 4 hours of learning about bones. I had no prior anatomy experience so everything was completely new to me. Luckily I woke up on Sunday feeling more in my normal routine getting some chores done and then we had anatomy round 2 about muscles. I was able to follow along with that more since my head was into it and we had a book we had purchased about muscles. Then I had 5 days to learn anatomy for our test Friday. Now that we are all caught up on the previous weekend, this last weekend began with the anatomy test.
Well actually it began with me trying to learn a new bus route to the yoga studio since my office moved. Lets just say I planned to take one bus half the way but instead it ended up being hop on one bus for 2 blocks, walk a block, hop on another bus for 8 blocks and then walked 7-8 blocks to the studio. Mostly I just didn't want to be late since we had the test. The best thing is I have a monthly train pass which works on the buses otherwise not even sure what that would cost. Maybe I can figure out a smoother route in January, but if not, I guess I could take the first bus 3 blocks and then hop on a different bus that goes a little farther down the street.
While walking to the studio, I ran into one of my fellow yogis and since I was about an hour early, she showed me a coffee/tea place near the studio and I decided to get some mint tea while we quizzed each other on anatomy. We all had to learn this anatomy over the course of a week and did not even know what to expect on the test except that we weren't expected to know every little bone/muscle in the body, but instead to relate it to the yoga poses. It was still like going into a test blind so you weren't sure if you studied the right stuff or overstudied or what.
Fast forward through the test which was just over 1 hour long. I actually was pretty much done in 30 minutes and then I read all my answers again and again until time was up. I think I thought of 1 or 2 more things when re reading, but felt I had my best answers first. Then we had a 10 minute break where we all discussed the test while snacking and basically it seems like everyone did not expect what the test was like, so as long as I got around the average and some partial credit to pass I will be happy. I can say that I know a lot more anatomy than I did and I did enjoy learning about it. I have shoulder bursitis in my right shoulder which I was diagnosed with by a chiropractor/physical therapist in summer 2012 after it had been bothering me for about 5 years (all of this was prior to my yoga practicing), so it was very interesting learning specifically about the rotator cuff and how it can be so prone to injury if you aren't holding downdog correctly. This leads into later in the evening as we were reviewing inclined asanas. Downdog is an inclined asana and we were holding the pose and one of my teachers came over to adjust my arms as she usually does and they just don't go that way. When I mentioned the rotation straining my wrist she noticed my bones in my arm more closely and said they were more curved so I really can't move my arms the way that is typically described in downdog. Instead she suggested I widen my hands to get into a better position.
I feel like downdog is a pose that beginner yogis start with and know, but what they don't know is how challenging that pose can be. In the last year I have learned so much about downdog and kept thinking, wow I can get deeper, but now in teacher training I realize my "getting deeper" was actually not beneficial because my belly wasn't pulled up, my wrists were being strained, etc. After my teacher realized the shape of my bones, I was a good demonstration for the class to show that not every pose works for every body. I showed my hands at hip width and then wider. I heard my fellow trainees say "wow" as they noticed the difference. I am hoping to have one of my trainees take a picture sometime so I can actually see this difference because I can't see my own shoulders when I am looking at the ground in downdog. I love that this training has given me so much insight to my own body in addition to all the knowledge about yoga and anatomy.
Saturday morning I did my grocery shopping and had fun rolling on the floor and doing some yoga. It is so nice to feel back in a routine and relieved from studying anatomy.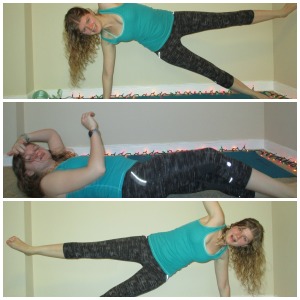 I also had an extra 45 minutes at home before heading to yoga teacher training because I didn't have to commute to the city. We had a workshop at the studio I usually head to about a 15-20 minute drive. It was so wonderful to have extra relaxing time and not feel rushed to get to the train.
Saturday's workshop was on Ayurveda yoga. I did not know what this was about at all until the workshop but I have to say I loved it. Ayurveda translates to "wisdom of life." You can read about it online and take quizzes to find out what Dosha (Vata, Pitta or Kapha) you are. You learn about which one is imbalanced in your body and how to get yourself back in balance (to your birth Dosha). Here is a simple explanation about what a Dosha is. When we took the quiz at the end, I got Vata which made perfect sense to me. Pitta came in a close second.
After the workshop, we headed to one of my teacher's houses and did some Ayurveda cooking. I will go more into this on Wednesday to share the food pics, but it turned out really good, despite my being somewhat of a picky eater. Then I got home before 8pm, which was AMAZING!! I usually don't get home until after 9pm on Saturday teaching training days as we have to wait about 45 minutes for the train. Getting home earlier allowed me to have some time to wind down, chat on Skype with my sister and start some chicken in the crockpot for overnight. Quite productive and in bed before 10.
Sunday morning was time for more cleaning up around the apartment and writing out some Christmas cards to mail. Hopefully some presents I ordered online will arrive today and then I need to ship those out next weekend. It was a relaxing morning as I watched The Santa Clause and got some writing and blogging done which I have missed over the last week and a bit.
Then it was time to head out for teacher training. We changed up the schedule and started with a short yoga practice where my teacher emphasized rotations in poses (basically the answers to our anatomy test). The practice itself was a bit difficult with all the chatarangas, but what was worse was realizing just how many questions you probably got wrong on the anatomy test. Simple answers that we should have known but we all seemed to overstudy the material. At least I still feel like we are all in the same boat and my teacher said she gave lots of 1/4 points. I sure hope that means I got a lot of those and passed.
After practicing and a food break, we talked more about our thoughts on the Ayurveda yoga and went into more depth on the Doshas. I honestly feel like I could listen to information on the Doshas for hours as I understand more and more each time and love it!
The last hour of training, we learned about sequencing in classes since starting in January we will each be picking a day to sign up for teaching a 1 hour class to our fellow trainees. I am hoping to have some time to start trying to write out a sequence over our Christmas break that I can practice.
Finally I got home around 7:30 last night and started prepping for the week by making granola bars and preparing my lunch. This weekend went by way too fast, but I happy to have a bit of a break from teacher training weekends and look forward to a 4 day Christmas break from work next week.
Thank you Katie for hosting!!




Sharing is Caring: