Sharing is Caring:



Happy Monday!! Happy Columbus day for you lucky folks that have off and happy Thanksgiving to Canadians!!
I am a little annoyed that I have to work today since I do accounting and well the banks are closed today, but we work a day behind so basically I will have to figure out how to spend 3 hours of my day tomorrow when there is no cash to reconcile. Oh well…moving on.
This weekend was pretty good. I was super productive on Saturday so then on Sunday I got to relax most of the day and hang around the apartment catching up on emails and such. Last week I was out of town and didn't have time to prep food for the week so my meals mostly involved some defrosting from the freezer with the fresh veggies I had picked up on Sunday. This week I wanted to try some new recipes as I have become tired of eating the same thing and I will be starting yoga teacher training in 11 days, so I will be needing to pack some dinners to go soon.
I can not tell you enough how much bloggers have changed my life. They introduce me to new foods that I never would have tried before, like spaghetti squash. Umm I had never heard of this squash before last year. I know that is probably crazy, but I'm not really a squash person so other than the frozen squash my mom used to buy and the butternut squash she recently started to buy, I had no idea what other squashes were out there. Spaghetti squash caught my interest though and I made it for the first time last year when it was in season and loved it.
This year when fall hit and I saw the spaghetti squashes I was so excited to buy one, but I now don't live with my parents and that means I am short on kitchen stuff, so cooking a spaghetti squash meant I needed a pan to bake it in. Well I finally purchased a pan this weekend at Target and they actually had a 20% off sale on Pyrex stuff which was sweet and I got to make my spaghetti squash. I decided to make this recipe from Liz with a few tweaks. I did not use tomato sauce. I just used a bit more of olive oil and tomatoes.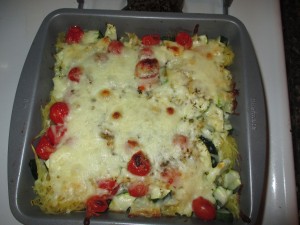 Bloggers have also introduced me to quinoa. I tried making quinoa a few weeks ago, but I just added some onion and other veggies and wasn't sure what to think of it. Saturday night for dinner, I made this recipe from Lisa's blog. Instead of butternut squash though, I used sweet potatoes. Turned out pretty good, though I am still iffy on the quinoa flavor. The balsamic vinegar and honey dressing was good though and the vegetables over powered the quinoa so that worked for me. I also roasted the brussel sprouts and sweet potatoes in the over for 45 minutes before adding them to the pan to mix everything together.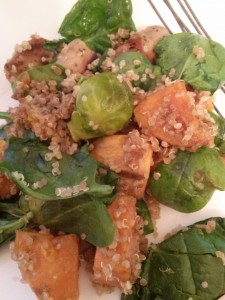 Of course I had to have some fall themed dessert after dinner, so I whipped up a quick batch of these amazing truffles by Erin. Though I think I had too much pumpkin, at least when covered in chocolate they held together well, but storing the remainder in the freezer since they were melting quickly in my hands.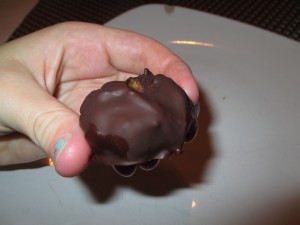 Sunday continued the blogger recipes with trying Arman's recent chocolate chunk cookies for breakfast. Though I made them after eating some pancakes and then ate one cookie just to taste and saved the rest for snacking. I don't think my batter resembled any sort of "dough" and the cookies were not very photographic, but they were light and fluffy and tasty. As long as it tastes good, that is all that matters.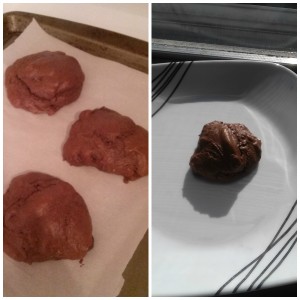 I really don't know what I would do without the amazing blogger recipes out there. It is very nice when they plan my meals for the week especially when they are budget friendly too.
After a rainy and cloudy Saturday, it was perfectly sunny on Sunday and I enjoyed some yoga outside and some headstanding inside (because I still need the wall just a bit).
I am really embracing the beauty of Fall this year! I love the colorful leaves on the ground and the sunny days where I get some time outside to enjoy it!!
Hope everyone had a good weekend! Thank you Katie for hosting!




Sharing is Caring: