Welcome to yoga workshop Fridays! Don't know what I am talking about, check out this post.
This series will be each Friday explaining how to do a particular pose leading up to a peak pose on the last Friday of the month. Throughout this series, I ask that you listen to your body to prevent injury and warm up for a pose when needed.
Disclaimer: Though I am a certified yoga instructor, please consult your doctor before you begin practice and note that everyone's practice may look a bit different as you align the pose to your body.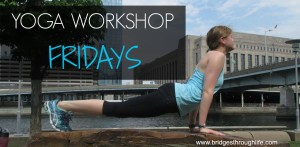 Today's pose is Locust pose or salabhasana in sandskrit. This is a great pose if you experience lower back pain as it can strengthen the muscles of your back. As a reminder though, if you have serious lower back pain, please consult a doctor before practicing this pose. Also, if you are pregnant, consult a doctor.
This is a great backbend pose that I like to add into the middle or end of a practice once my body is warmed up. I would suggest going through a few sun salutations before practicing locust pose. You can also warm up with last week's crescent lunge pose.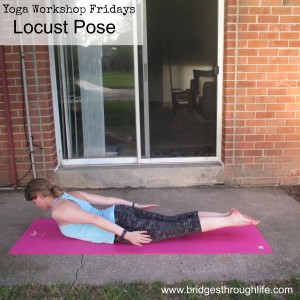 How to do the pose:
Begin by laying on your stomach, tops of the feet on the mat and toes pointed back. Bring your arms by your sides, palms down. Center your chin on the mat. Begin slow, for the first round, inhale as you lift your chest forward and lift your arms off the mat, tops of the feet stay grounded on the mat. Press into the tops of the feet enough that the knees lift off the mat. Keep your gaze just past the top of your mat, so that your neck stays long. Exhale and slowly release down.
For the second round, full locust, inhale as you lift your chest, arms and legs off the mat. Extend your feet towards the back of your mat. Actively reach through the fingertips for the back of your mat as well. Imagine someone lifting your shoulders from behind you so that you can reach back even farther. Keep the crown of your head extending forward. Remember to keep breathing and maintain firmness through your core. When you are ready, exhale as you slowly release down, resting one cheek to the mat.
I usually practice this pose for three rounds and then form a pillow with my hands, bend the knees and gently sway my feet side to side to release any tension from the spine.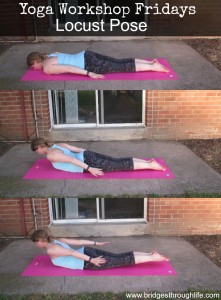 Benefits:
Opens the chest
Strengthens muscles in your back
Strengthens the hamstrings
Builds inner strength by improving digestion, stimulating abdominal organs
Share your pose on Instagram, tagging @bridgesthroughlife and hashtags #bridgesthroughlife #yogaworkshopFridays
I hope you enjoy this series. If you have any suggestions for what poses you would like me to break down, I would love to hear from you. Leave a comment or send me an email [email protected]