This week my workouts started out great!! After my travel to blogfest and taking much needed rest, my body was feeling good and ready to work. Then Wednesday I pushed my body. I did my deadlifts in the morning instead of after work and from that first pull, my shoulder and back felt off. I tried to adjust and pay super close attention to my form but still it wasn't going well and I cut my sets short.
After the workout I made sure to do a little foam rolling and used my yoga tune up balls at home to roll my shoulder. I think the computer work is getting to my shoulder. I'm not sure why it acted up but my body was definitely telling me to rest. Wednesday evening I headed to a yin yoga class, mostly because it was an assignment for yin training to write about what we learned last week and attend a class. My body was sore going into yin. What I loved was that the teacher put in so many twists and it felt amazing on my spine. I definitely had so many thoughts in my head through class about stresses on our body. Throughout class I wondered, where am I feeling the tension vs compression in this pose? These are the things we learned along with meridian lines in the body.
I was happy yin was a slow practice and I really felt grounded through it. I think I kept my eyes closed about 70% of class and just went with, how am I feeling in this pose?
After class I got home, a little spaced out. Seriously it gets hard to walk straight after yin yoga at times. I got ready for bed and started writing about the class, at least getting something down so I could edit it later with a clear head. Brian arrived home around 10 and it was soon after that I passed out. I couldn't be bothered. I slept like a rock.
I listened to my body and let myself sleep in and skip the gym Thursday morning. That was much needed.
I woke up feeling dehydrated. I knew it because I nearly got a Charlie horse when I woke up. So I drank a bunch of water and a rehydrate packet in the morning.
Work was pretty busy with month end and all was going well until I had to stay late to do some postings. I debated still going to a yin yoga class, this time one for fun that I really enjoy. As the time went on though, I was like, you know what I need a full rest day. With leaving work late, I decided to get ice cream for dinner.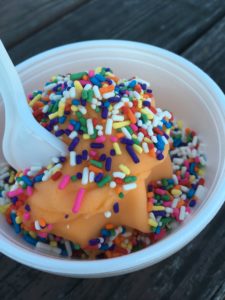 They had my favorite, almond milk orange, and I enjoyed every bit.
Then I came home and discovered some sushi Brian's mom had bought. Perfect little dinner. Since I was having a relaxing evening and had everything for chocolate chip banana zucchini bread, I decided to make some. I had EXACTLY 3 bananas sitting on the counter and EXACTLY 2 eggs left, so I really think this banana bread was meant to happen tonight.
After cleaning up the kitchen, I took a lavender salt bath while the bread was in the oven. That felt amazing and just what my muscles and joints needed.
Then it was time to pull the zucchini bread out of the oven and not so patiently wait for it to cool. Then I discovered it was way too mushy so back in the oven it went.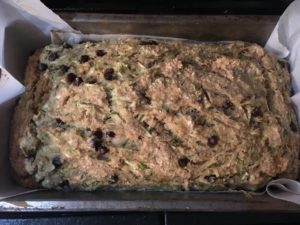 The zucchini bread came out a bit mushy. I probably needed to squeeze the zucchini more or something. It still tasted delicious though. It was nice to have a night at home. Today I plan to go to yoga after work and hopefully it will work out this time. Then it is the weekend FINALLY. I feel like this week was extra long, like by Wednesday I was ready for it to be Friday.
To wrap up, I just want to say, listen to your body. Be aware of how you are feeling and don't feel bad for taking an unplanned rest day now and then. Maybe you will find, you have time for something else relaxing, like a bath or baking.
How do you spend your rest days?