Now that my Holiday cards are mailed out to almost everyone, I decided to share them here along with the gift I made my co workers this year.
You may remember last year I made cookie and pancake mixes in a jar. I really like the jar mixes as it is an affordable gift and you can make them look cute. You simply add the dry ingredients to a jar and then attach instructions for what to add. This year, I decided to do my favorite chocolate cupcakes for Two recipe from Jenn and put all the dry ingredients in a small jar and type up her instructions.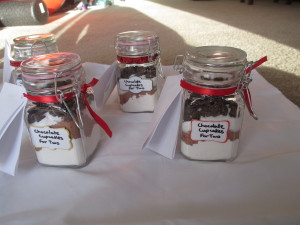 I revised her instructions a bit so that it listed just the wet ingredients and what to do and attached them to the jar with a ribbon. You can view the full recipe on her site so that you know the dry ingredient details.
Chocolate Cupcakes for Two

Recipe by Jenn @Peas and Crayons

Ingredients Needed: 1 jar of dry ingredients, ¼ cup plus 2 TBSP milk [room temp], 2 TBSP extra virgin olive oil, 1 tsp vanilla extract, Frosting [homemade or store bought]

Instructions:

Pre-heat oven to 350 degrees F. Line a muffin tin with 4 parchment paper liners, or spritz regular paper cupcake liners with oil to prevent sticking. Set aside.

Pour ingredients from jar into a bowl. In a separate bowl, bring milk to room temperature, then combine with oil and vanilla. Pour the wet mixture into the center of your flour mixture and stir clockwise with a fork until just incorporated. Over-mixing can sabotage the batter. Next pour mixture evenly into your paper liners Bake on the center rack at 350 F for approx. 20 minutes depending on oven. Cupcakes are done when an inserted toothpick comes out clean from the center. Remove from muffin tin and allow to cool completely before frosting.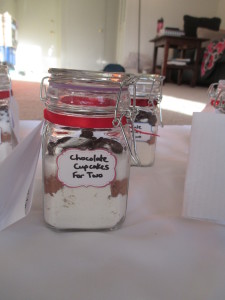 Now for my Holiday cards. I was sooo excited to make some this year because we had our engagement pictures. I knew that Brian's family and my family members (some that don't go online and haven't seen the photos) would love them. I also just love the act of sending out a little card to friends and family.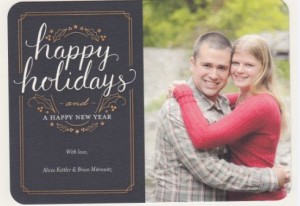 I'm hoping that we can get some sort of picture each year, even if not a professional photoshoot, just to have a nice photo for a card. I made these on Shutterfly during one of their discounts and was very pleased with the cards keeping them simple. The back also has a small photo of us and snowflakes.
I also framed some photos for my aunt, grandma and in laws to be. They all loved them. I thought it would be good to provide a photo in a frame as just sending loose pictures, what do you do with those? I know I just toss the pictures somewhere and they don't get displayed unless I have a frame. All the frames I got were 50% off during Thanksgiving weekend so it was perfect.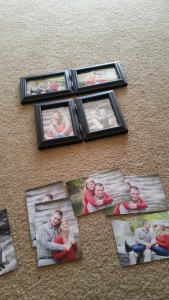 I kept gifts simple this year since I am moving and traveling a lot and got them done early. I do need to find a gift or two more for some relatives, but I am happy with this simple and affordable gifts. These pictures mean so much to me and I know my relatives enjoy having an updated photo of me.
What are some DIY gifts you love?
Have you made mixes in a jar for gifts?