Welcome to Yoga Workshop Fridays. Don't know what I am talking about, check out this post.
Hey there!! Do you see a pattern with this month's poses yet? Today's pose is another great hip opener, malasana. The English translation for this pose is Garland pose. It is also referred to as Yogi Squat. I find this pose to either be a love or hate for people and it really depends on the flexibility of your hips, thighs and pelvis area. This is a great pose to practice if you work at a desk all day as it helps to strengthen the low back where we might slouch in our chairs all day and also helps tone the core for a better posture. This is also a great pose to do if you are looking for prenatal yoga to practice (please consult your doctor first though).
Also, please use caution, if you have bad knees, I do not suggest this pose.
Below I will also give a suggestion for props to use to help make the pose align with your body.
Disclaimer: Though I am a certified yoga instructor, please consult your doctor before you begin practice and note that everyone's practice may look a bit different as you align the pose to your body.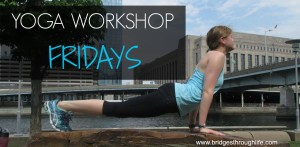 This series will be each Friday explaining how to do a particular pose leading up to a peak pose on the last Friday of the month. Throughout this series, I ask that you listen to your body to prevent injury and warm up for a pose when needed.
How to do the pose: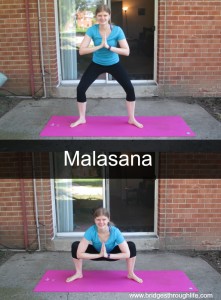 Begin in a standing position with feet shoulder distance (or a little wider) apart, toes pointing out to the corners of your mat. Bring your hands together at heart center. Take a breath in and as you exhale, bend the knees, send your butt back and bring the weight into your heels. Squat down so that your elbows are between your knees then inhale to lengthen through the spine. Press the knees into the elbows and elbows into the knees and firm your pelvic floor.
Using Props with Malasana:
I love using props to aid in my yoga practice. Props can help you safely do a pose more deeply and aid with more support.
If you have difficulty squatting low to the ground, you can use a block or even two to sit on.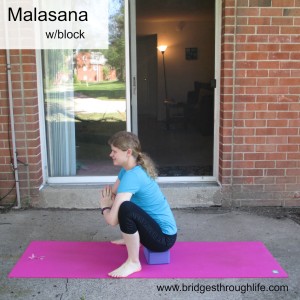 You could also roll up a blanket and place it underneath your heels.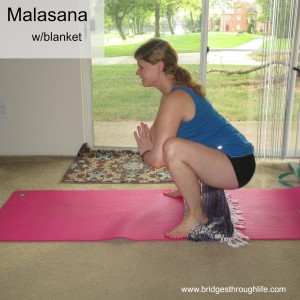 Benefits:
Stretches inner thighs and lower back
stimulates digestive organs
Opens your hips
Strengthens your ankles
Great for prenatal yoga practice
Share your pose on Instagram, tagging @bridgesthroughlife and hashtags #bridgesthroughlife #yogaworkshopFridays
I hope you enjoy this series. If you have any suggestions for what poses you would like me to break down, I would love to hear from you. Leave a comment or send me an email [email protected].