Welcome to yoga workshop Fridays! Don't know what I am talking about, check out this post.
This series will be each Friday explaining how to do a particular pose leading up to a peak pose on the last Friday of the month. Throughout this series, I ask that you listen to your body to prevent injury and warm up for a pose when needed.
Today I have another great pose for you, half split, known as Ardha Hanumanasana which also translates to half monkey pose since full splits is referred to as monkey pose. You can read about the story behind hanumanasana here.
Disclaimer: Though I am a certified yoga instructor, please consult your doctor before you begin practice and note that everyone's practice may look a bit different as you align the pose to your body.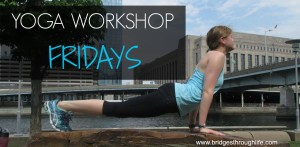 If splits is in your practice, that is great! If not, try out today's pose and maybe look at my prop suggestion as half split can help you build to full splits. Half splits is also known as "runner's lunge" as it is a great hamstring stretch for runners. It is also a great counter pose for lizard (hint hint). I really enjoy taking half split after working my legs a lot whether that is with weights or just walking for a while. Below you will find how to do the pose and prop suggestions.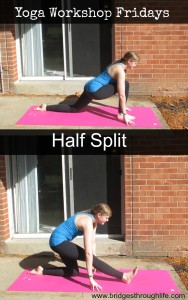 How to do the pose:
Begin in a low lunge with your hands framing your front foot. Slowly walk your hands back as you lift up your front toes coming onto the heel of the front foot. Straighten your front leg, keeping the hips level. The weight shifts towards your back knee. Feel free to grab a blanket or towel to place under the back knee if it is sensitive. Lengthen your spine, crown of the head in line with the spine. Draw your abdomen in and take a few breaths here. Stretching the hamstrings.
After a few breathes, simply begin to walk your hands forward, bending into the front knee returning to low lunge. Then step back to plank to flow through a vinyasa or step back to downdog and bring the other leg forward and repeat on the second side.
Props:
I have found it beneficial to have 2 blocks with this pose. I have tight hamstrings and having the blocks helps me to lengthen my torso and comfortably have my hands on the blocks. To do this, set up one block on each side of your front foot. Bring your hands to the blocks from lunge and then walk your hands and the blocks back as you shift the weight into your back leg and follow the steps above.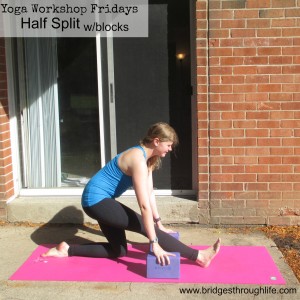 Benefits
Stretches the hamstrings
Tones the back and mid section
Increases awareness through the pelvic area*
Relieves sciatica pain*
Share your pose on Instagram, tagging @bridgesthroughlife and hashtags #bridgesthroughlife #yogaworkshopFridays
I hope you enjoy this series. If you have any suggestions for what poses you would like me to break down, I would love to hear from you. Leave a comment or send me an email [email protected]
*source http://harmonyyoga.com/the-benefits-of