Happy first of September! How did that happen?! Instead of doing monthly goals for September, I thought I would set some fall goals, both fun and personal. First, let's review August Goals.
Personal
1. Spending Time writing a few days a week
I wrote more for the blog and I journaled a bit so I would say this was a success. I also spent a LOT of time reading this month (apparently I just need warm weather and a pool to sit by to motivate me, aka get me away from the computer screen). I read a couple personal development books and the latest Harry Potter book. Reading and writing, as important as they are, I never spent a lot of time outside of homework assignments doing them. I think it is great that I can finally enjoy both of them with no grades attached.
Fitness
1. stretch for 15-20 minutes a day
I definitely worked on more quick 15 minute yoga and stretching sessions at home this month. I didn't track it everyday, so I am sure I missed a few days, but I definitely put more of a focus on it. As we can see, I need to work on this through my whole body to hopefully prevent another injury in the future.
Now onto Fall Goals (even if I don't want to admit that Fall is around the corner)
Fun and Personal Fall Goals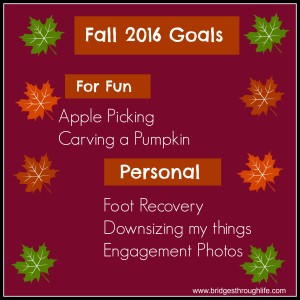 apple picking – plan to go back to the place I went last year

carving a pumpkin

foot recovery

downsizing my things – fall is a good time for ebay listings

engagement photos – date is set
Do you have any activities you like to do every Fall?