Sharing is Caring:



Hey everyone. With a new month comes new goals. This month I am limiting to one personal and one fitness. I think it will be easier to focus on 1 in each category.
But first, looking back on July goals. I don't even know where the month of July went. I guess that happens when you are on vacation for a week. Vacation was wonderful and always worth it even when I come back to the most work ever at my job. That's not so fun but at least I get paid for the overtime which is totally paying for a massage next week that I just booked. I need one so badly and can't wait. It's a new to me place so I hope it will be good.
So how did I do in July?
Personal
Decide on a wedding venue
Well just when we agreed on a place, I called them and found out they have renovations scheduled for a few months around the time we want so that's a no go. I still like one of the first places I got a quote for, it's all about convincing the boy…
2. Have more fun
Man, it was so great to have a vacation this month. A whole week driving around, planning as we went and visiting some friends along the way. Some days I was amazed we spent 12 hours traveling, but our stops were long and worth it. Now I just need to make sure I continue to spend my time well in the evenings and on weekends to have more fun in life.
Fitness
1. 35 push ups in a row
This never happened sadly. July passed in a flash and when I got back from vacation, I was working back into my workouts and super sore, I couldn't push it with my bad shoulder. Maybe another month.
2. do more than 1 pull up in a row
I pretty much have this. I mean I played around on my friend's pull up bar when visiting her in Canada. I totally need one so I can hang around (literally) all the time and just work on holding myself and giving me a great way to practice outside of the gym.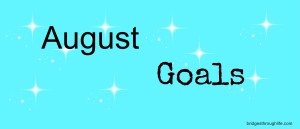 Plans for August….
Personal
1. Spend time writing a few days a week
I wanted to say write daily, but I didn't know if I could commit to that as well. So starting smaller, writing a few times a week, basically aiming for every other day. Of course blogging helps, but even just writing in my journal, which is what I did on vacation was so relaxing. I used to journal daily in college and I miss that. Part of the reason I started this blog though was to encourage me to write more again as well and it has helped. When I write a lot even if it doesn't make sense, it definitely helps me be creative and get even more blog ideas.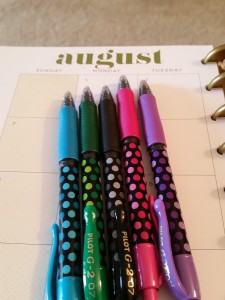 Fitness
1. stretch for 15-20 minutes a day
I am realizing that while I am still considered young, I don't bounce back like I used to. It is also a challenge to work out at 5am because you haven't moved around a lot which is why warm ups are crucial. I warm up on the treadmill or bike, but I feel like I need more. I need more stretching to get my hips more open and work on my flexibility. I am hoping that taking this month to focus on stretching will help me build a better habit of it.
I think it will be great to have these two goals to focus on. Of course I still have some wedding planning to figure out and do hope to work on that as well. Also a side note, June's goals were some of my greatest as the Netflix one has stuck around and I continue to try to make new recipes. Goal setting and actually following through can lead to good things
Do you have any goals for the month?




Sharing is Caring: