Hey there and happy Wednesday!! Now that we are half way through the week, we can reward ourselves with a drink right?! I see no problem with having one drink on a weeknight after hard work. In Philadelphia, they have Wednesday night sips for the summer. I don't go as it is crazy crowded and I like peace and quiet at home. But if you still want a drink without all the chaos of going out, why not make this mojito?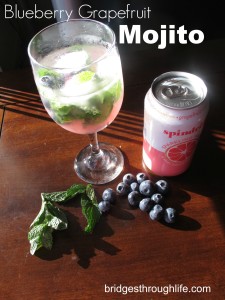 It all started with this recipe and from there we had a winner. An alcoholic drink I could tolerate. Ever since I turned 21, everyone has been trying to get me to drink. I already came to the conclusion I will never have to buy myself a drink because people buy them for me to see if I like it. This is how it usually goes: I take one sip, make a funny face and give it back to them. Brian loves it when I try his strong drinks with the tiniest sip and make such a dramatic face.
Anyway back to my first mojito. When I saw a recipe for a grapefruit flavored drink with mint, I wanted to try it. I love grapefruit and I love fresh mint. One thing I have never been a big fan of is carbonated drinks. I think that is why it is even harder to find a drink I actually like. I still decided to try the Bai grapefruit flavored drink when we made the mojitos though and since then I find carbonated drinks a great treat.
Back when we made the Pinch of Yum recipe, we didn't have rum, so we used tequila. That might mean this is not really a mojito recipe but since it used the mint and the lime, I gave it the mojito title anyway.
Since making grapefruit mojitos, I have not only fallen in love with the Bai grapefruit drinks, but now if I see a sparkling grapefruit drink, I have to try it! The grapefruit drink you see in the picture that I used in this recipe was from Trader Joes.
When Brian and I got out for lunch or dinner and we see a classic mojito on the menu, we order one to share and see how it compares. By far, our favorite restaurant mojito is at Cantina Laredo. I love how they have the fresh sugar cane in theirs. It was actually disappointing the one time we ordered and they were out of the fresh sugar cane.
I am not a big drinker and I prefer to make any sort of drink at home because then I control the alcohol and added sugar. Despite my sweet tooth, I have found I like my drinks to be tart. I could definitely make this without the sugar, but since I was muddling the berries into it, I wanted to add a bit of sugar to see how it turned out.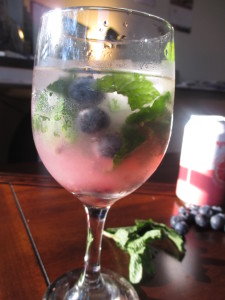 Also not standard for a mojito is using a cocktail shaker. I like to shake all the flavors together and then add more berries and mint to garnish after pouring. A little tip though, make sure your shaker, water bottle, whatever you use to shake the mixture together has a secure lid because I definitely didn't get the lid on all the way and well…that led to doing a load of laundry early because I was wearing one of my favorite shirts.
I hope you enjoy this recipe.
Also may I recommend a Mexican themed dinner too? I didn't have any rice ready that night, but black beans, chicken, homemade guac and some chips with my drink were pretty perfect for dinner.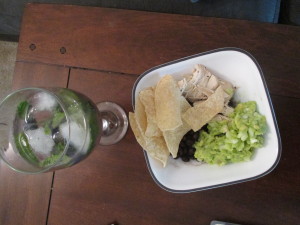 Double the recipe and have a date night at home!! I would love to hear from you if you make the recipe. Tag @bridgesthroughlife on Instagram if you make it.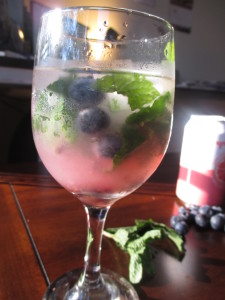 Blueberry Grapefruit Mojito
2016-07-30 19:58:22
Ingredients
• ¼ c blueberries (divided)
• 1 tsp sugar
• 10 mint leaves
• 2 tsp lime juice
• 1 cup sparkling grapefruit drink
• 1 oz tequila
• 4-5 ice cubes
Instructions
1) In a small bowl, muddle* half the blueberries, the sugar, mint leaves and lime juice.
2) Combine the muddled mixture with the remaining ingredients into a cocktail shaker (this step is optional, you can just combine into a glass, but I like to shake the ingredients around and get more of the flavor of the mint and berries).
3) Pour into a glass and garnish with the remaining blueberries and more mint leaves
Notes
*if you don't have a muddler, you can use a wooden spoon. I just mashed the berries and mint until I thought it looked mixed together
Bridges Through Life https://www.bridgesthroughlife.com/