Hey there. Happy Halloween!! I can't believe it's already the last day of October. We had some warmer temps this weekend which made it a great weekend to get outside and forget about the fact that winter is around the corner, except that my apartment complex set out the salt buckets for our doorsteps. I don't want to think about it. I had a great weekend getting things done around the apartment, working out and some relaxing time as well. Linking up with Katie for MIMM.
Friday night was chilly, but after work and eating some dinner quickly, my friend came over and we enjoyed drinking tea on my patio and just chatting about life. Then to warm up, we walked twice around the apartment complex before calling it a night. We are hoping to get together soon for a board game night.
Saturday the temperatures were about 10 degrees warmer and the sun was shining. I started my morning with running errands and then headed to the gym for a swim. My arms were pretty sore from weight lifting so I just did 1.5 miles in the pool as I didn't want to push it too much.
I came home to eat and then enjoyed doing yoga outside. I could not get over how beautiful it was (funny as I write this, the rain and lightning just started…). I try to enjoy all the sunny days I can by going outside for a little bit.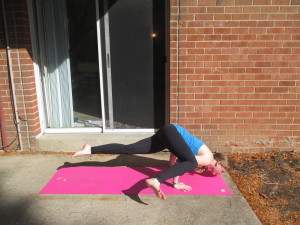 I then spent some time writing up posts for the blog. In case you don't know, each Friday I post a yoga pose, how to do it, variations/modifications and benefits of the pose.
I ate dinner early, around 5, as the food happened to be ready then. I made Monique's slow cooker thai peanut chicken. I was pleased that I could fit the recipe in my small crockpot as I don't have a regular sized one. I did have to leave out half of the red pepper, but I am just going to slice it to go on the side as I prefer them raw. Instead of purple rice (I don't know where to find that), I made my cilantro lime cauliflower rice to keep the carbs down.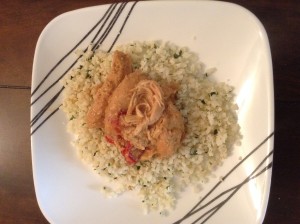 I started watching TV in the evening and then I decided that I needed to do something more productive so I finally finished reading You are a Badass. The book is amazing if you haven't read it. The end talking about money totally resonated with me.
While we are on the topic of books, I just preordered Scrappy Little Nobody and Talking as Fast as I can (Gilmores on the mind!). Looking forward to some new books to read.
Sunday I cooked a lot of food for the week, so many veggies!! Friday I was reading through comments on Erin's blog and came across Thyme and Toast and learned about Delicata Squash. I am not really a squash person, but I have slowly been getting into the fall flavors and roasting veggies is my new favorite way to eat veggies, so I had to pick up a delicata squash and try it this weekend. I have to say it was pretty tasty. I enjoyed it with my side salad for dinner on Sunday.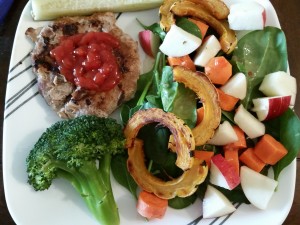 Backing up to earlier in the day, I taught yoga and then was in the mood to work on organizing and cleaning up. I am working on downsizing my American Girl collection and have been listing a few items on ebay that I believe will sell. However, I definitely have some items I can part with and will not do well on ebay. Everything in great condition though. I thought I would just mention on here with some pictures of my things in case anyone is interested. Comment or email me [email protected] . First come, first serve. Looking for best offer and will ship.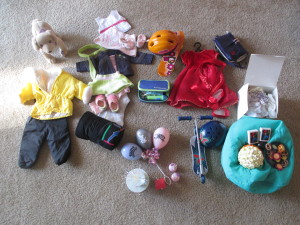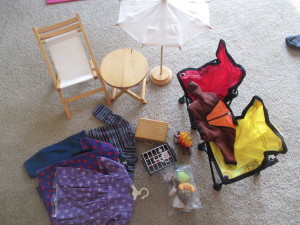 I have to share my Halloween graveyard that I am bringing into work today. Brownies with oreo "dirt", Milano pumpkin spice tombstones and some frosting for "grass".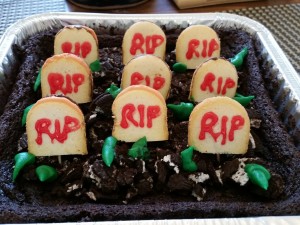 Alright I think that is all for me today. Hope everyone has a great week.