If you saw any of my posts last week, you know that I headed home for another funeral this weekend. As unfortunate as the visit was, I made the best of my time at home by getting together with a friend and enjoying the beautiful 90 degree weather. Yes I did just call that weather beautiful. I will soak up all the 90 degree days we get as winter is always long and summer was nearly nonexistent with all the rain.
I covered Saturday in my post on Monday. Sunday was mostly a day out with one of my friends from dance class. We started with the new Pure Empower class which is basically Pure Barre but with more squats and less pulsing. You also use ankle weights either on your wrists or ankles and use a step stool. The class is only 45 minutes, 15 minutes shorter than the usual Pure Barre class since it is a bit more intense. I liked that it was a shorter class, even though it costs the same amount to drop in. Since I hadn't taken a Pure Barre class since April when I was last home, I noticed a HUGE different in how much stronger I was since I started weight lifting again in May.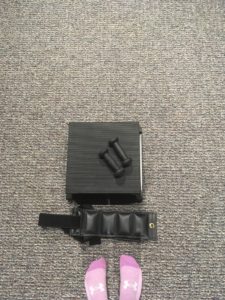 After Pure Barre and changing our clothes, we hopped on the train to Chicago. We had some lunch at Heartland Café in Rogers Park. I got the delicious quinoa salad. My only complaint was that the service was very slow with our food and check.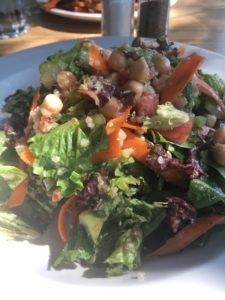 After eating a healthy meal, we headed over to my friend's XO Marshmallow shop around the corner. I have been following her business since before the kickstarter and loved that I got to finally see her cute little shop space in person. She was working hard in the back making marshmallows but we got to chat a bit before she got called away again. I ordered the classic s'more and a variety of 12 marshmallows: green tea, caramel, vanilla and Harry Potter Butterbeer.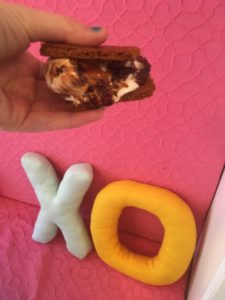 You guys, I have never had a homemade marshmallow and it was sooo delicious. I loved the fluffy texture of it. The s'more was also amazing. I love how they use the little torch to toast the marshmallow. I also love the color scheme of the shop. Even my sports bra I wore that day fit right in. Of course I had to get a few photos around the store and I can't wait to stop by again. If you are in the Chicago area, definitely check out the store, but if not, she also takes online orders.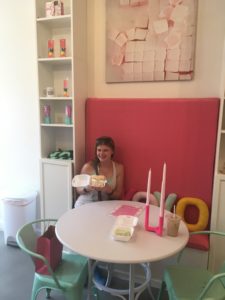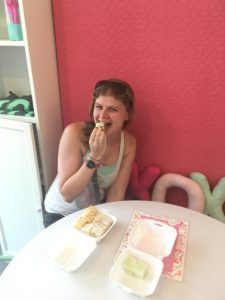 With it being a beautiful, hot, sunny day, we had to stop by Loyola Beach to test the water. The water wasn't bad and there were plenty of people laying on the beach and swimming. This is so rare for September. Even the bathrooms and water stations were closed for the season. I'm sure they close them right after Labor Day. It was nice to have my toes in the sand again for a bit before we headed back.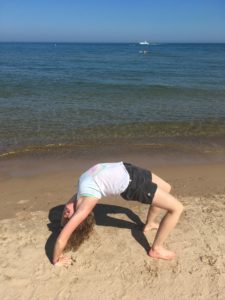 I got home around 3, which was perfect so I could shower and change for dinner. We left around 4:45 and arrived in time for 6pm dinner with a total of 19 people, all family in town for the funeral.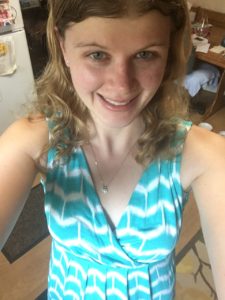 My sister and I began with an appetizer of chips and guac and then I got the half rack of ribs, which were messy and delicious.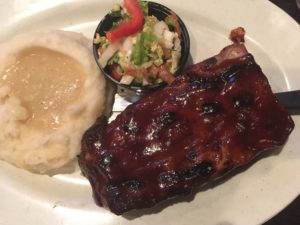 By the time we got home, my sister and I curled up in bed with our own laptops watching different shows. We have to share a bed at home since my bed is gone. It's a bit tight…
Monday morning I was still awake around 6am Central time. It's fine that I didn't adjust too much to the central time zone as I knew I had an early wake up call Tuesday morning for my 8am flight. After reading in bed for a bit, I got up and made a little breakfast and watched HGTV.
Eventually I decided to get outside and enjoy the morning weather. It was weird watching all the cars drive by, people dropping their kids off at school and heading to work while I was walking around the park. I enjoyed doing some yoga around the park and just getting some fresh air.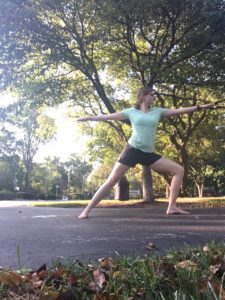 When I came back, I slowly started to get Theresa up by bringing her the kitty, Skittles, to cuddle with. Me, Theresa and my dad headed to brunch at Walker Bros. I decided to change from my usual pancake order, to French toast instead. It was delicious and filling; since I knew we wouldn't be eating much until dinner.
By the time we ran a couple errands and came home to change clothes, it was time to head to the funeral. We gave an ETA of 12:32 while on the road and arrived right on time. While all the family was there, we took a family photo. The calling hours started at 1 and there was a nice slideshow of photos that was put together by my cousins and aunt.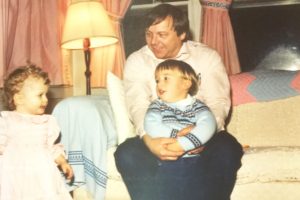 The service was beautiful and there were some great stories shared. We then headed over to the cemetery for the burial. Since my uncle was a veteran, there was a beautiful flag service performed by the US Army. That was really nice to watch. It was also nice that the cemetery set up a tent for us to have some shade on the warm day.
From there, we headed back to the church for some refreshments and mingling before we said our goodbyes.
On our way home, we hit a bit of 5 o'clock traffic (the things I don't miss) and picked up dinner and dessert. We didn't really need more dessert, but Theresa had a coupon at Nothing Bundt Cakes. Their special was the confetti cake, which made a perfect after dinner dessert.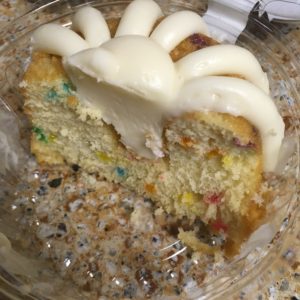 The rest of the evening was relaxing as I had some time to write, watch the rest of the Fuller House episodes and pack up for the flight back.