Today our week in Melbourne comes to an end and we pick up our campervan to head to explore the Great Ocean Road and the outback for a couple weeks. We enjoyed our campervan and the convenience of it in New Zealand so we decided to rent one for Australia. I won't lie, I have enjoyed the week in the same place, but I think it is time to get moving again and see more. Melbourne is a great city and I will get to more about that in another post.
This weekend we squeezed in remaining tours and did lots of walking through Melbourne to soak everything up. Joining up with Katie today for MIMM.
Friday included a tour of the Old Melbourne Gaol (jail) and walking through the State Library.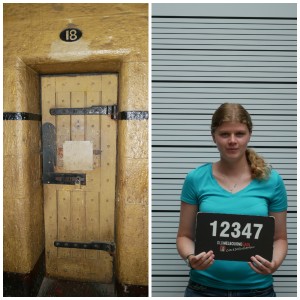 Saturday I actually got to sleep in for the first time since our arrival. I have been going to 7am workout classes during the week and my body was happy to have a break this weekend because my legs were soooo sore. It was a relaxed morning and we headed out around 10am. We had plans to take a trolley to a shopping center but then saw the schedule that they weren't running. Then we noticed there were free walking tours of Melbourne, so we hopped into that tour. I wish we had discovered that earlier in the week, but it was great for our last weekend. We then saw the trolleys going which was confusing, but we were happy with our tour.
At 10:30am, our walking tour began. We started at the State Library and then made our way to the Old Melbourne Gaol that we visited Friday. Our tour guide, Laura, gave a brief history about the jail, being built in the 1840s (one of the few remaining buildings from that time, since Melbourne was settled around 1835 by the British). We also heard more of the story of Ned Kelly (there are a few movies about him and the Kelly gang) executed in the Melbourne jail.
From there we headed to the Carlton gardens, getting a glimpse of the Royal Exhibition Building again. We then walked to the old Parliament building and the Princess Theater which has a Victorian design. Then through China Town (the oldest standing China Town as the original oldest was San Francisco but that burned down at one point). We took a quick break at the Queen Victoria shopping area which has a food court, so we got some sushi rolls and I got a Mrs. Field's cookie.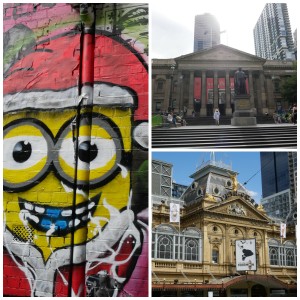 The second half of the tour took us through some of the Melbourne art streets and down little alleys with a bunch of cafes popular for brunch. Brunch is a big thing in Melbourne and so is coffee. While there are a couple Starbucks around, apparently Melbournians prefer café shop coffees and some Starbucks have even had to close with not enough business. There are lots of areas where walls are painted by Graffiti artists, but it is totally legal. The businesses allow an artist to get a permit and paint their walls. You can tell Melbourne is known for their art and culture.
We ended the tour along the Yarra River. The tour was 3 hours long and I successfully hit my 10,000 steps for the day. After the tour, we hopped on the trolley for a few stops back to the State Library and quickly walked over to the Carlton Gardens again. We got tour tickets for the 2pm Royal Exhibition Building.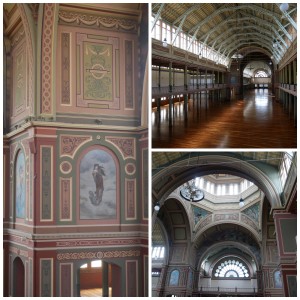 The building is still used for exhibitions and even for RMIT (Royal Melbourne Institute of Technology)'s exams. It was weird to see a picture of rows of desks lined up in the building. The building was built in the 1880s and during the 1900s parts of the building were torn down and some burnt down. There actually used to be an aquarium on the east side as well as a ballroom. Beginning in 1988, the building underwent major restoration and took about 12 years to complete. They actually had someone come in to peel away layers of paint and match original colors and designs. The building looks amazing and it is so huge. It is weird to imagine that what stands today is only maybe a quarter of what used to be of the exhibition.
As we exited from the tour, I noticed a guy wearing a Northwestern shirt. I asked him "do you go to Northwestern?" He said "yes I graduated in December 2016." We got to talking for a bit after the tour and I was telling him how I grew up in Evanston and that Northwestern was like my backyard. He is traveling for 6 weeks and heading to New Zealand soon, so we told him about all the cool places we went in New Zealand and how you can never have enough time. It was really cool to find someone that knows the area where I grew up and the guy was just shocked that he met someone from the Evanston area. Our talk pretty much made his day and he plans to look for a job in Chicago when he returns to the states. Pretty cool highlight of the day and goes to show just how small the world is.
After we parted, Brian and I had to figure out what to do next. We just spent 4 hours in tours and didn't even have a proper lunch. Since it was already 3, I wanted something snack like. We decided to head on the City trolley we planned to take originally in the morning and hop off near Flinder's station to go to Young and Jackson Bar. Our tour guide had mentioned it because it holds the painting Chloe (the naked lady). We arrived and headed to Chloe's room where we did indeed see the giant portrait of Chloe.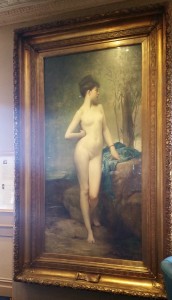 Brian got a beer and we shared a plate of dips to start. Then as Brian searched the menu, he saw a mojito listed that we had to try, seeing as we try mojitos at different restaurants. With the mojito we decided to get 2 sliders, chicken for me and some calamari for Brian.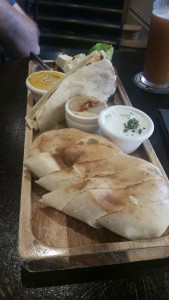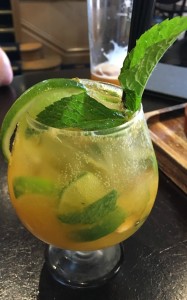 Everything was very good and I felt comfortable in the classy bar room. It was quiet so we could chat and simply enjoy. I almost count it as an early Valentine's day celebration, since we don't know where exactly we will be then.
Around 5 we headed back to the hotel. I prepared sweet potato and Brussel sprouts to roast in the oven. They took about 20 minutes and were so delicious!! We have been keeping veggies simple with just throwing together salads and as much as I love those, I missed having brussels and sweet potatoes. They also paired perfectly with the rest of our leftover pork.
Once we hit our food coma for the night, we relaxed a bit and then headed up to the hot tub on the roof. There were about 6 people already in the hot tub and we enjoyed chatting with some other travelers for a couple hours. Before we knew it, it was 9pm, and I was getting tired and turning into a prune in the hot tub. We headed back downstairs to get ready for bed and I enjoyed writing and reading for a bit. It was a successful busy day with lots of socializing which was nice.
Sunday was a less busy day. I enjoyed sleeping in again and then in the morning, Brian and I headed to the Old Treasury building (another building we found out thanks to our Saturday tour). We saw the volts and learned more about the gold rush era from the 1850s to 1860s in Victoria. Since the Treasury building wasn't constructed until the end of the 1850s, it wasn't completed until about 1862 when the gold findings slowed down, so they do not actually know if much gold was kept in the vaults. However, the building remains a beautiful piece of history and it is nice that they have a free museum.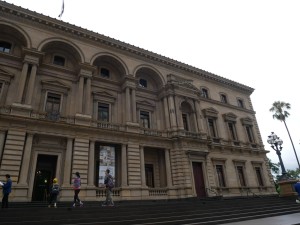 By the time we finished there, it was about noon, so we walked in search for lunch. We decided to go to Chinatown. I got a cucumber salad and dumplings while Brian got some soup, a chicken dish and fried rice. We split the rice and we were both stuffed before all the food was gone. We took the rest back to the hotel and it worked out to be for our last dinner so we didn't need to buy food.
In the afternoon we headed down by the Yarra River and checked out the Sustainability Fair going on. Then we headed to the ACMI (Australian Cinema for the Moving Image). They have a few free galleries you can check out about motion pictures developing over time and gaming from early Nintendo to current PlayStation games. It was a cool exhibit and I learned about a few TV shows and Movies that involved Australian people. One such TV show was Bananas in Pyjamas. Movies include Legally Blonde and Babe.
From there we quickly checked out Melbourne Central which is a food court and shopping center. We discovered Cupcake Central in the food court. They had regular size and mini size. We opted for 2 mini sized cupcakes which were quickly eaten (after a photo of course).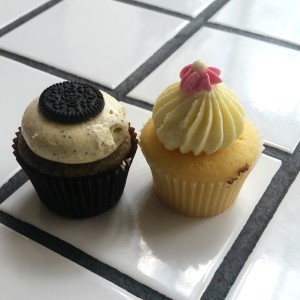 In the evening, we relaxed, finding some movies on tv, Matilda and Blended and ate our leftovers for dinner. We also stopped by the bar next to our hotel since we got free drink coupons and played a couple rounds of pool.
It was a good weekend and then it was time to pack up again. Time to hit the road for a couple weeks and continue seeing more of Australia.
What did you do this weekend?