Sharing is Caring:



I wanted to give a little tour of my new studio apartment in the Philadelphia suburbs. At first when I toured the place, I was like wow this is tiny. Since I didn't have many options to choose from (basically this was it!) for availability right away, I was like well I can make this work. I liked the location of this apartment being next to the train station to easily go to the city without driving. Additionally, the apartment was nice and updated. There were other apartments that had more space for the same price but very outdated so this apartment just seemed like the best option. I was also on a time crunch for a place and didn't have 3 months to wait for other options.
I feel like once I got furniture, some of which added more storage for me, it felt more cozy. We also feel that we could easily use these furniture pieces in our next home so it's not a waste buying everything new. Most of the furniture was purchased from IKEA.
The apartment is 430 square feet. There is surprisingly a lot of closet/storage space in the apartment. I don't show the laundry area which has a huge open space for storage. I still want a shelf of some sort for the area. The front closet and "bedroom" closet are also good sizes. I also have a balcony which is much larger than I would have imagined. I still want to purchase a patio set but I did get an outdoor rug from Amazon to give it some color outside. I will say this is definitely a cheap outdoor rug and not sure how long it will hold up but I really only need it for a year so it was good enough for me.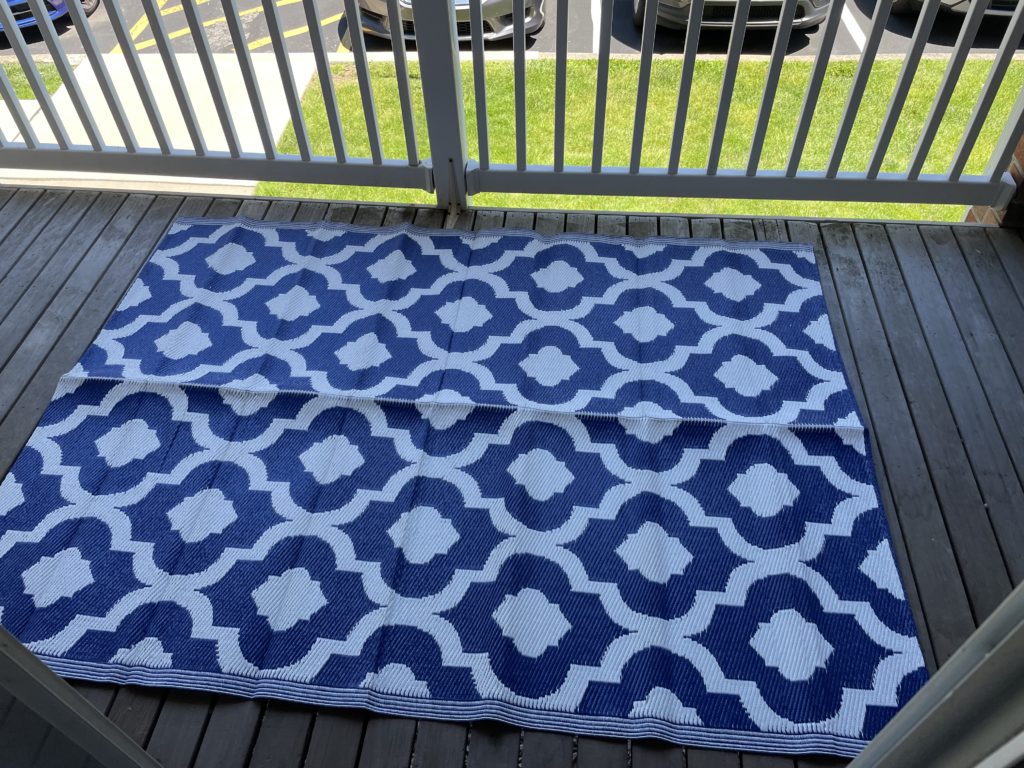 Living room/bedroom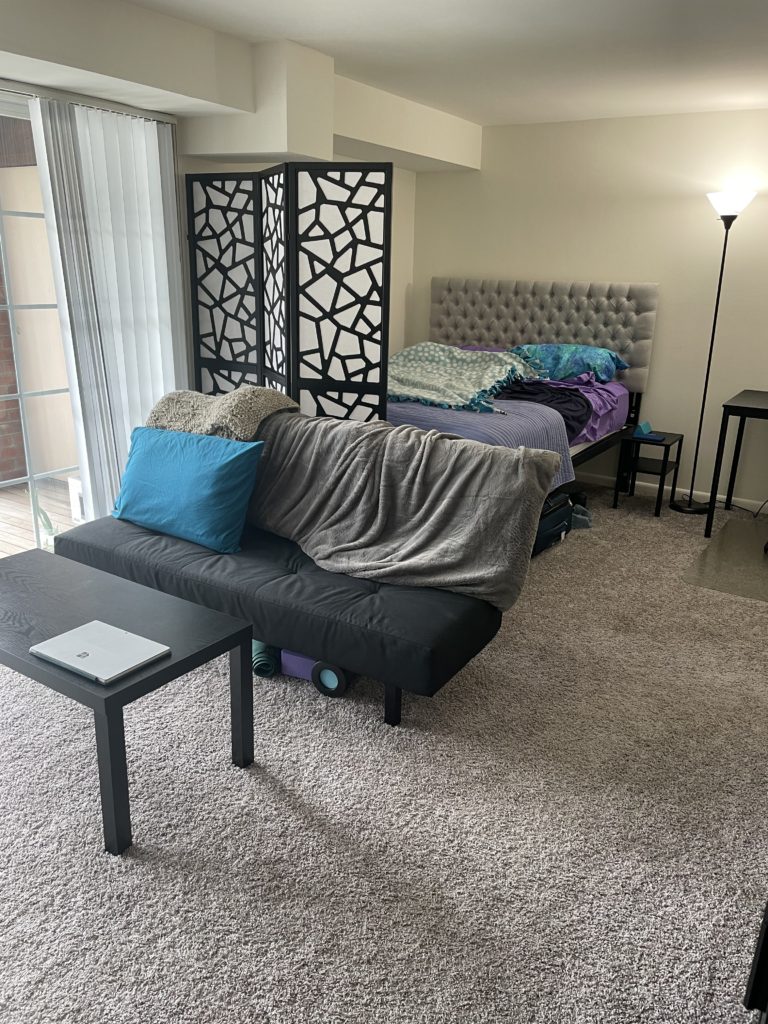 We already had the bed and mattress. Bedframe was from overstock 4 years ago.
I got the privacy divider from Amazon because the blinds do not block all the light. Without having blackout curtains, this is a great option. I have slept much better since adding this to the room. This divider is 4 panels but I have 2 together to block more light towards the wall. I think it's a nice size and it adds a little decorative element to the room.
Futon is IKEA. Coffee table is Target. You can see in the above photo how I store my yoga props and foam roller under the futon and it's perfect so I can easily access them if I want to stretch or do yoga.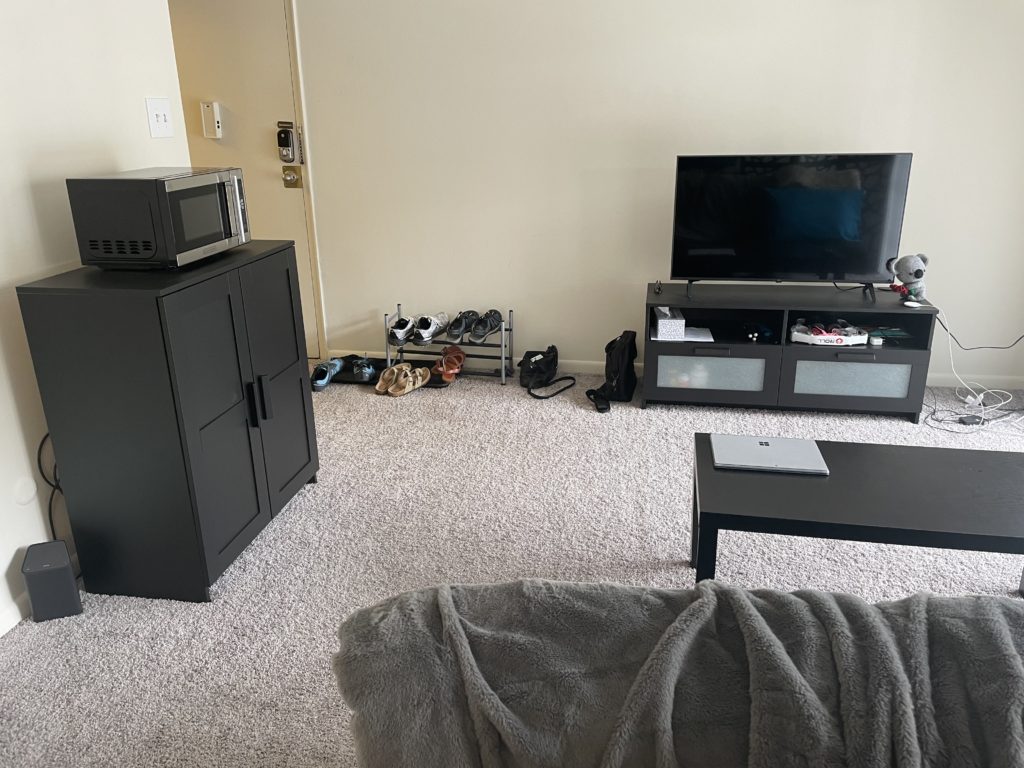 We got the microwave stand (really a cabinet) and TV stand from IKEA as well. I love the cabinet for a microwave stand since that is now my pantry and adds great storage. I also loved the drawers on the TV stand for additional storage. The TV is from Micro Center and I realized it is the first TV brand new I have bought in my adult life! When we got our house we actually purchased the TV from the previous owners because it was massive and they didn't want to move it.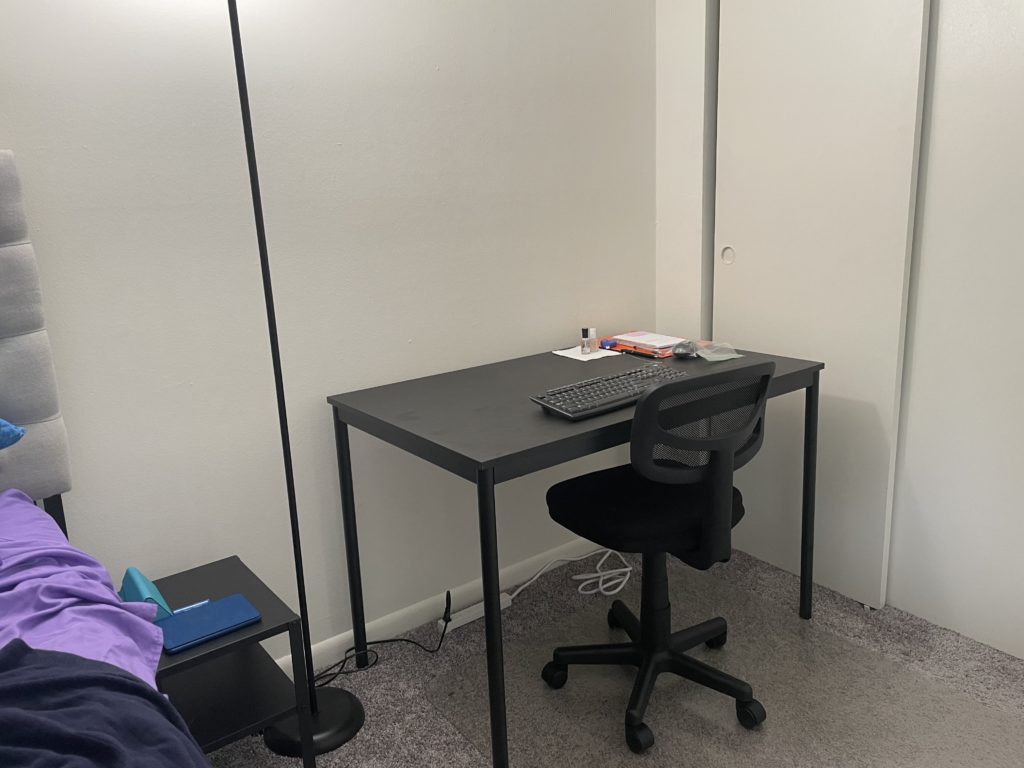 I always need a desk area so this table from IKEA fit nicely next to the bed. Also the little nightstand is from IKEA. We got it initially for next to the futon but I've been using it next to the bed for my glasses, kindle and phone.
Lastly I just got the desk chair from Walmart. Walmart pick up was horrible so I won't be doing that again, but it was a cheap chair and perfect for what I need. Similar to what I mentioned with the outdoor rug, this chair I will probably just use for the year I'm here because it's cheap. I just didn't feel the need to get a fancy desk chair. I actually like sitting on the floor at the coffee table but the desk is nice for work from home days. I do plan to get one monitor as well for the desk because I really like 2 screens when working.
If you are interested in costs, it was about a $700 IKEA trip. With the TV and some of the Walmart and Target items, I would say it was a bit over $1,000 to furnish to the studio apartment (take note we already had the bed and mattress which probably would have been another $1,000). I also spent quite a bit getting kitchen items, probably another $100-$200 for those. It was also a lot restocking spices and pantry staples. I like to bake so I needed flour, sugar and everything.
Overall, not bad for everything. Obviously IKEA stuff is great and affordable. One day I would like to invest more in furniture but that will be sometime in the future with a new house. We are hoping to find a house next summer so that we only have to rent for a year. The housing and rental market are really insane at the moment but hopefully it will start to settle down for next year. Meanwhile I'll be cozy in this little studio apartment.




Sharing is Caring: