Sharing is Caring:



Hey friends!! I felt quite productive this past Saturday. Being that the weather was showing a beautiful 60 degrees, I knew we had to find something to enjoy the day outside. First, we started with a slow morning. I made a delicious smoothie for breakfast and then got a couple items at the local farmers market. Brian was hungry for an early lunch since he only had a mini donut and coffee for breakfast. Oh I should mention I had the most amazing lunch delivery on Friday that I found out about from Facebook. A few local restaurants and our favorite donut truck teamed up to deliver this meal. I opted to get 6 extra donuts with the order which was well worth it.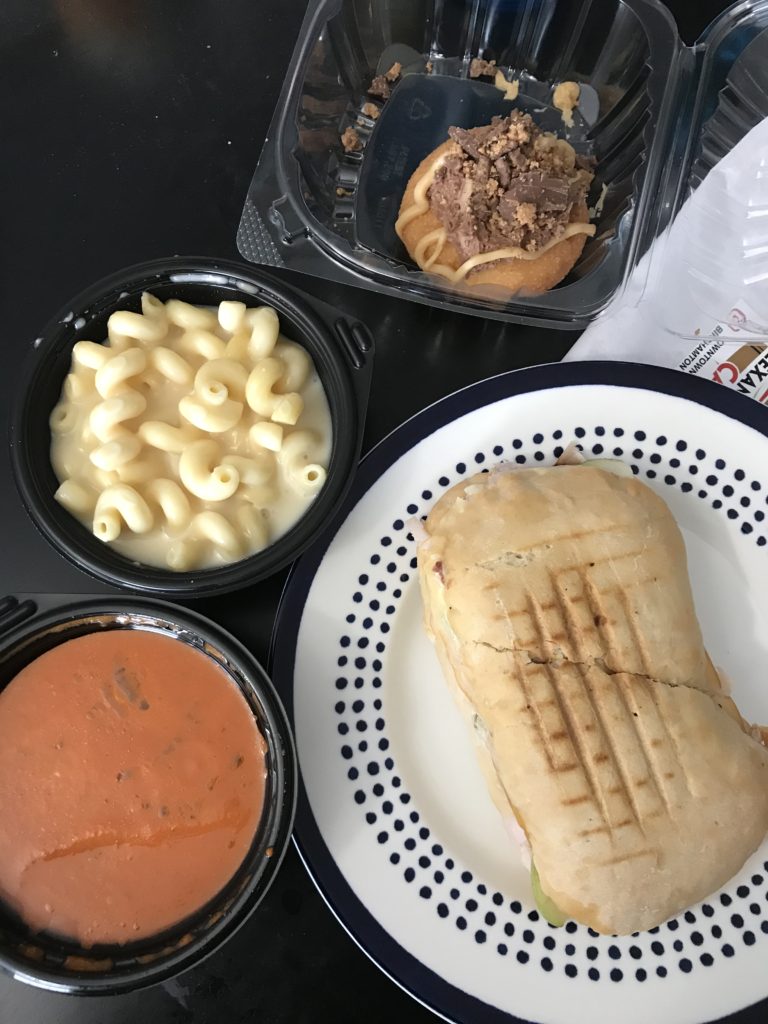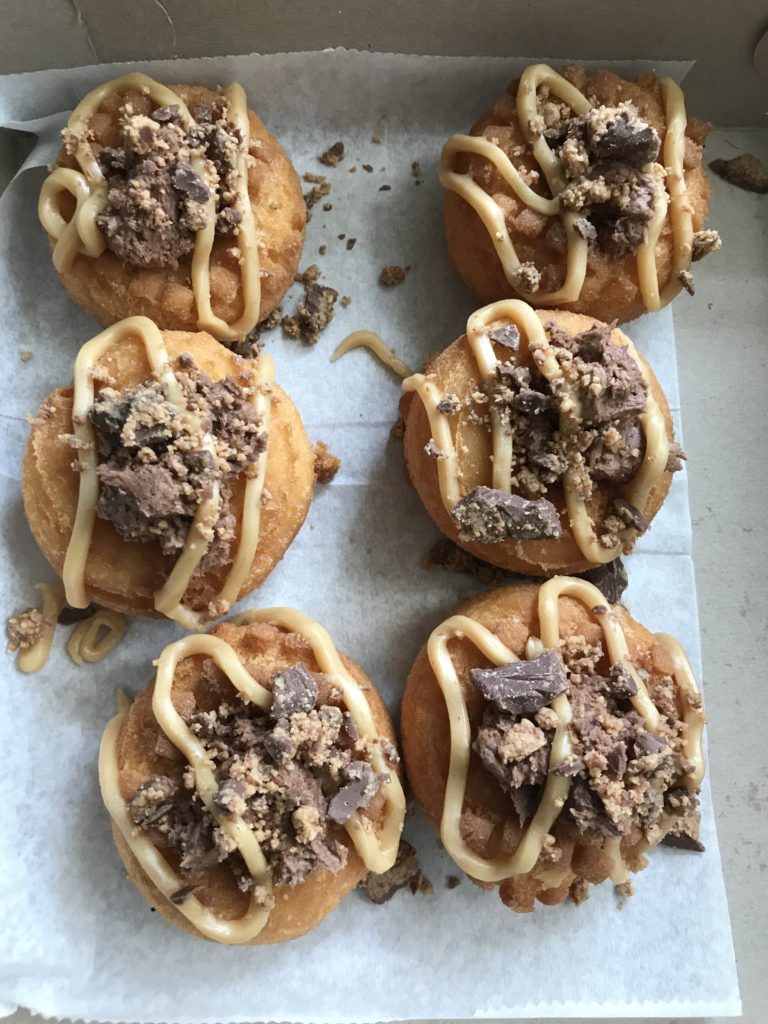 Back to Saturday, I tried a new recipe that I happened to have all the ingredients for. I used to love the Lean Cuisine Chicken Carbonara recipe. Only thing is now I can't have the dairy in the recipe so I searched Pinterest for a dairy free carbonara and landed on a winner recipe that will definitely be made again. The recipe didn't include chicken, but I just cooked up some chicken first and added it in with spaghetti at the end. Also, I happened to have edamame spaghetti on hand so it was extra protein. I would say with the chicken and pasta, you get about 4 servings from the dish even though the original recipe says 2 servings. The chicken adds a ton of protein and the sauce is mostly egg based which is good protein. I decided to plug in the ingredients to My Fitness Pal to see the Macros for this dish and it came to about 10g Fat, 24g Carbs and 55g Protein per serving if you do 4 servings. The total meal was 420 calories, which isn't too bad for a lunch considering all that protein you get. This is also with edamame noodles.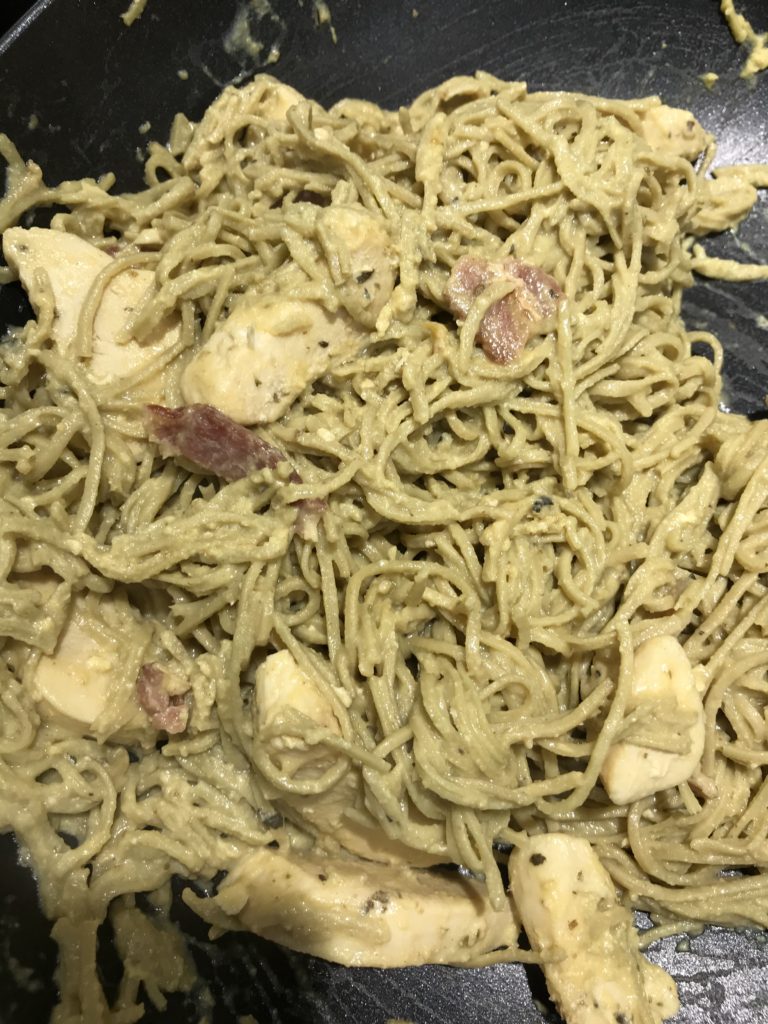 It was definitely a filling lunch and then Brian and I took a ride to a trail to hike. Brian said the loop was about a mile, but it was the perfect day for a trail walk. We did see a few people on the trail but kept our distance.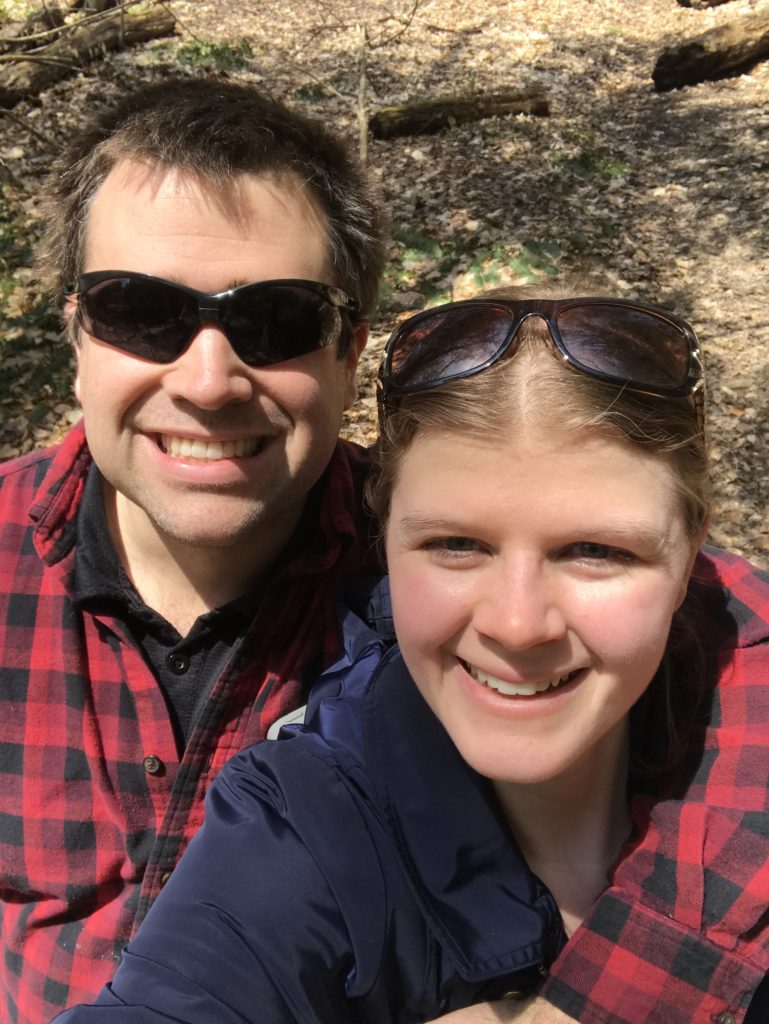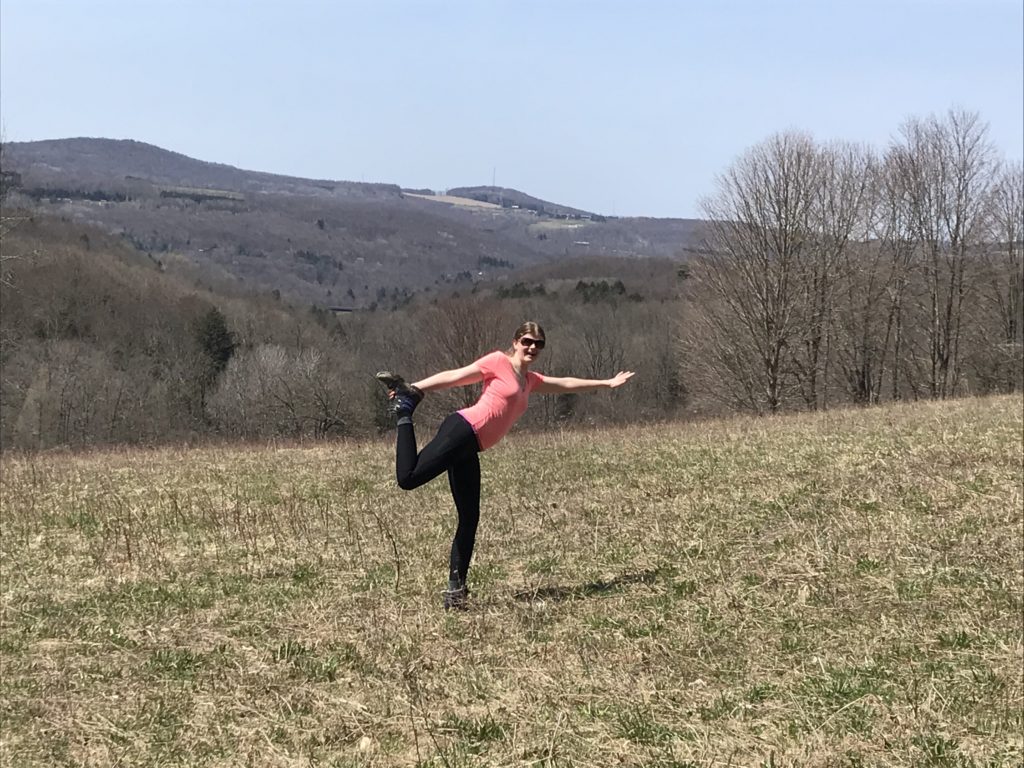 Then we hung out in our friend's backyard, keeping distance, even though technically this isn't really allowed either. It was beautiful outside and fun to chat for a while though. She even made chocolate cake since we mentioned stopping by. Delicious post hike snack. Then we were getting bombarded with wasps flying around so it was time to get back in the safety of the car and head home for the rest of the afternoon.
I wanted some Iced Tea, but Tim Horton's failed me on the way home and didn't have iced tea. I don't know how they were out. The Dunkin line was also quite long and I didn't want to wait so I made my own Iced Green tea at home. I decided to get right to some cleaning. I have an old file drawer with papers from 2013-2016 that needed to be sorted. I made a giant shred pile and luckily Brian has a shredder. I managed to overheat it a couple times, but in the end, I filled a good portion of a giant black trash bag with all my shredding. It felt good to clean that up. I used to save every receipt and print my credit card statements. Now I just pdf my statements and look through them to make sure everything makes sense. I save receipts for about a month and then toss them, so I am a little less of a hoarder now. Also, for anyone that complains of gas prices, I found my old gas receipts when I paid $4.20 a gallon back in 2013. That was expensive!! It was also interesting just to review some of my purchases from years ago and purchasing from some small companies that I wonder if they still even exist.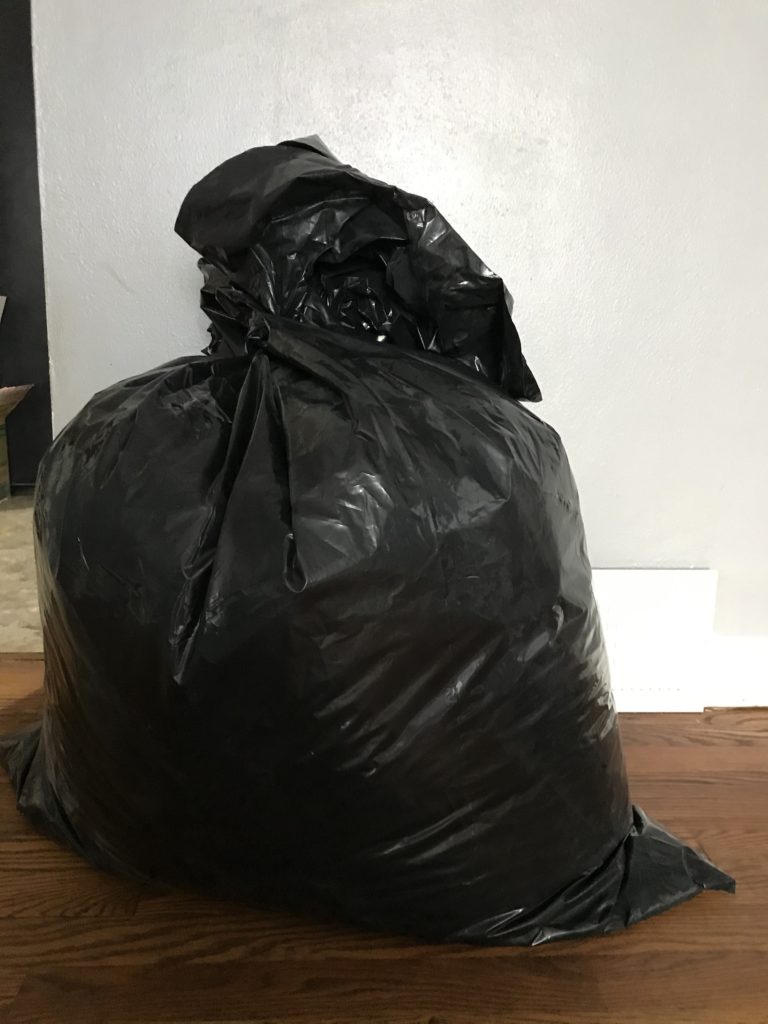 About 2 hours of sorting and shredding and then putting my folders and files to keep in a box for now. I want to get a file storage bin eventually, but I don't feel it's totally necessary to go to the store right now for one. I cleaned out the file drawer though and now we will see if I can sell it for one less piece of furniture around. Next up is sorting American Girl again and just memory stuff, trying to find a way to condense stuff down.
I felt pretty accomplished Saturday and am glad we enjoyed the weather. My lunch kept me very full so I had a light dinner. In the evening I just watched TV and read for a bit. I had a bit of a headache, probably from all the sun and not downing enough water so I went to bed early while Brian stayed up playing video games for a bit.
After a good night's sleep, I woke up on Sunday motivated. I always find my mornings are the time to get things done. I was up around 6:45am and ready to workout so I did my next PIIT workout, while trying to keep the jumping to a minimum both for my knees and to not wake Brian. After a sweaty workout, I made a quick breakfast and then headed to Wegmans. I had a long list building up and found most of the produce I wanted and a few essentials, such as chocolate chips and almond milk. A few things they were out of were some spices I ran out of and the meat department is seriously lacking. We might have to become vegetarian soon or something. Luckily they did have more edamame noodles which do have 24g of protein per serving so always a good backup meal to cook.
When I got home from the store, Brian was still sleeping and it was 9am!! Actually he basically got up shortly after I walked in. He was up late though and Sundays are for sleeping in right?! It was quite a rainy and dreary Sunday. I worked on some more spring cleaning and listing some items for sale. I want to see how those items do before tackling the next boxes. By the time lunch time came, I ate some leftovers and pretty much laid around and was lazy the rest of the day. I was not motivated to do much in the afternoon, but I felt good about what I got done on Saturday and Sunday morning, so the laying around was acceptable.
              Brian made some hamburgers for dinner and the week. We got a giant 3lb container of hamburger meat and this was after the 3rd grocery store of the day. It is definitely challenging to shop, though I feel produce has been better at Wegmans, but meat and frozen food are still pretty short supply as well as some canned goods.
Now we are heading into week 6 work from home for me. It's somehow going to be May at the end of this week and I am really wondering where April went, especially as the rain might turn to snow again..grrrr. I hope May brings some actual spring weather and more sunshine.




Sharing is Caring: