Sharing is Caring:



Oh hey it's mid February…my how the time flies by. Most of my weekends are filled with homework assignments these days. Brian and I are also trying really hard to save money so we are pretty much home bodies at the moment. I think this works quite well for winter time as it's cold, icy, snowy and dark so early. Honestly, so far, I would say it has been a mild winter. We got about 6 inches of snow a week ago Friday and Brian drove me home from work a bit early (perks of working at the same place) and then I just picked up my car on Saturday morning. I shoveled the whole driveway and was working on the hardest snow pile from the plow and then my neighbor came down the street with his snow blower.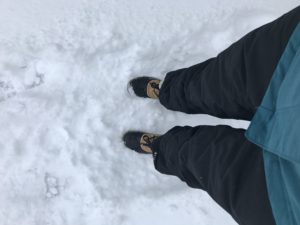 Valentine's Day was last Friday and we don't really do anything for the holiday. Last year I asked Brian for chocolate covered strawberries and he said they were so expensive so instead we made our own. This year we had to continue the tradition and make our own strawberries again. It's fun because we get to melt the chocolate and work together and then get a nice treat. Brian also cooked up some steaks for dinner and then we rented the movie Hustlers (after seeing that Superbowl halftime with Jennifer Lopez, I had to see the movie). I think we both really enjoyed the movie and it was a nice break from homework for the night.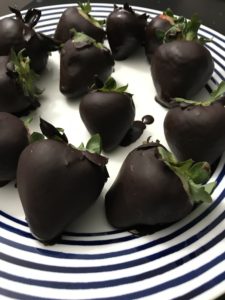 I've had many group meetings at 9pm and that's usually when I go to bed so I have been tired from staying up for those. Overall though, the semester hasn't really been too bad and lighter on the workload compared to the last couple semesters which has been nice. I have been reading ahead whenever I get the chance and that helps for doing the assignments mostly on the weekends. So now that we have caught up a bit, I did want to share a few currently items.
Current Book: Scythe By Neal Shusterman. I heard about this book from The Lazy Genius podcast with her recent winter book episode and her summary had my intrigued so I immediately bought the book. Also, sidenote, this book is a trilogy and in doing the math, it's cheaper to buy each book in paperback individually than to buy the boxed set…like why? Book prices literally do not make sense anymore like when it is cheaper to buy the physical copy than the Kindle version. I just don't understand. Also I started reading this book aloud to Brian when we got into bed one night and it's such a fun book to read to someone that it's kind of become our nice bonding thing to read it together.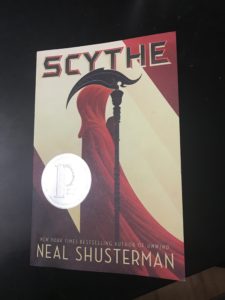 Current Podcast: I just discovered The Kelly O Show as Kasey Brown (a blogger I follow) was on the show recently and I listened to her episodes and curious to check out more of her podcast episodes.
Current Purchase: I finally got myself another Columbia jacket. I got my black one about 2.5 years ago and it is what I live in at home so it has gotten its use for sure. I'm still keeping the black one but the new mint green one is so comfy and I love having a color other than black as mint green is my favorite color lately.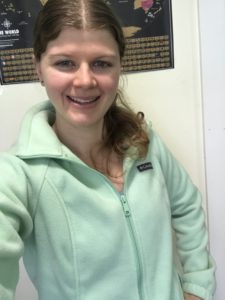 Current Essential Oil: I have been diffusing orange essential oil in my office when I am working and love the refreshing citrus smell.
Current TV show: I randomly came across Locke and Key on Netflix last weekend and I was hooked. I somehow managed to watch 4 episodes in one weekend and then finally stopped for a bit. I do not typically watch anything scary, like even people popping out suddenly. This show is a little creepy but so mysterious. I can only watch it during the day or in the morning time for this reason so it's more of a weekend show to enjoy, but it's so addicting with all the mystery.
Current Food: I finally made a salad recipe from The Heathnut Cookbook, the beauty glow salad. I didn't get all of the ingredients, but had most of them and the lemon ginger dressing was also sooo delicious. If we ever have some people over for a meal, the recipe makes a nice big salad. I cut the salad recipe in half and enjoyed some for lunch Saturday and Sunday.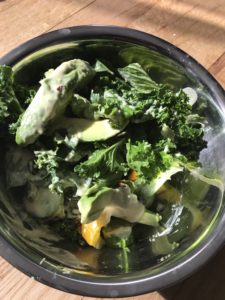 Current Snack: Flex BBQ flavor protein chips. So my co worker has been getting everyone hooked on these chips as she found them at Sam's Club I think. They are great macros and apparently great on Weight Watcher points as they are high in protein. I also love that they are classified as vegan so no dairy for me and they are keto friendly which works well for Brian. I recently discovered they sell them on Amazon (I mean of course) and so I got the Buffalo and BBQ variety pack. The buffalo flavor is definitely a bit on the spicy side for me, so those will be for Brian and I will eat the BBQ. I think next time I order them, I will just get the BBQ pack. The chips worked out to less than $1 a pack and that's not bad at all considering I often buy protein bars for $1 or more individually.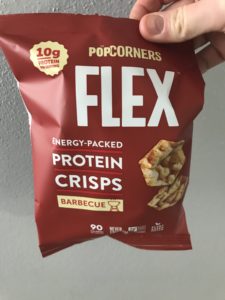 Current countdown: Having a countdown to something keeps me excited and it's currently 52 days until my 30th birthday. Being that it's the big 3-0, I am planning a short trip to Chicago with my sister and a couple friends. It should be a fun time. We will see if the weather cooperates because it could be anything from snowing to raining to sunshine and beautiful in April if you know Chicago.
Do you do anything to celebrate Valentine's Day?




Sharing is Caring: