Sharing is Caring:



Last year I enjoyed picking a word of the year. I chose growth as I was working on learning and growing in many areas of my life. 2019 brought a lot of changes. Growth definitely happened. You always grow through challenging times and 2019 was definitely a challenging year for me in many ways.
Looking onto 2020…wow. I just remember being in college and hearing about the school's 2020 vision all the time. I guess they must be almost on 2030 now huh? There are also many 2025 vision planning going on and honestly I just can't look that far ahead right now. It's great to have a 5 year plan, but I'm putting focus in the next 1-2 years right now. This brings me to me word for 2020, which is Present. I want to be more present in life, in my workouts and my school work and work. It's so hard for me to not think ahead. When I am in school, I constantly plan out what assignment I will be working on a week or two weeks or even further ahead. I mean, some of it is necessary because having classes online and working during the day, there has to be planning. However, I often spend too much time stressing and worrying about the next thing due. I don't stop until the semester is done and then months go by and I haven't really enjoyed myself. All the pressure really comes from myself as I am also trying to save money and so I restrict in spending and basically lead to not being allowed to have fun because "fun" requires going out and meeting friends and buying a meal. I think I could do better to have some fun and also save.
I haven't felt very present in my workouts at the gym lately. There is just so much on my mind all the time. This time off from school and a few days off for the holidays have helped me. One thing is writing. My blog has obviously taken a backseat and while I don't need to always write for the blog, I like to write for myself, to remember moments in my life and also to process things happening. Somehow I need to give myself some more time to write again.
With being present, I think it's important for me to remember block timing. I wake up early to go to the gym. I set aside that time for a workout and I should be able to set my mind in that time to focus on working out, rather than homework. My thing is I LOVE the mornings and I want to get everything done in the mornings but it just doesn't happen that way. I usually aim to go to the gym on Monday, Wednesday and Thursday morning. I used to sleep in a bit on Tuesday and Friday, but now I often get up at 5am anyway to use that time and do some homework or yoga before work. It's my "me time" that I love and a chance to work on things. Since Brian heads off to work around 5:30am, it's also quiet time, which I enjoy. So I have to remember, the morning gym session, even if only 45 minutes, is important as my me time and workout time. Then I can do some homework after. I also have been better about coming home from work, having dinner with Brian for 30 minutes or so and then heading to my office to work on things. While I don't always like doing homework in the evening, it's also necessary when working full time and going to school. I remind myself that it is only temporary in this phase of my life.
Days and months can sometimes feel like such a blur, just chugging along to get by, but that's no way to live. I need more presence overall in my life and focus on the here and now instead of the future or past. So that's my word for the year. Be present!!
Namaste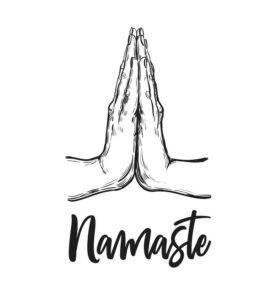 Sharing is Caring: