Sharing is Caring:



This was the first weekend with no plans in over a month!! It's no wonder August totally wore me out. It was so nice to sleep in both on Saturday and Sunday and ease into the days. Friday night I got home from work and I honestly wasn't feeling great. My throat had started to get sore and I was very sneezy throughout the day with a stuffy/runny nose. Brian figured it was allergies, but it felt more like a cold to me. I decided to take my economics quiz Friday night right when I got home. Economics feels like it will be my harder class this semester and one that I was worried about. The quizzes have no give because they are all true/false questions pretty much, so you are either wrong or right and my 50/50 selections are usually wrong when I guess…I was further annoyed when I submitted the quiz and I couldn't even see how I did. In the first quiz we could immediately see what we got and got wrong or right, but I'm guessing the teacher blocked that because with a week to take the quiz, maybe students shared answers? It would at least be nice to see your score even if you couldn't view what was wrong or right, but I'm not the teacher.
The rest of Friday night was spent relaxing. I was wiped out and Brian and I just watched some tv. We both headed to bed early and slept nearly 10 hours which was so needed. Unfortunately, on Saturday morning, I felt worse. I rolled a lot overnight and didn't sleep great due to my throat burning and I must have been dehydrated because I got a charlie horse in my leg when I woke up. I amped up the vitamin C in the morning and the only thing that sounded good for breakfast was a smoothie. I had to improvise a bit though because I didn't have any spinach or frozen fruit. I used a full banana, some frozen cauliflower, protein powder, almond milk and ice to make it extra cold. I love our powerful Blendtec blender for blending all the ice up smoothly. I also cooked up some bacon for me and Brian. I used to buy bacon all the time, but then stopped and switched up breakfasts to more avocado toasts, eggs or mini bagels. This past week I went back to oatmeal though as the temps have lowered and I wanted something hot for breakfast.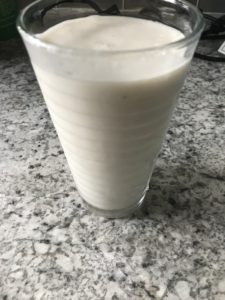 I still headed to the grocery store Saturday morning. It was the only thing on my agenda for the day besides homework. Brian joined me since his truck was at the shop getting new tires and it worked out that I could drop him off to get his truck after shopping. Brian returned with his truck and also a Tim Horton's iced tea for me. Iced tea is my thing when I don't feel good. It started sometime in college with Brian, actually. There was a day I really didn't feel good so I requested Tim Horton's iced tea and a bagel. Now when I don't feel good, iced tea is my go to and sometimes the bagel or a mini bagel at home.
Saturday I worked on my business analytics homework. So far we have only worked in Excel, so most functions have been familiar to me and simple. I finished up the homework within a couple hours, had a snack and then asked Brian what he wanted to do. I didn't really feel good, but I also wanted to get out of the house for a ride and see how Brian's new tires were. Brian suggested going to Salt Springs Park for a quick walk. So we headed there.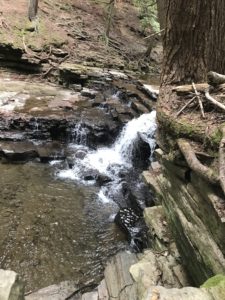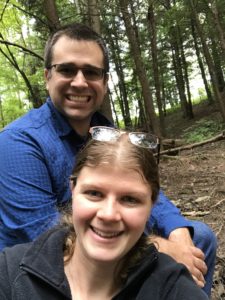 It was my first time to the park, but Brian used to work nearby, so he has explored the park. Honestly the hiking was a bit much for my body, but the fresh air felt good. We only stayed maybe 30 minutes or so, just took a short trail around, which was all I could handle for the day. The afternoon, I spent cuddled up on the couch watching the last season of Jane the Virgin.
After 4, I decided to get started on dinner. Even though the prep time said 20 minutes on the recipe, I didn't have everything chopped and ready, so it took a bit longer, but I thawed the chicken and marinated it. While that sat in the fridge, I started to make mini donuts. Both recipes from the new The Healthnut Cookbook that I just got.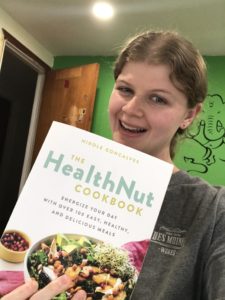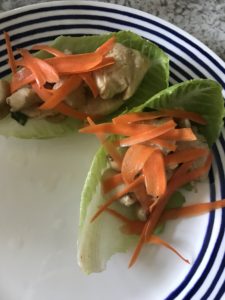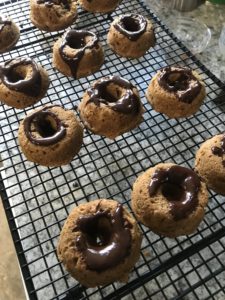 My timing worked out well as I had everything ready to eat around 5:30 and called Brian up from his office downstairs and we enjoyed dinner. Then I continued to watch Jane the Virgin for a bit before decided to take a bath before bed.
Sunday morning I felt a little better. My throat didn't hurt, just my nose was still bugging me. My body had ached on Saturday, but besides the Charlie horse in my left leg, my body felt much better Sunday. Hoping if I do have a cold, it is working its way out of my system.
I made some green smoothie pancakes for breakfast from The Healthnut Cookbook for me and Brian. Brian said they were good so that's a success in my book.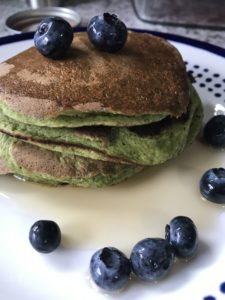 After eating breakfast, I got to work on my next economics lesson for the morning. Again I love 2 classes because I can focus on one class on Saturday and one on Sunday.
Brian finally hung up my painting!!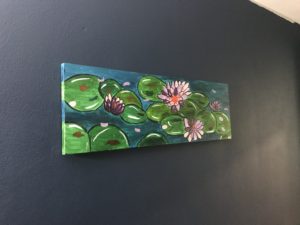 I stayed in my pajamas on Sunday until about 2:30pm when I decided I needed a walk outside in the sunshine.
Then I baked muffins.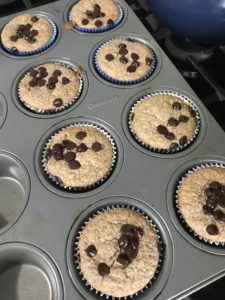 Then it was time for more study time before winding down for the night with dinner and some short TV time. Overall the weekend was much needed with lots of quiet time and down time to relax. It also helps to get back into my homework routine for the Fall as we enter week 3 of classes already.
Have you tried any new recipes lately?




Sharing is Caring: