Sharing is Caring:



I sometimes forget I live in this little bubble of mine where I read healthy living blogs and listen to podcasts and other people don't know about these blogs or podcasts. I love sharing what I am into with others, because I also find out about books, podcasts, latest products from others (influencers perhaps?). I am definitely highly influenced by others, but I am also at a point in my life where I know what usually works for me. I still like to explore when I want, but sometimes I just like to read other's opinions on products and just take in different perspectives. We all come from different backgrounds and perspectives and I think that should be respected. Moving around has helped me see this a lot and appreciate, not only my own background, but hearing other perspectives. I don't know if this totally ties into this post, but here is what I am currently up to this July. Maybe you will find something that interests you, maybe you will find this totally boring. Either way, I appreciate you reading along and following with my crazy life.
Current Book: Finished Michelle Obama's book over the 4th of July weekend and now I want to read the book I bought for my honeymoon trip that I never got to, The Matchmaker by Elin Hilderbrand. Likely this will wait until August when I finish my classes though.
Current Podcast: Never Thought I'd Say This hosted by Jodie Sweetin (Full House!!) and Celia Behar. You guys…I am not a parent yet, but OMG this podcast is hilarious and makes me want to laugh out loud. If you are a mom, I think you will love it even more.
Current Purchase: Third Love bras. I've known about Third Love for a couple years I feel like and it was time for a couple new bras, specifically I wanted a strapless one (not sure what happened to my old strapless). I took their quiz and got a size and then ordered, but the cups were too small so I exchanged them. Exchanging the bras was an easy process, just be prepared for waiting a week for the first delivery and waiting another week for the exchange. So basically I feel like it has been since July started I was waiting for these bras, but I am happy with the exchange and excited to have a strapless bra to wear with certain shirts and dresses.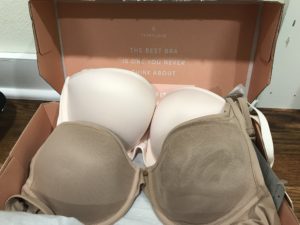 Current drink: On my La Croix passionfruit obsession right now. I like having one after dinner some nights.
Current TV show: Just finished watching Good Witch season 4 on Netflix and I see the season 5 is currently on TV and it was already renewed for season 6 so I'm excited. Besides that, the usual Sabrina the Teenage Witch and Gilmore Girls when I watch TV, but usually I only watch TV while I eat for about 15 minutes or so and then I get bored and move onto something else.
Current Food: I made a cauliflower fried rice the other night with veggies from our Misfits Market box. I need to write a post on that because the deliveries have been awesome.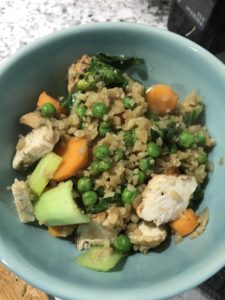 Current countdown: 19 days until I am done with my summer classes and finals. I'm nervous for the finals, but I have been successfully staying about a week ahead on the homework since July started so that will help so I have time to study and review before the finals. Hopefully they go well. Then it's onto reception party planning and some housework for a couple weeks before Fall classes start up. I can't believe I started grad school a year ago in August. Having homework definitely makes the days fly by even though it can be stressful at times with working full time and managing everything, but I am still grateful for this MBA program.
On a fun note, I also did the Color Run last week with some friends.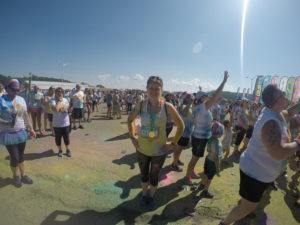 The next couple weeks will be filled with lots of study time, but then I will get a little break and looking forward to another State Fair day.




Sharing is Caring: