Sharing is Caring:



What does one do when they take a week off from the gym?! OK maybe it's easier for others than for me, the somewhat gym addict over here. After my meet last weekend, I took a week off from the gym. I needed the time to reset and I honestly don't have a weightlifting plan to go right into at the moment. Brian pointed out to me that I need to work on my mindset and I think that is something that also set me back at my meet. My mind wasn't into it as it was the first time around. I was way more stressed. So having a week off to eat what I wanted, sleep in (until 5:30 instead of 4:40am for the gym), work on school work for the final weeks of spring semester, and get to work early to leave early, was just what I needed.
During the week I wasn't entirely non active. I did yoga on Monday evening and then it was so nice when I got home Thursday, I went for a short run/walk around the block. I also attempted running photos…but will need to work on that.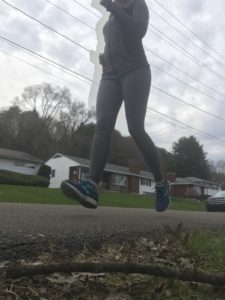 Before the meet I was obsessing over my weight and not eating the sweets I wanted to make sure I weighted in my weight class. After the meet, I have had so much sugar. I have not deprived myself. But if I am being honest, I am craving those veggies hard core and making sure to still eat well, but just enjoying dessert a little more. I'm not tracking my food at all. I actually haven't tracked much for the past 2 months. I enjoy making recipes with whole food ingredients and I don't enjoy counting every tablespoon of oil I use in my dressings. Maybe I am back to eating too little, as I know that was a previous issue of mine in performing better at the gym, not fueling enough. I didn't do it on purpose, I just simply didn't realize. I've somehow lost a pound or two in the last week in the occasional steps onto the scale, but I'm not obsessing over the scale. I'm eating what I want and enjoying it. I'm comfortable in knowing my sugar limits and also making good food choices.
Friday night after dinner I enjoyed some almond milk soft serve ice cream for instance.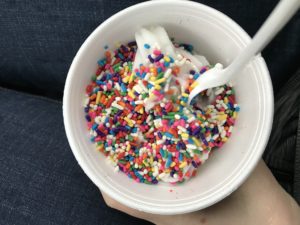 There was also a cookie cake that had to be made, since I didn't make one on my birthday as I usually would. I tried Katie's recipe and added some colorful sprinkles. The recipe probably has more sugar than I would like, but it also has chickpeas, so that balances things out a bit right?!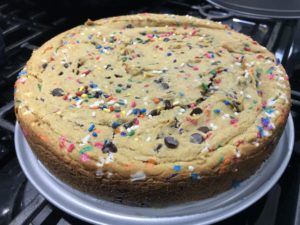 Initially we thought the weekend or next 10 days included rain in the forecast, but we got up on Saturday morning and it was damp from rain overnight, but then sun actually came out in the afternoon and it was like 75 degrees!! It was exciting to enjoy some warmth. Time outside was just what Brian needed to get motivated. While he worked on making beer and smoking a brisket for Easter dinner, I worked on some homework and read FOR FUN.
Sunday afternoon I finally finished the book I started back in January. I also enjoyed time outside picking up sticks in our yard and just enjoying the spring weather.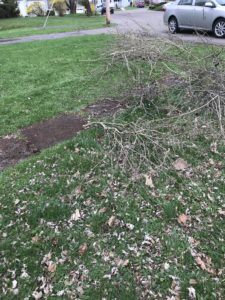 I balanced my time outside with inside time watching No Good Nick on Netflix and finishing that. I had started it on Monday so it took me about a week. Then I discovered that Younger season 5 was on Hulu as season 6 is about to start, so I decided to start that to catch up. Honestly I don't watch much on TV these days.
And Sunday morning, on Easter, we made it to the gym and I did some light squats followed by a short session of tire flipping in the back of the gym. We are thinking of making this a Sunday thing. I then worked on my pull ups and chin ups. As I mentioned, I don't have a set workout plan at the moment. I hope to create one soon, but in two weeks we will be off for our wedding and honeymoon, so for now, I am kinda going with the flow and do what I feel like at the gym. I know that's not the best strategy, but it's also not permanent either.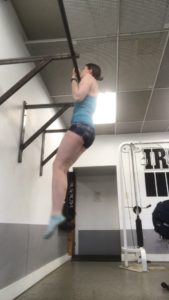 To sum things up, a week off from the gym has helped my sanity and stress levels decrease immensely. I am eager to start weightlifting again, but for summer, my focus may not be specifically powerlifiting. We will see.




Sharing is Caring: