Sharing is Caring:



This was a great weekend. I was more relaxed than I have been in the last few weeks. Maybe the fact that I was on "spring break" with school helped a lot. I was worrying throughout the week about all the upcoming assignments, but at the same time I also had 2 weeks to get to most of them. I relaxed a lot in the evenings and spent more time with Brian just talking on the couch. Brian is constantly telling me I need to slow down as I can be go go go all the time, but he is right and I know it. I was glad to slow down this week and head into the weekend with a good mood.
Friday night we had leftovers for dinner and then I found the movie Christopher Robin on Netflix so we watched that. It started slow, but then we both got into the movie and it was nice to watch Winnie the Pooh again. We winded down the night with a drink since we had some fresh mint to use. I rarely drink, but sometimes it's nice for a Friday night. I was quite relaxed and falling asleep before it was even 9pm.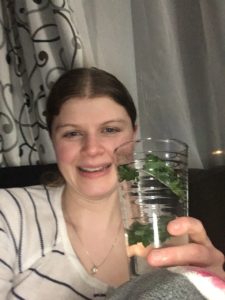 Saturday morning I woke up with the sun shining into the bedroom. Brian had his last scuba class in the morning and I headed to Target and Wegmans for shopping. Easter is late this year, but I managed to wait until it was March at least to get my favorite Easter peanut butter egg m&m's. I still haven't opened them and plan to wait a while, so I hid them in the cupboard.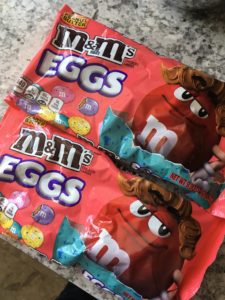 When I got home, I started to make skillet cornbread. I looked up a vegan recipe, though the only part I kept vegan was using almond milk. I used real butter and eggs as those don't typically bother me. The cornbread turned out amazing and it was consumed in one day between me and Brian…yep not sorry.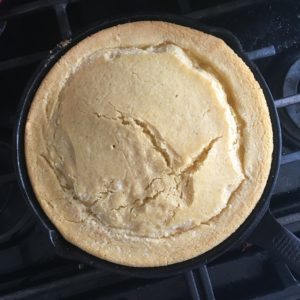 I was also snacking all morning basically, so cornbread and pita chips became my lunch. I did have some cheese and ham later to snack on too.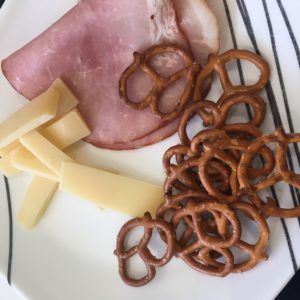 Late morning Brian and I headed to Lowe's to look at blinds. We tried curtains in my office and I just hated them. I like curtains in living rooms and on big windows, but I just didn't like them in my office. It could have also been the color because it blended with the wall too much. Anyway, I just wanted some new blinds so we found some at Lowe's and they fit perfectly. I also have never had blinds that don't have the string to pull them up and down and I'm like a little kid having fun lowering and raising the blinds. My office at this point is complete minus a closet door and new door for the room. I love the trim painted white though and the white blinds.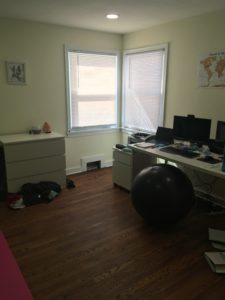 In the afternoon, I accomplished some Marketing reading and taking the next quiz. I am kinda loving spring break because right now I am doing assignments a week ahead. Then it was time to make dinner. I have had chili on my mind so I looked up an instant pot chili recipe that was super simple. Chili plus the rest of the cornbread for dinner.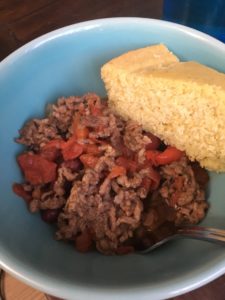 While we ate, we watched Incredibles 2 since Brian hadn't seen it yet. It was fun re watching that movie. I still can't believe it was 14 years between the two movies, but they did an excellent job with the second.
After that Brian and I couldn't really agree on what to watch together so I decided to read for a bit. I need to do more reading for fun anyway.
Sunday we lost an hour with the time change which meant I actually "slept in" right?! I was up around 7am (the new 7 as I usually am awake at 6). After laying in bed for a while, I think I got out of bed closer to 8am and was quite hungry. I made some oatmeal and bacon and prepared Brian's coffee. It was nice to ease into the morning.
I then made some muffins and started chicken in my instapot (slow cooker setting) before we headed to the gym.
I finally feel like I have gotten adequate rest lately as my squats felt better on Sunday. I was able to do a couple sets of 135 lbs before my form was being lost and I dropped back to 130lbs at the end. Then I worked on pause deadlifts and then some "play" with pull ups and chin ups. I was able to get 4 pull ups unassisted in a row which I was quite pleased with. I can tell my arm muscles are growing as certain moves feel easier.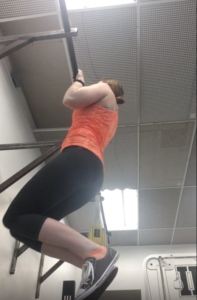 As I waited for Brian to finish up, I did some stretching and headstand play and practice. I am trying to work on being confident to headstand in the middle of a row again. I can get up without touching the wall, but of course having the wall behind you just makes you feel better.
After the gym, Brian and I picked up spedie salads for lunch. The hour time change wasn't too bad to adjust to. After lunch, I worked on my taxes, no fun. I always end up owing but oh well.
In the afternoon, I went on a cleaning spree with the fridge. Something had spilled and made a mess on a couple shelves and it was really bothering me. Then I started to work on some writing and reading for class. I'm already quite ahead in both of my classes for this coming week, so it shouldn't be too bad. Also the person on maternity leave comes back today so work should be a bit more relaxed and I can work on my own things again which will be very nice. Brian also starts his new job today too. We will be working at the same place, but in different spots so we probably won't see each other often, in addition to the fact that we will be working different hours. It will be interesting having him adjust to a 40 hour work week instead of being away and working like 100 hours a week, but it's also nice to know I can make weekend plans with him months ahead of time.
For dinner we had more cornbread and chili. Since we finished the cornbread in a day on Saturday we had to make more, so we tried another recipe and used a slightly bigger skillet, because apparently I don't know how to measure skillets…oops. It was a perfect way to end the weekend, eating our cornbread and chili though and relaxing.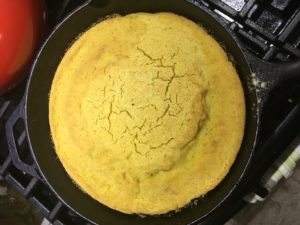 Overall this weekend was quite relaxed. I did some homework here and there, but I also got a lot of cleaning done and things off my to do list.
What did you do this weekend?




Sharing is Caring: