Sharing is Caring:



This weekend was super laid back compared to the last weekend. No tests or quizzes since I got my marketing quiz out of the way on Thursday evening. Friday I came home from work and watched the latest episode of A Million Little Things. I am now fully caught up and I think next week is the season finale. I spent some time reading FOR FUN on the couch for a while and then just watched Gilmore Girls for a bit, barely lasting until 9pm. Whenever I run out of shows or don't feel like starting a new one, I go back to Gilmore Girls. It's so easy when all the seasons are on Netflix, but I own all the DVDs too, though I still need a DVD or Blu Ray player.
Saturday morning was a no alarm morning which was wonderful. I didn't want to get out of bed and the warm covers except my stomach was growling. I got up around 6:30am which is sleeping in for me at this point. I made a nice filling breakfast of eggs, avocado toast and finished the strawberries.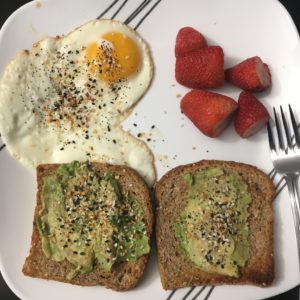 Then it was time to run to Wegmans bright and early. I got all my groceries and was back shortly after 8am. I enjoyed listening to a podcast for a while and working on my next stats lesson on and off. Then I made some delicious vegan banana bread which I snacked on before having lunch. The recipe I made was for muffins, but I did a loaf of bread and just doubled the time in the oven.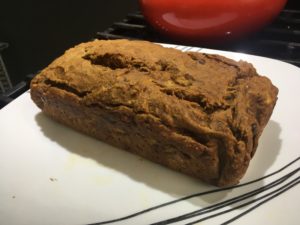 Shortly after noon I figured it was about the warmest it would get in the day so I went for a walk while listening to Coffee and Crumbs Podcast. They are currently on a break between seasons but it has been a while since I listened to their podcast, so I had some episodes to catch up on.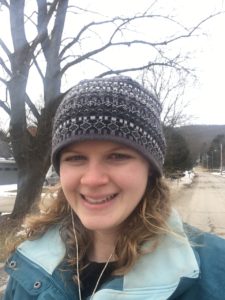 I feel like last semester I spent a good 4 hours each Saturday and Sunday to work on homework plus a lot of time in the evenings during the week, but this semester that hasn't been the case. It's refreshing, in a way, and the next two weeks are oddly "light." I have a project due but that's about all because we have "spring break" next week which definitely isn't a thing when you work full time as an accountant and it's month end…so yeah. I plan to use my evenings still to read or look ahead because I know the end of March will be crazy with things due as well as April as the semester ends. Also we are 74 days away from my wedding. I have a countdown app on my phone which is fun to look at. Wedding = vacation and time with my closest friends so I can't wait for that.
Mid afternoon, Brian came home after visiting his mom for the week. Then we had date night. My work had their gala this weekend but I decided not to go because I didn't want to spend the money on a hotel night and outfit and everything. So Brian and I made our own date night as How to Train Your Dragon 3 came out and we used a gift card we got for Christmas at a local restaurant. The movie was very good considering it was the 3rd in the series. It ended in a way that I don't think a 4th will be made, but we are content with that. By the time we got home at 9pm, I was tired and pretty much went to bed.
Sunday morning I was surprised when I actually slept in until 8am!! I haven't been able to sleep in to that time in a while so it felt very refreshing to have a lazy morning at home.
Eventually we made it to the gym. I worked on all 3 main lifts and got a new PR for deadlifts at 190 lbs.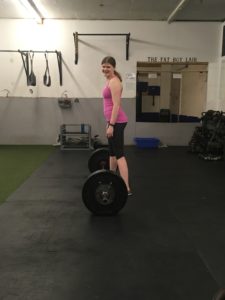 By the time we came back home it was time for lunch and we both had leftovers from dinner Saturday night.
The afternoon was pretty lazy, but much needed to relax. I did get some meal prep done making some turkey meatballs and some cauliflower fried rice, which made a great afternoon snack.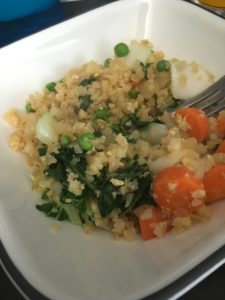 We had dinner with the family at 5:30 and then when we got back home I was motivated to try taping around the windows in my office and got the primer coat on the windows. Sometime later this week I will finish the painting. Then it's onto the next bedroom, but that only had 1 window. Our bedroom we are just putting up new trim around the windows that I already painted in the summer. Little by little, getting things done.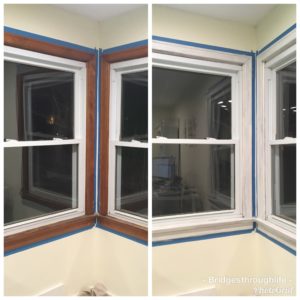 Now it's time for a busy work week and somehow next week is March already!!
Do you like painting bedrooms/windows?
Buying this house was my first time painting really. I think I tried to help paint my sister's bedroom once and that just didn't work well.




Sharing is Caring: