Sharing is Caring:



And now we are back to Monday again with another winter weather advisory….writing this up on Sunday night so still undecided if I will end up at the gym this morning. See if any freezing rain comes. Anyway the weekend was quite productive and much better than last weekend when I was just feeling so off all weekend.
I've come to the conclusion that my most productive hours of the day are between 6am and 10am, even on the weekend. Since I get up at 4:40am to go to the gym most mornings of the week, sleeping in has become 6/6:30am. This is also because I can hardly stay awake past 9pm HA. Friday night was no different. Though I also think I have been quite dehydrated so I had a dull headache and I knew with having to take my stats exam on Saturday morning, the best option was to get some sleep. I refreshed my memory on some stats topics, had dinner and crawled into bed at 9. I'm pretty sure I fell asleep fairly quickly since I didn't even notice when Brian came into bed.
Brian had to get up early Saturday morning for a day of scuba training and when his loud alarm went off, I was pretty much up for the day as well. Basically I wanted to take my stats test and get it done with. I made some quick oatmeal for breakfast as Brian headed out and at 7am I was sitting at my computer and taking the test. The teacher basically gave us the questions beforehand and it pretty much followed suit with a few extra questions that were related. Since part of the test was written responses that have to be graded manually, I don't know my grade yet, but hopefully I did well. I finished around 8am so then it was off to Wegmans for grocery shopping at my usual hour.
Once I got home, I was in the mood to bake. I have really been wanting to make some almond flour cookies and I found a simple recipe to follow. I also wanted to make some more muffins so I got to work. I put on a podcast, started some laundry, made muffins, switched laundry and started the next load, made cookies and by then it was 10:30am, but I had felt pretty accomplished.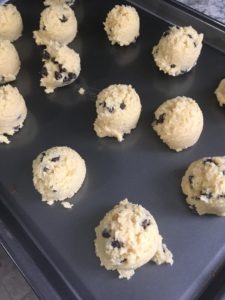 Next it was time to read a chapter for marketing. I like having two classes so that I can switch between the subjects or I dedicate Saturday to one subject and Sunday to another. Marketing requires more reading and stats requires more math and program play with the software we had to buy. Both have been very interesting though and relate to one another which has been great to connect the ideas of each class.
It usually takes me an hour or so to read a chapter for marketing so by the time I finished, it was lunch time, but I wasn't too hungry after snacking on muffins and cookies. I decided to watch a couple episodes of One Day at a Time and then grabbed a salad for a late lunch at 1pm.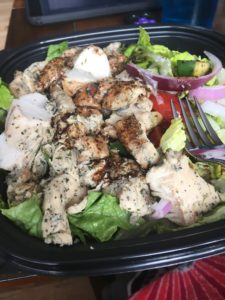 I then decided to turn on the movie It Takes Two (I love the old Mary Kate and Ashley movies) while I ate and continued to enjoy relaxing while the sun shined into the living room in the afternoon. After being pretty lazy on the couch for a while, I took a short walk outside. Shortly after Brian got home and we enjoyed a night on the couch.
Sunday morning I headed to the gym. Normally Brian and I go together on Sunday, but he enjoyed some sleeping in after a long scuba day Saturday. For most of the time I was at the gym, it was just me and one other person, which was super nice. I worked on squats, bench and deadlifts. Still working on my squat depth and it's so hard. I probably need to do some warming up besides just walking for a bit and a few stretches. The good news was that bench and pause deadlifts went very well. When 145 lbs for deadlifting feels light, it's a good day in my book. I went up to 150lbs for pause deadlifts. My current 1 rep max for deadlifts is 185lbs from a few weeks ago. Maybe I can challenge myself to do 190/195lbs soon.
The rest of the day I switched off with homework between my two classes and enjoyed some down time watching a few episodes of A Million Little Things. I know I'm almost caught up to the new episodes airing on TV which I am a little sad about because the show sucks you in, kind of like This is Us.
Also I have to mention that dinner was perfect Sunday night. Brian had cooked sausage for lunch and I made us dinner. I roasted brussel sprouts and sweet potatos and cooked up some chicken with steak seasoning. I also cut up an avocado and made a quick guacamole to top off our chicken. It was amazing and filling.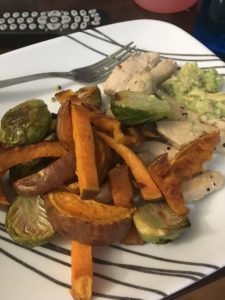 Before I went to bed I saw a few snow flurries falling, but they salted our road so well it was white before the snow even started. Hopefully other roads are being salted well too, because I still have work this President's Day. We are now entering the second half of February and it's crazy. I feel like the next few months are going to fly by before the wedding.
Did you do anything fun this weekend?




Sharing is Caring: