Sharing is Caring:



It's somehow mid February…woooahhh!! I think I am way overdue for a currently post. January was just a bit stressful and there wasn't much writing happening. I hope to get back to writing because I also think that helps me destress, whether that is writing for the blog or personal writing. Lately my days are filled with work, some homework, gym time and a bit of time with Brian. It is great having him home everyday. I also feel like it's still a little weird to adjust to. While he was away at work all the time, I worked on keeping myself as busy as possible and Brian being home has taught me I need to slow down and enjoy the moments more. Usually he cooks something for dinner or if I have something I meal prepped, he might share that. I enjoy eating dinner with him and chatting about the day before we go our separate ways in the evening with me working on school work (or getting distracted with Youtube videos if I'm being honest) and he has been working on some programming of his own for a hobby.
I will say so far I feel like this school semester has been less work, which I was expecting it to be more. Either I am doing something right or something wrong? But assignments have all been on track and grades good so far. This week I just keep thinking about Saturday though as I can't wait to take my first stats test and have it behind me. I think I am prepared, but just going to review the lessons quickly to be prepared for any surprises. I also just turned in my first group project for both classes so you know the nerves you have on that first project like did I do it right? Did I follow the rubric as the teacher wanted? We will learn after those grades I guess. The thing is I am taking Stats and Marketing and both have been REALLY interesting to me. I haven't taken classes in either before and with marketing, our teacher requires us to keep a little up to date with the news with current event discussions every 3 weeks. It has been interesting reading the textbook and current news with marketing to learn a little more of the business side of things but also learn that with technology, we are constantly being watched and our data collected. I mean, that's how Facebook knows I just looked at the Lululemon website or something. It's scary but I try not to think about it.
Anyway back to a currently post…
Current Book: How to Stop Time by Matt Haig. I just bought and started this book as it is the book club book for The Girls Next Door podcast. I haven't read their book club books before but this one sounded interesting and I felt I needed a good fiction read. I should also probably make use of the public library I joined last year and have been to about 3 times…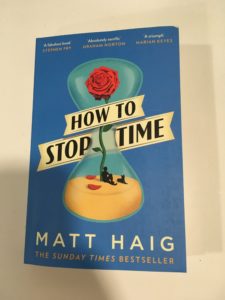 Current Purchase: I just purchased a thin travel yoga mat from Manduka for my honeymoon. We are going to Aruba and you can bet I am getting a pass to Yoga Girl's studio for some SUP and classes. Normally I am against thin mats, but I can live with it for traveling. My favorite yoga mat for home is my Lululemon mat.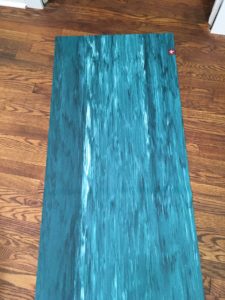 Current drink: iced tea…it may be winter, but I was loving iced tea as I had an upset stomach over the weekend.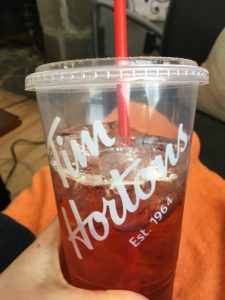 Current TV show: One Day at a Time on Netflix. Discovered season 3 just came out last Friday and I was so excited. Also not feeling well last weekend I couldn't seem to get into the show as much. It's one of those shows I feel like you have to pay attention to.
Current Food: strawberries and chocolate for Valentine's, the only thing I wanted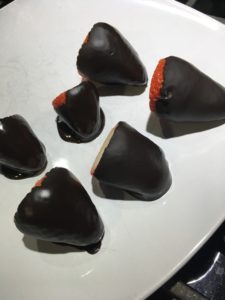 Current want: maybe a new iphone…I just had to restore mine and hoping that helps as many of my apps were freezing on me and it randomly shut down on me the other day. The good news is this iphone is officially the longest lasting smart phone I have owned at 2 years and 2 months. My previous android phones all broke themselves in about 13 months which is why I switched to the iphone. No going back as of right now.
Current craving: pickles!! I go through phases of pickles kicks. I have discovered that Wegmans brand pickles are pretty good.
Current excitement: wedding is less than 90 days away!! I'm excited and also just want to get it over with. The planning has not been smooth even with a small wedding and the expenses still add up. I am trying to enjoy the moment though and that's why I also planned a small beach wedding. Mostly I am excited for my girlfriends to join as I have never done a girl's trip and I will have a couple days with them before the wedding.
Current mood: if you were to ask me this last weekend, I would have said horrible because I just wasn't feeling well and crying at nothing basically, but the last few days I feel like my mood has turned around. I got back to the gym on Monday and Tuesday which helped and just overall feel like I have more energy.
Tell me your current…
…book?
…want?
…excitement?




Sharing is Caring: