Sharing is Caring:



On Friday Dec 21st, it was in the 60s and actually SUNNY outside. I couldn't pass up the opportunity to get out for a walk/run when I got home early from work. Still loving my Brooks shoes.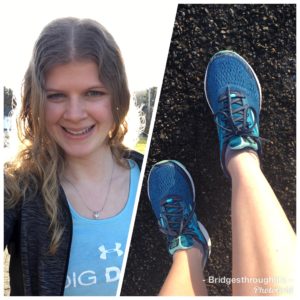 Saturday morning Brian and I headed out to the gym, before getting in the car for a drive to Ohio.
We got a bit of a later start, but stopped by my aunt's house to see my grandma and then continued on to my friend's house another hour and a half drive for the night. After grabbing some Mexican food for dinner, we headed back to my friend's house and she had some friends come over and we played Relative Insanity with them.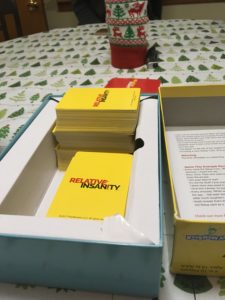 It was a lot of fun and we talked until midnight before finally calling it a night.
Sunday was a good morning to sleep in. I was still up at 8am and let Brian sleep. I played with Ashley's cat, Dill, for a bit and ate some breakfast while I waited for the others to get up. Once Brian was up, we were talking with Ashley for a while and losing track of time. We had an hour and a half drive to my aunt's to meet up with my parents who drove from Illinois. Ohio is a good meeting place between Illinois and New York.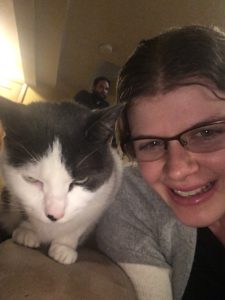 We stopped for lunch at Panera which was delicious because for breakfast we munched on gingerbread cookies.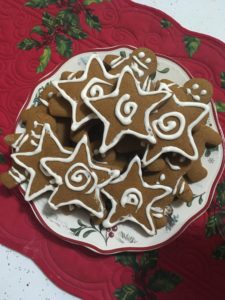 We arrived at my aunt's after 1pm and talked until dinner at 4:30. We had a ton of food including ham, veggies, potatoes and bread. For dessert, we had giant pieces of carrot cake as well. We were stuffed.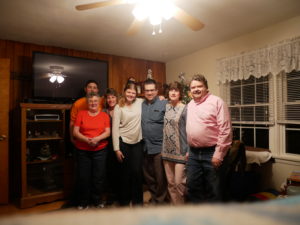 At 6pm, we headed to a park to drive through and see Christmas lights. We did a similar thing in Daytona Beach, Florida last year, but it was nice to have the windows down there and take pictures. In Ohio, it was a bit chilly with the windows down, but it was a short drive through and nice to take some photos of the lights.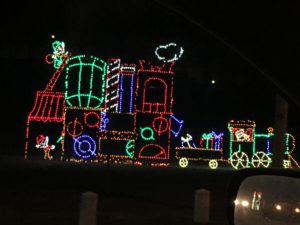 From there, we went back to Ashley's house for the night, arriving around 9pm. We decided to watch A Christmas Carol. I'm not sure of the last time I saw that movie all the way through. It was hard for me to stay awake this time too, but we went to bed a bit earlier, at 11pm.
Christmas Eve morning, I slept until 8 again. I ate some breakfast and showered before getting Brian up. We had a long drive ahead of us, so we tried to keep the morning chit chat short. Dill (the kitty) was wild in the morning and having fun with me while I did some brief stretching and yoga in the living room.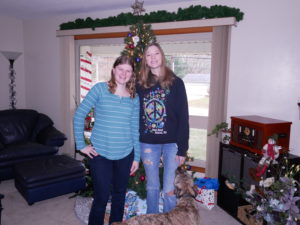 Leaving around 10:30 am, we planned a stop to Chick Fil A for lunch. I missed their diet lemonade.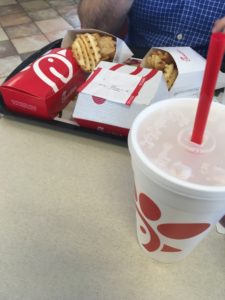 Once we hit Erie, PA, we knew to expect some lake effect snow. However, we did not know exactly how much we were in for on the drive. In Erie, we stopped at a gas station and switched driving. Brian was now driving through the worst of the snow. In retrospect, the snow was not that bad and there were not too many cars on the road, but it did slow us down.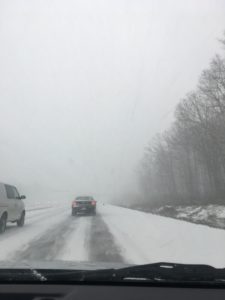 The plows eventually showed in PA as we got onto I 86 from I 90. We figured the snow would slowly stop, but instead it seemed we followed the snow squalls. It was a very long drive. What we thought was only a few miles turned into 200 miles of snow off and on. I drove a bit before dark and as the sun set, but in the end, I had to have Brian drive, because the wind and horizontal snow spiraling in the dark was so bad that I was starting to get motion sick trying to drive.
Arriving about 2 hours later than expected, we arrived to everyone at the house and had a few appetizers for dinner and did the gift card exchange. Everyone brings a $30 gift card and it's played like a white elephant where you draw a number and can steal from the previous person. I ended up with a Boscov's gift card that I later used to buy a salt lamp and purse.




Sharing is Caring: