Sharing is Caring:



As always the weekend went by way too quickly but I was happy to gain an hour on Sunday morning.
Friday night I was wiped out and spent the night watching tv to relax. I did my grocery shopping after work so I enjoyed some sesame chicken from the hot food bar with the remainder of my stir fry for dinner.
Saturday morning I made some pancakes for breakfast and then headed out early to get my car inspection done. I was there 5 minutes after they opened and someone beat me so it was a long 40 minute wait for their inspection and I watched YouTube videos on my phone in the car. Finally I got in and that took about 30 minutes or so for oil change and inspection. I was happy to pass and be done for another year.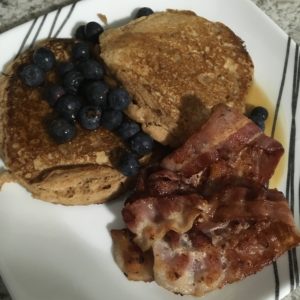 Then I was off to do some shopping. I stopped at kohl's since I had a coupon and I was looking for pajama pants because mine have turned more to ankle pants… I failed at finding pajama pants but I did find two shirts I liked and got some more bath towels. I lost a kitchen box somehow when moving and I packed those dishes with my towels so I not only lost some pans but also some towels.
Since kohl's is next to target I swung by there quickly for a few items and then it was time to head home. Of course I had a paper to work on, but present wrapping came first. The cutest tiny box wrapped up.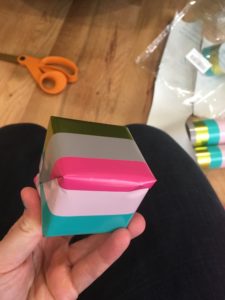 Finally I got to work on my paper and once I finished, I headed out for a walk. I miss walking to the train and to work for that extra exercise. I definitely feel the difference with my lack of walking these days so whenever it is sunny (which is rare these days) I am trying to take advantage. Also I feel like suddenly all the leaves changed, a little late this year due to our weird weather.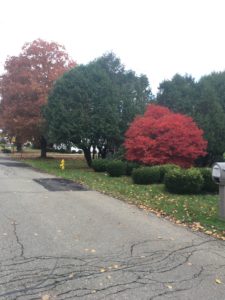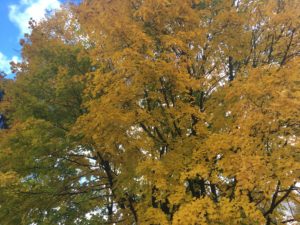 By the time I got back from my walk it was nearly 5 and time to make some dinner. I cooked up hamburgers, 1 to eat and a couple leftover. I tried some cauliflower potato fries with that and they were delicious. I also took the time to roast sweet potatoes for the week.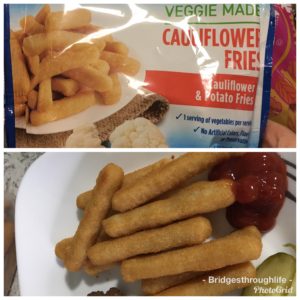 In the evening I got a bit of homework reading done and then discovered Sabrina the Teenage witch was on Hulu so that was the rest of my night.
Sunday morning thanks to the time change and falling asleep so early I was up at the new 6 am hour. It was perfect since I wanted to put chicken in the crockpot and made some protein pancakes before heading out to the gym. I made a new squat PR of 130lbs. Just another few pounds and I will reach bodyweight!!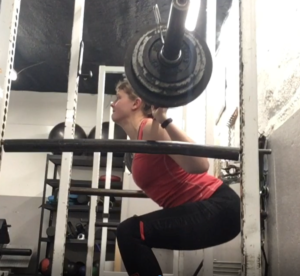 After the gym I made some muffins for a snack and the week. Then it was back to reading for the morning and homework.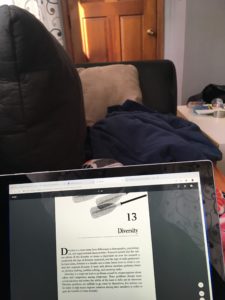 At 11 I was hungry for lunch because of the time change so I had a snack plate of cheese and turkey. Then I worked on listing some beanie babies on eBay. I know I won't get much but I also know it's hard to donate stuffed animals. I feel like often they end up thrown away. Plus I found the perfect sized boxes at Staples to pack the beanies in. Trying to get what I can sold now that it's the holiday season.
Sunday was amazingly sunny and 45 degrees which didn't feel bad, so I decided another walk should happen. Then it was time to watch a 2 hour movie for my homework #roughlife
Now back to the work week and finishing up month end stuff at work.




Sharing is Caring: