Sharing is Caring:



This weekend was a balance of work and play. Friday was a late night at the office with month end, but I came home and had delicious chicken wings that Brian bought and enjoyed watching tv with Brian. I somehow was awake until nearly 11pm and I don't know how when I got up at 4:40am to go to the gym and had such a long day.
Saturday was a nice sleep in morning. I slept until 8 or so. I then made a quick breakfast before getting to work on some homework. Once Brian got up, we headed out to run some errands. I had to make a stop at the post office, bank and grocery store. The morning flew by and we had an early lunch when we got home from the store.
Brian headed out for the afternoon and I enjoyed a quiet house where I could finally work on writing a paper. Then for dinner, I decided to make us spaghetti squash bowls. I have always wanted to try them, but it's a perfect recipe for two and I am usually cooking for one. Saturday night was the perfect time to try out the recipe. After carefully cutting the spaghetti squash in half (usually I prefer to stick the whole thing in the oven as it's easier to cut after being cooked), I scraped out the seeds and put it in the oven per the recipe for 45 minutes. While that was cooking, I cooked up onion, garlic and ground turkey in a pan with some seasonings. Once the meat was fully cooked, I let it simmer in some chicken broth and added a few tomato slices.
I pulled out the spaghetti squash and scooped out the squash strands to add to the meat mixture for a bit. I then filled up my squash bowls and added a sprinkle of cheese on the top and put back in the oven for 5 minutes.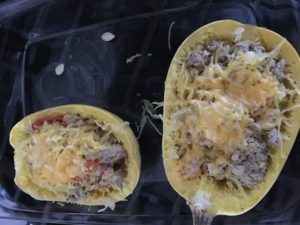 Overall verdict, the recipe was good, but the squash could have been cooked a bit longer and the ground turkey needed more flavor. I didn't have the diced tomatoes the recipe called for, so that could have helped. Anyway, Brian seemed fairly hungry and happily ate it, so I call it a success. It was also super filling.
To end the evening, Brian built a fire outside and we had some s'mores. Even if we are a week into Fall, we never had our summer s'mores, so this was a fun night. The evening was beautiful and the fire and breezy air kept the bugs away.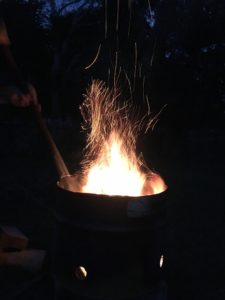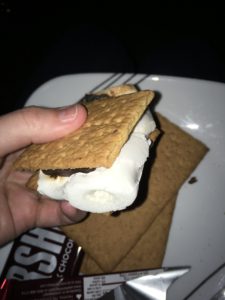 Sunday was another sleep in morning. Amazingly I slept until 8am again. It was a bit of a rough night sleep with Brian suddenly snoring and stuffy. Honestly I was super tired on Sunday for most of the day, but that didn't stop the fun.
After making a delicious pancake breakfast, I did some food prep and then Brian and I headed out for most of the day.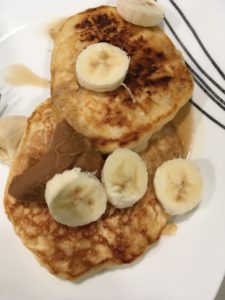 We decided to go to Ithaca and they had an apple festival going on. We walked around for a bit and then went to Moosewood Restaurant, a nice vegan and vegetarian restaurant. They were serving brunch and since I already had pancakes for breakfast, I opted for a Thai rice bowl. To get a little fancy, I had a sparkling lemonade, which was so delicious as it was freshly made.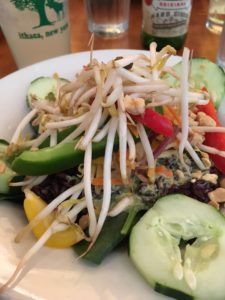 After eating, we headed back to the car and stopped at the Ithaca farmers market. It was a nice looking farmers market with so much produce available. I couldn't pass up the kale. We also enjoy a mile walk or so along the lake front.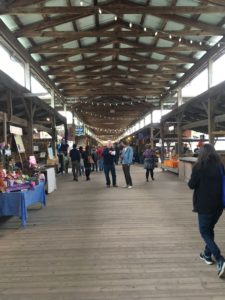 Next up we stopped at Hopshire Farm and Brewery. We had found this place last year on a drive and I remembered tasting a beer that was semi ok to me LOL. I don't really drink beer, but they have a honey Beehave beer and it's not terrible. I can pretty much only drink a sample. Brian enjoyed a pint of beer and we sat and talked for a bit before driving to Hollenbeck's Cider Mill for some apples. We had planned to get donuts but they only had plain, no apple cider ones, so we just got chocolate and apples. Brian plans to get cider to make his own hard cider as well.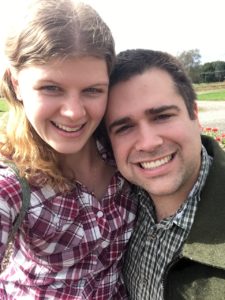 As we were heading back, we stopped at Brian's family friend's house to chat for a bit before heading home. It was a beautiful day, minus some rain in the morning, but it was a nice drive on the back roads with the stops. When we got back, I roasted tons of veggies for the week and Brian cooked sausage patties on the smoker for dinner. We then decided to end the night watching a movie, What if, which was a nice movie for a Sunday night.
It was a pretty laid back weekend and I didn't even go to the gym, but I did get 10,000 steps on Sunday with all the walking around.




Sharing is Caring: