Sharing is Caring:



The weekend started on a down note when I learned my grandfather passed Friday morning. We had just learned about 3 weeks ago that he had pancreatic cancer and it was terminal so I was basically hanging by the phone for 3 weeks waiting. I am very glad that I got to visit my grandparents in early July and that my grandparents made the move from Florida to Ohio when they did so my grandma is not alone and has support from my aunt and isn't by herself. Friday/Saturday also happened to be the 1 year anniversary from when Brian's dad suddenly passed. It's one of those days in your memories that you can recall all the details when something like that happens.
Despite the sad news to begin the weekend, it was a very exciting weekend for me. By the time this post is up, I will be in University Park, PA starting my grad school MBA program with Penn State. It's funny how life goes sometimes. I actually had applied to Penn State my last year at SUNY Buffalo when I wasn't sure what to do with my life so I was looking to get a degree in meteorology. When that didn't work out, I entered the "real world" and moved home and got a job. Now 6 years later, I have worked in 3 states at 3 different companies and moved 4 times (plus world travel for 4 months) in 4 years. I do believe that things happen when they are meant to and this time I feel much more ready for grad school.
While the program is an online program and I am new to taking online classes, they require a 1 week residency on campus and we complete about 50% of the work for a required team work class in this week. I have been working on the readings and assignments over the last week and I think this class will definitely provide a lot of insight for me to apply to my current job and future. I am also excited that I get to meet fellow students and my online teachers to network with everyone. Penn State has a HUGE alumni network, probably bigger than SUNY Buffalo and I love that!! I went to a large high school (class of 800 students or so) and my dad always thought that would mean I would want to go to a smaller college. Nope I keep going bigger and bigger. This is why I am a city girl at heart.
Saturday was a rainy morning and I had some errands to run but the store I wanted to go to didn't open until 9am and of course my "sleeping in" meant I was awake at 6:30am. I had some time to make breakfast and started to watch Nailed It on Netflix. If you are looking for a good laugh, I highly recommend. It definitely lifted my spirits some.
After running my errands, I did some cleaning and packing. I didn't really have much on my agenda for the day, but just checking things off my to do list felt good. I did more reading so that I won't be cramming in reading during the busy week at school.
Since the rain stopped by the afternoon, I decided to head out for a 30 minute run. This was the first time I had to run for a full 3 minutes within the 30 minutes. I alternated between 90 second jog, 90 second walk, 3 minute run, 3 minute walk per the couch to 5k app. It was definitely tough, but I pushed through and immediately took a cold shower following because it was quite humid.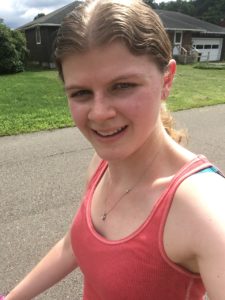 I then decided to bake some cookies and finally used my fancy pampered chef cookie scoop. It's definitely fun to use and then all the cookies look more uniform, but I also like using a teaspoon like my mom always did for baking cookies.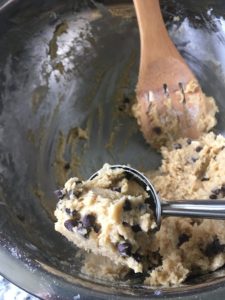 Cookies made and it was time to be lazy on the couch for the remainder of the day. I assembled my dinner with whatever was left in the fridge which included black beans, zoodles and I cooked up some chicken from the freezer. It was actually quite a filling meal.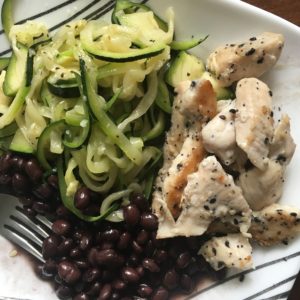 Sunday morning I was up around the same time, 6:30am as the sun was streaming in the bedroom. It was nice to see the sun in the morning after Saturday's gloomy morning. I made some breakfast and then went to a yoga class I haven't been to in a while. I usually lift on Sunday morning but with being out of town this week and already being sore, I needed some yoga.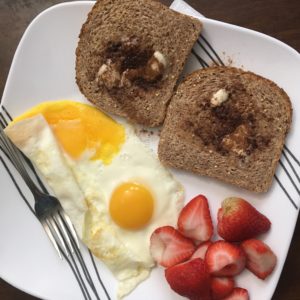 Yoga was a great start to my morning. I then came home and assembled a snack plate and had some salad for an early lunch. Then around 11:30 I decided to get on the road. It was only a 3 hour drive which took me 3.5 hours with a stop to grab an iced tea (always) and to pee from drinking all that iced tea lol.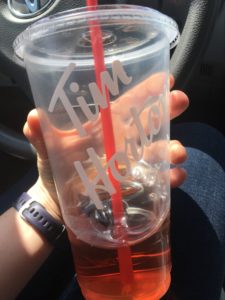 I checked into the hotel and I was an hour early, but it wasn't an issue. I changed into my swim suit and decided to find the pool. After asking a couple workers at the hotel, I got directions and the guy said "good luck" which made me think the pool was hard to find, but once I knew kind of where I was going, it wasn't bad at all. Oh man I haven't swam laps since swimming in various pools around Australia, so it was nice to get into the water and swim again. Like riding a bike it came right back to me, but due to some kids playing in the pool, I didn't try to swim laps for too long. I then enjoyed the hot tub.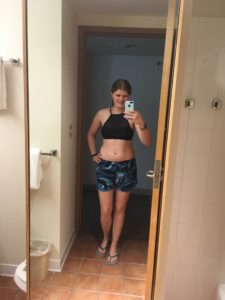 A quick rinse off shower and then I got dressed and headed to State College to grab some dinner. I got a hamburger since I know most of the week will be buffet style food and not really sure what that will look like. Dining alone was a bit awkward, but it was nice to explore the town for a bit.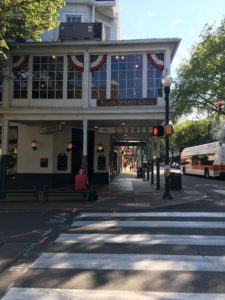 My feet and ankles were quite sore from running Saturday though so shortly after 6 I headed back to my hotel room and did some more reading and relaxed before the busy week.
If you went to grad school, was it right after your bachelor's or did you wait a few years?




Sharing is Caring: