Sharing is Caring:



With all my interest in health and fitness, I was curious about what my Fitness Genes were. I wrote a bit about my (non) athletic background to my current training in this post. For the Fitness Genes testing, you collect a saliva sample and mail in the box. About 4 weeks later, you will receive your results. Included in the results are certain DNA genes that measure your endurance, metabolism, lactose tolerance, energy and more. From your results, it provides you with personal insights on how you can improve your training and nutrition and you can purchase workout guides or meal plans as additions.
**I was provided with a free kit in exchange for a review. All opinions are my own.**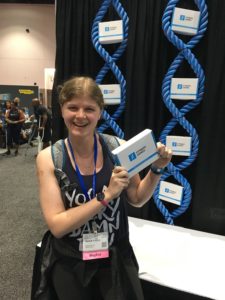 Once I got back from Blogfest, I mailed my Fitness Genes kit in. Just about 4 weeks later, I received my results back. I could not stop reading all the info. I was surprised at how many genes they were able to measure from my small sample. Certain facts now make sense to why I feel a certain way after eating a type of food or why weightlifting seems to work so well for my body.
When you get your results back, you can log into the Fitness Genes site and click on DNA results from the home screen.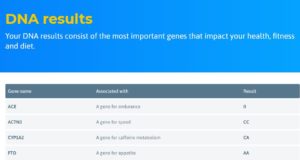 From there you will see a list of genes and your results. You can then click on each gene for a description of what it is and what your personal results mean as well as how you measure against a sample size for the population. For some I was in the majority, while others I was in the 10% range which was interesting.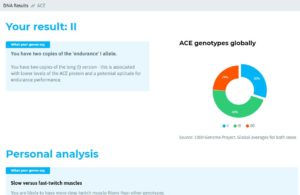 A few Interesting takeaways from my results:
ACE gene for endurance – I have II which is two copies of the endurance I allele. From the results, it means I have more slow twitch muscle fibers, which apparently are good for endurance activities such as long distance running and cycling. However, my results also noted that "untrained II individuals are slightly weaker, have smaller muscles and are more susceptible to muscle damage from eccentric exercise." I guess this means I should consistently be working out to keep up my muscles. I have never tried to train to run in the past, so I can not say how good of a long distance runner I would be. But I have thought about doing a sprint triathlon sometime in the future.
FTO gene for appetite – apparently I carry two As which means I have a higher risk of obesity because I naturally have a tendency to want to eat more even after a meal. I have higher levels of the "hunger hormone". I guess it's good that I have worked on healthy habits because this gene usually means you crave fattier foods or fried foods. I do gravitate towards more healthy fats and high protein these days to help me feel full, but fried foods don't make me feel well, so I think that's a good thing. I don't want knowing these results to scare me for the future but I think as long as I continue to exercise and keep up my healthy eating habits, I will be good. It does make sense to me though because I really am often still hungry after eating and after waiting the 20ish minutes even. Sometimes I just don't eat enough to fuel my heavy lifting, but I am working on finding that balance. [Also note that you may find some genes at one end of the spectrum and other genes at the opposite end so maybe in the end they balance each other. I definitely found this with certain risks. ]
ACVR1B gene for muscle strength I have AA which means I have the genotype for higher strength. Perhaps this is part of why I see such great results with lifting weights.
HERC2 a gene for eye color – I wasn't expecting this to be measured but mine was spot on with GG, meaning I have lower levels of melanin and an 84% change of blue eyes (which I have).
CLOCK – a gene for sleep. My results were CT, meaning I carry one night owl and one early bird gene. The C allele is "associated with developing a disturbed body clock" and also my sleep pattern can interfere with my muscle recovery or weight loss goals. I have always been an early bird, but I can see the tendency for disturbed body clock as some nights I can roll a lot. Also I have noticed more DOMS when I am getting less sleep so I do try to aim for about 7 hours a night if I can and semi make up time sleeping for 8-10 hours on weekends when possible. In summer with the sunlight I can't sleep in as well. Sun is up and I am up, definitely an early bird.
Most Surprising:
I am lactose tolerant. I self diagnosed myself to be lactose intolerant that I developed around age 17/18 as milk and ice cream greatly upset my stomach. It could be that I developed a sensitivity and since I have stayed away from both for almost 10 years (there was a denial period), maybe I would be ok to have each from time to time but personal my skin looks better with eating limited dairy and after how I would feel from drinking milk or eating ice cream, I just can't go back at this point. I eat cheese from time to time and am not bothered if I order something out with cheese on it, but I do prefer to be dairy free at least 80% of the time. I also have noticed that if milk is cooked in something, for example, pancakes, it doesn't usually bother me, but overall I try to stick to almond milk when I do use milk.
In addition to the DNA results, Fitness Genes also provides personal insights taking the information from the genes you carry and offering recommendations of types of workouts and diet that may work best for you.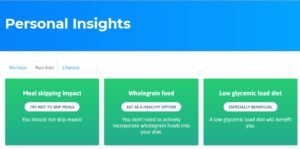 For example, for me, they recommended a low glycemic diet. This actually made a lot of sense to me because when I eat carb heavy food, like sweets, sometimes I don't feel well. It is the heavily processed food that doesn't make me feel great. When I eat sweet potatoes, I feel good for example, so I know I need to focus on whole foods. Also eating more protein helps me to feel more full which helps to balance out my gene for appetite I suppose.
Overall, I was very fascinated by all my results. I definitely will be using this information to improve my eating habits further and my weight training. Also maybe there is hope that I can run a 5K without stopping due to some of my endurance genes and oxygen genes. I just need some training.
What genes would you be most curious about?




Sharing is Caring: