Sharing is Caring:



The East coast is in another heat wave for a couple days as it was above 90 Sunday and Monday. Speaking of the weekend, it was another weekend of travel for me. I guess when you have limited vacation time, you should make the most of your weekends right?! I went from San Diego to Ohio to Tupper Lake (the Adirondacks in NY). 3 weekends of adventures and kind of looking forward to a weekend at home again soon. This coming weekend is already pretty booked, but at least I will be spending the night at home on Friday and Saturday and hopefully get back into my weekend routine a bit.
It was very nice to have Brian back, even if only for 5 days.
Friday after work, we headed to the Syracuse mall, basically the only place to do shopping and it's a bit over an hour drive. Since I got out of work a bit early, we arrived at 5:45 which was perfect for my dinner time. We had to stop at Cantina Laredo. I got steak tacos and we filled up on chips, salsa and guacamole. I was super full by the end of that meal. I still couldn't leave the mall without getting a Mrs Field's cookie to split with Brian.
I had 2 things on my must get list: a Microsoft surface pro and Lululemon sports bra. I have never spent so much at a mall in one day, but hey it's actually the first computer I have bought myself so I consider myself pretty lucky I have been around computer guys (aka my dad and Brian). I have been thinking about a Microsoft pro for a couple years and with starting school again in August I needed a portable and reliable computer. I got the one that turns into a tablet too and has tons of storage and memory so I should be set for a while I hope. Now I just have to learn windows 10 and office 2016.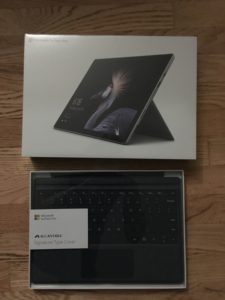 As for the Lululemon sports bras, I went with 2 of the Free to be wild bras. I don't own much Lululemon but I did buy 2 of their sports bras for the first time last year and I really do love them and needed more in my rotation of sports bras. I know they last and for me to get a couple good quality pieces a year is worth the money.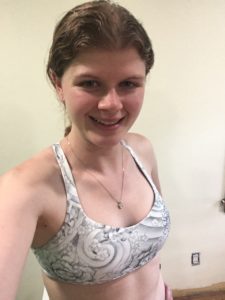 We browsed a few other stores, but nothing stuck out to me. Then Brian wanted to look for shoes in Dick's and somehow he left empty handed and I bought a new bicycle helmet. I even found a 20% off coupon on Retail me Not while in the store so I got 20% off which wasn't bad. My other helmet as we moved my bike to the new house was grossing me out and it was time to trash the old 10+ year old helmet. Next I need to get new tires for my bike, but I am also still debating a brand new bike.
On Friday Brian stained the floors in our bedroom so we slept in the room that will be a guest bedroom. The floors came out looking super nice though and the stain he is using pretty much goes on dry and is even more environmentally friendly.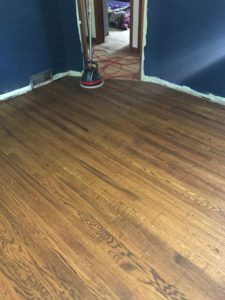 Saturday morning we drove up to Tupper Lake, with a detour to Sandy Pond to drop off something at his aunt's cottage. It was a beautiful weekend for driving and there were quite a few cars on the road. Thankfully this time I was just a passenger because I have done my fair share of driving recently. We were heading up there to visit with Brian's mom and attend a family friend's party. I also happened to find out another one of Brian's friend's whom we met up with during our travels in Australia because he is living there now, was in town with his Australian wife. It was great to see them again and Brian enjoyed catching up with some old friends. I enjoyed talking but also eating, because somehow I was non stop hungry Saturday afternoon.
Then it was time for the event we came up for, a wonderful party right on Saranac Lake. I even met a person who works at the same company as me.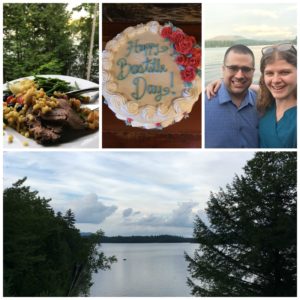 It was the most beautiful night after a hot day. It was perfect for dining outside on the balcony and just sitting among the trees with the water view was so calming.
We got home pretty late, enjoyed a quick view of all the stars, but I was pretty tired and quickly changed and got ready for bed.
Sunday I somewhat slept in until 7am. I mean there was a dog nose in my face earlier until Brian's mom fed them and they went back to sleeping. I was the first one up and read for a bit and then around 7:40, bang, there goes the power. The cause…a squirrel. This was our entertainment of the morning, squirrel running on a power line and blew a fuse and killed himself of course. By now, the street is a pro at this situation, because it's the third time this year that this happened. After some 911 calls to report the issue, they sent a firetruck and someone took care of the squirrel after the report was written and 30 minutes or so later the service truck was sent out, but we headed out for breakfast.
After breakfast, it was time to load up Brian's truck with a couple things we were taking back with us and then get on the road.
We got home around 3pm so I had time to run to the grocery store, make some muffins and prepare my food for Monday before we headed to Sunday dinner.
What a whirlwind of a weekend. I wish we could have spent a few more days up in Tupper Lake because the weather was so nice for a swim or paddleboarding and more. Totally in need of more vacation time, but anyway Brian is back out of town for work and I have some chill time again for now.
Where do you like to take weekend trips?




Sharing is Caring: