Sharing is Caring:



Oh April, what can I say about you? I was so excited when I turned the calendar to April and it was my birthday month. Then the cold weather continued and I was bummed. The grey days and snow and ice really got to me, but there were also a lot of great highlights, including celebrating Easter and my birthday. There were definitely many sweets and I'm kind of caked out ( <- if that's a thing).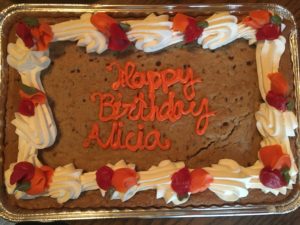 My weight certainly fluctuated, but I am also gaining muscle. I discovered I could do 3 chin ups in a row without assistance when my coach added it into my programming. At first I read that and almost dreaded trying to do chin ups, but I was amazed to see that through my workouts I have definitely built up muscle and I was able to pull my weight for 3 full chin ups. Not only that, but I was able to do 3 sets of 3. That is pretty impressive since I can't remember the last time I got 2 in a row.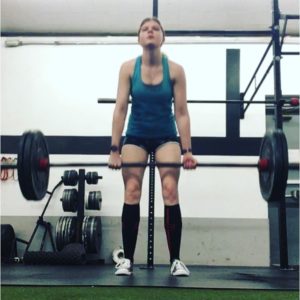 I mentioned in a previous post we were supposed to close on our house this month too. Well things got a little pushed back so now we are supposed to close next week. I can't wait to start doing some work on the house and painting and decorating my room.
I am so excited that I will have a whole room for yoga and my office. My friend made me the best birthday gift that I am going to frame and hang up in the room. Check out her website here.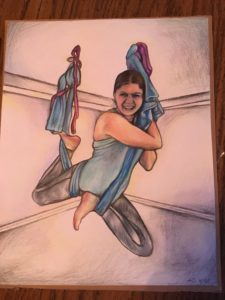 I also really want to try to make a gallery wall either in the living room or my office. Brian and I got some more photos taken this month and I can't wait to see how they turned out.
There were also a few almond milk ice cream trips, because who can resist this soft serve that actually doesn't upset my stomach. I seriously stayed clear of ice cream for nearly 10 years and even the texture of the ice cream would remind me of the horrible stomach pain I developed around high school age. Ever since discovering this almond milk soft serve at a local ice cream place I can finally enjoy ice cream again. I tried vanilla recently and it was delicious. I hear my favorite orange is back so I might need to take another stop there soon.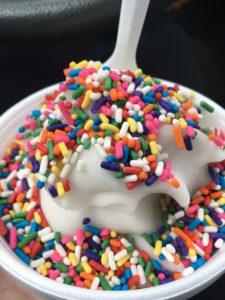 The Color Run happened this month and I have to say that for not training to run, I did pretty well walk/jogging and only my ankles were sore for a few days after. I actually think my weight training could help with my lack of running as my quads and glutes have become a lot stronger. It was also COLD, but we still had a lot of fun.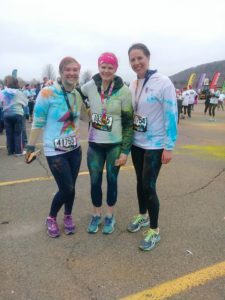 I was so happy when the sun finally came out last weekend and Brian was home so we got to spend some time together. We enjoyed playing Mario Kart on our new Nintendo Switch that we bought on my birthday and also went out to eat or made food at home together. So many good meals and good company. I didn't take too many photos as I enjoyed the present moment a lot more which is something I have been working on. I obviously have a lot going on between a house, wedding planning and starting school in the Fall. It's nice to take the time to enjoy the present moment and not think about all the stresses that are just in the future. I am a believer that things happen when they are meant to. I will say I have applied to grad school 2 other times since graduating college in 2012 and neither of those times was I really into going but this time I definitely am and worked hard on my applications. I am really looking forward to starting even though it will be stressful with a full time job, but I have to keep reminding myself of what I want and work towards it.
I am so excited for the month of May. I have 2 weekend trips, one being my powerlifting meet and the next my sister's college graduation. I can't wait to have my mini getaways. I know the month is going to go by fast and I also want to do house stuff. Again I am going to try to focus on the present moment, take it day by day. I also hope the weather warms up and the trees become green again. This week the weather is looking pretty good. It might even hit 80 and even if that's a fluke, I will take it. Give me some sunshine and natural vitamin D!! There will definitely be more walking and maybe some light running to work on. Excited for spring to finally arrive. Or maybe it will jump to summer temps and that's ok by me too 😉
What is one of your April Highlights?
Do you have plans for May?




Sharing is Caring: