Sharing is Caring:



It'd be really great if the weather would just get the hint that we are now halfway through April and it should be spring like and light jacket weather. Well I can dream right?!
Friday and Saturday were beautiful!! Friday night I finally got back to my favorite yoga class. I literally haven't been to Friday night yoga since February. March got crazy between snow, friday night events and more. I was so happy to make it back. I really needed that class.
With getting up early Friday to drive Brian to the airport and being so relaxed after yoga, I was definitely asleep at 9pm. I was tired and I slept like a rock so no regrets there.
Saturday was a busy day. I started my new training block from my coach. Saturday marks officially 4 weeks away from my first Powerlifting meet. I'm excited and nervous because I don't really know how these things go, but just going to start training with the cues in my head so I know what I am doing on meet day.
This training block brings some new to me moves. Saturday was pause deadlifts and I may need to lighten my load or take them even slower to work on my form more. It is nice to switch it up though as this last training block felt hard and less motivating. I needed something new and exciting.
After the gym, I had an early lunch of random leftovers in the fridge and decided to head out shopping.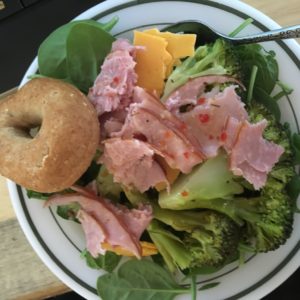 I needed some shoes/sandals for a dress I recently purchased and also found a new blouse for work at the Banana Republic Outlet store. I am trying to add a few new blouses into my wardrobe because I am bored of the same old thing. I might get myself a Stitch Fix box again soon as a way to try new styles and things.
It was too beautiful outside to stay in, so I decided to stop for a walk after shopping. I got in those 10,000 steps which can be a rarity these days, but hopefully with warmer temps I will get outside more. I think this winter I realized just how much walking outside for even 10 minutes can help me. At my last job, I walked to the train or took a walk during lunch and that definitely helped.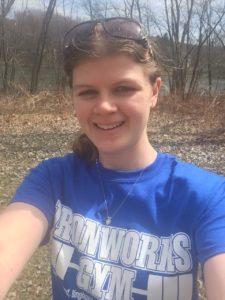 The rest of the afternoon, I relaxed. I did some San Diego research for Blogfest 2018!! Basically this means I found a cupcake shop and tons of cafes I want to visit. I don't even drink coffee, I just like cafes and there is always tea and treats. I know I will have to go back to San Diego for vacation sometime.
I put together a quick dinner of black beans, shredded chicken and avocado. I also had someone else interested in my meal…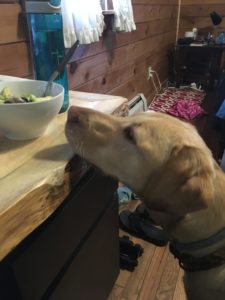 After eating, I decided to open up the new book I bought and somehow kept turning the page which led me to bedtime. I wrote for a bit and then called it a night around 10.
Sunday morning was unfortunately much colder than Friday and Saturday and of course that was the day of the Color Run. The good news was that the freezing rain missed up and was farther North and besides the clouds and a few mist like sprinkles, it didn't rain.
After checking in, I met up with my friends and we went back to the car with the heat on for an hour before the run. Then it was time to get to the Color Run starting line and we were released in waves.
I don't know exactly when we left the starting line, but my guess would be around 10:10. We ran right into a headwind and it was COLD.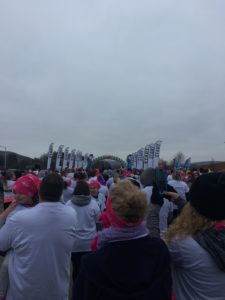 I ended up wearing two sweaters under my white t-shirt. I was also happy to have my new leggings from Athleta that had pockets. These pockets were lifesavers through the run to quickly put my hands into.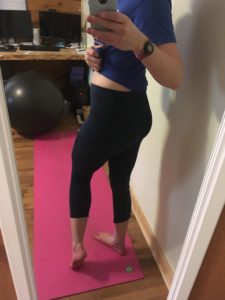 At about each 1 km mark, there was a color spot to run through. Despite the cold, we had a fun time getting all colored up.
It wasn't long before we made it to the last color spot and got our medals at the end. I couldn't believe we actually got a medal. I didn't get a medal at the last color run I did, but that was 5 years ago now. We finished around 10:45, so our timing definitely wasn't bad and I was surprised how much I jogged because I did not train at all to run. I think the cold weather definitely made me want to run more.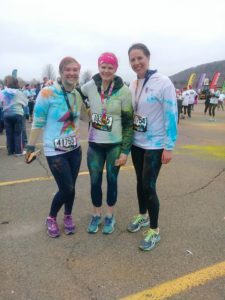 We took some photos and then headed to our cars. It took me a good 30 minutes or so to get out of the parking lot, but I stayed patient because I mean where was I going to go. Plus I had the heat cranked and by the time I reached the first traffic light, my hands were warmed up again which I was thankful for.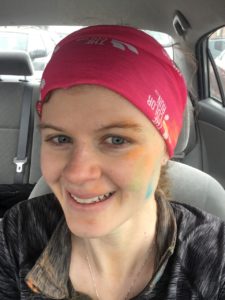 I got home and took a nice hot bath and then threw all my clothes in the washer. Then it was time to make some meatballs for lunch and added some pasta I had in the freezer and it was delicious.
After eating and snacking some more, I spent some time listening to podcasts and working on this post. I have a road trip coming up in May and I think I found my entertainment for the driving, Dear Mr Potter Podcast. There are so many podcasts out there. I keep learning about more and there are some you just have to listen to in order so I'm going back to 2015 on this one.
And now it's time to get back to my book I was reading. Hoping the weather warms up this next week.
What's your favorite podcast?




Sharing is Caring: