Sharing is Caring:



I feel like ever since 2018 began I have just been looking to the future. I have so many future plans to work out. Wedding planning is hard and while I always thought I would have this huge wedding with tons of guests, I'm realizing that is not what I want. I really want time with girlfriends, which is hard when I have moved a lot and have friends in many different states, and to get all dressed up and married on a beach. Simple requests really, but still working out the details on that and when I figure it out, I'll be sure to write about it.
In addition to wedding planning, 2018 is "the year of the house" and Brian and I will start working on our house soon so that hopefully we can move sometime in May. It's difficult since neither of us have time off from our jobs and I would rather not have the extra expenses, but luckily the things we have to do, I consider small and quick projects so if we have to hire for 1 or 2 things, that's fine. I plan to do painting myself. I think the hardest part is deciding on paint colors.
Add to all of this, something I haven't mentioned, but I recently got accepted to grad school. I will be doing Penn State's online MBA program with a concentration in business analytics and I'm actually very excited about it to help me further my career.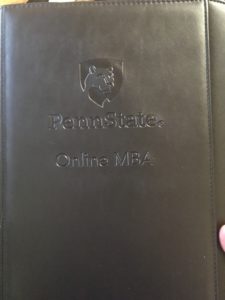 This week was also my 28th birthday and I feel like this birthday has been difficult for some reason. I made the last few years so special and this year with all the extra expenses with the house and school coming up, it has been a bit stressful. Of course I remind myself that I have made this birthday special because I am getting a house. I also got my cookie cake, a week early on Easter.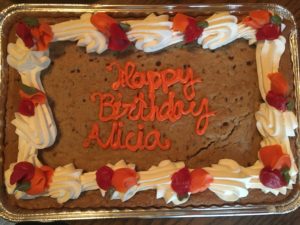 This past weekend, Brian actually had off and it was nice to have a day with him as a way to celebrate my birthday. While Brian and I do gifts, we like them to come in the form of experiences. When we headed out on Saturday, I finally felt like I was living in the present moment. My day started off with my usual monthly massage.
Then Brian and I headed to the maple festival, which I always hear about and even get goodies from but have never been. It was quite chilly and windy outside so we quickly went through, got a tasting of maple syrup, bought a half gallon and bought some maple cotton candy for the road. Did you know cotton candy stores really well in the freezer? Brian still had maple cotton candy from last year in the freezer that we enjoyed over Easter. I bought 2 bags and so far half of 1 bag is gone. I think 1 full bag will stay in the freezer for a while. It's really delicious though.
After getting some goodies at the Maple Festival, Brian and I headed to the mall. Brian needs some new clothes, but the mall selection and styles these days just didn't seem to fit him. We still enjoyed our time window shopping. We also enjoyed a drink and some chips and guac at our favorite Mexican place, Cantina Lerado.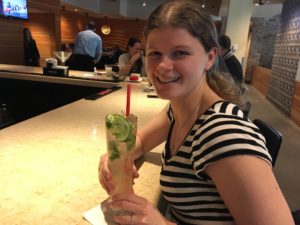 Then it was time for a treat with some edible cookie dough. We were absolutely stuffed from chips, but still ate this. That was basically our dinner. Good thing we both ate a decent protein filled lunch.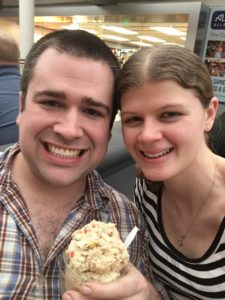 We ended our time at the mall with a 30 minute foot massage. Wow that was amazing!! Yes two massages in one day for me, but my first one I had the masseuse focus on my neck and shoulders so it was nice to get some loving for my feet and they really needed it. A good day of 14,000 steps and lots of walking and relaxing.
I realized at the end of the day I was really present overall. I didn't think about what was happening on social media. I took a few pictures but just enjoyed my time out. I realized I really need to work on the NOW and stay tuned to the present because months just fly by and I'm like how did I spend my time? Sometimes I am still mind boggled by the fact that it's actually 2018 and we are now a quarter of the way through the year. I really think this crazy cold and snowy weather that has been sticking around isn't helping. I can't wait to get outside more in summer and enjoy the sunshine and birds chirping and really be in the moment. For now, I need to find ways to stay present inside though. I think reading helps a lot taking my mind off of all the things I am planning. I have also found lately that it helps for me to just find things outside of the house to do on the weekend so I am not sitting around. I think soon my weekends will be pretty busy whether it's an event or painting the house. I am excited to work on painting and designing my yoga room so that I have a creative space again. My creativity helps my drive and lately this weather and stresses in life have brought me down a bit, so I'm planning to change that. More writing. More reading. More BEING in the present moment and enjoying this time.
Just some thoughts for Thinking Out Loud.
How do you take the time to be present in your own life?




Sharing is Caring: