Sharing is Caring:



This weekend was a good balance of busy and relaxing. Brian got home from work Friday afternoon and for once had 24 hours off, which actually turned into more than 24 hours off and sleeping 2 nights at home. He hasn't been able to sleep at home for the night in quite a while, so it was a nice surprise. Friday night we actually went out to dinner at a hibachi place. Brian even got cleaned up and found some clean and nice clothes to wear. I am trying to convince him we need to have a shopping spree for him for some clean aka non stained clothes. Maybe next month for his birthday.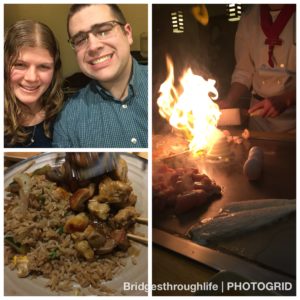 We then came home just in time to watch the Olympics opening ceremony. We watched for a while and then got tired and went to bed around 10. I had a pretty good night's sleep and got up around 7 to eat a quick breakfast and decided to head to the gym. My squats are improving at the gym and I can tell I am getting stronger which is exciting.
Once I finished up at the gym, I came home to take a quick shower and then Brian and I headed out to meet my friend for some brunch. I had a giant brunch consisting of a waffle, 3 eggs and bacon. It was quite delicious and I polished off my plate.
After talking for a while, we decided to continue our adventures and do a bit of shopping. We managed to go into Target and I only picked up 1 thing not on my list. Target was a madhouse at 2 in the afternoon on Saturday though.
We ended our shopping at Michael's, where me and my friend wanted to buy the whole store but limited ourselves. I've been eyeing some pens for bullet journaling for a while and finally decided to get them with a 40% off coupon too!!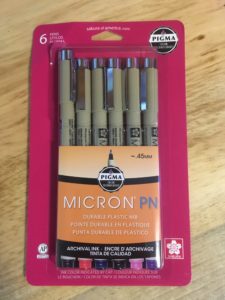 Brian and I arrived home and I got out some chicken to thaw. I roasted some sweet potatos and then Brian sliced the chicken and mixed it with some bbq sauce. Since we didn't marinate it, it didn't soak up much of the flavor, but it was still tasty. We ate while catching a bit of the Olympics.
After eating, I finally got to do some work on my computer and finish up some laundry. Super exciting Saturday night activities I know!! I then finally got back to reading. This last week was so busy and I didn't get as much reading time. I have noticed that reading before bed really helps me to relax so I am trying to incorporate it more and plus reading some books for fun is always nice.
Sunday started out icy and I tried to head to yoga, but my car couldn't make it up the hill and so I was backing up and brakes were not working and I got myself stuck in a ditch, although thankfully the snow in front of the ditch saved my car from any damage. I really only got the passenger back wheel stuck in the snow. I immediately called Brian and he and his brother towed me out. We then tried to go down the hill but we noticed there was an accident blocking the road so no yoga for me. I do have to say though I didn't freak out as much as I would have thought so that was good. Oh and while I sat there stuck, I watched the plow backing up the hill, so you know the roads are bad then. I seem to always be 5 minutes ahead of the plows…
So I stayed in and I did a Yoga with Adriene video on youtube. I then decided to bake some muffins as I had just enough almond butter left. I worked on my computer for a while and had a relaxed morning watching Netflix. The last week was so busy I haven't watched much online and it was nice to have some downtime.
Brian was still around for lunch and by noon the roads were better so we headed down to Spiedie and Rib pit and I got a large salad and some fries and Brian got a sub.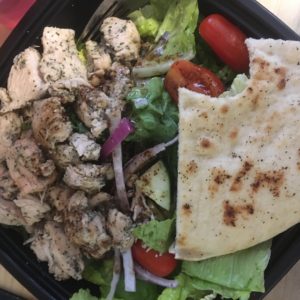 After lunch, Brian headed back to work. I spent the afternoon chilling out. I did get some travel plans in place for upcoming trips in the next few months and did some reading. As much as I like staying busy, I also need to balance that with some down time and Sunday was just that.
Did you watch the Olympics opening ceremony?
Is there snow and ice where you are?




Sharing is Caring: