Sharing is Caring:



This weekend went by way too fast even with the hour time change and gaining an hour. Oh and I look at daylight savings as gaining an hour to sleep in and gaining light in the morning, not in the depressing, it gets dark at 4pm. With all the rainy/cloudy days recently and the shorter daylight, I don't see much of the sun anyway. I miss having a window near my cubicle to at least look outside during the work day. For now though, I've just doubled my vitamin D pill dosage as I do every winter. Hopefully that will help.
Friday was a crazy busy day at work which is very unusual for me but I was helping with work after one person called in. I did like that it made the day go by so quickly and before I knew it, I was off to yoga. Most of yoga was a slow paced class. I think I kept my eyes closed almost half the time, but the stretches were so good. I actually had gone to the chiropractor during my lunch Friday so it was perfect that yoga was a bit more gentle. After the chiropractor, my back and neck are loosened up and it's best to take it easy and rest more to get the best results.
Saturday began early when Brian's brother left for hunting at 5am and the dogs were up and back and forth in my room. I tried to sleep off and on until about 7 before getting up and grabbing a bite to eat. For some reason, I wasn't too hungry in the morning so I ate something lite. I got laundry going and then headed to Target nice and early. I try to limit Target to once a month so I don't spend too much and I had some things I had to get. Of course there was some extra chocolate that landed in my cart and my favorite La Croix Passionfruit drink. I also swung by the optical part of Target and asked about their frames. I've had my current glasses for about 4 years and I really want a new pair with my most recent prescription. The only thing is that I use my insurance to get contacts each year so I will have to pay out of pocket for the glasses. I did find a pair I liked and got a price. It's steep, but if the pair can last at least 4 years like my current ones, it is worth it so I will likely be back with my prescription to order those soon.
After Target, I headed to Wegmans and tried to grab only the items on my list and not too much extra. Since it was early, I was in and out quickly but there was one gingerbread item that made it into my cart. I came home and put everything away and started some chicken in the crockpot so I could make this recipe on the stove Sunday.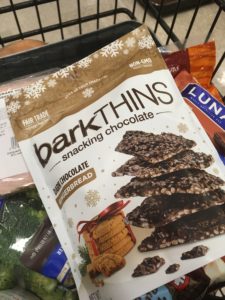 Shortly after I got home, Brian's mom called me and she picked me up to head to a local craft fair. I ran into one of my co worker's there and we were chatting for a bit. I only bought some raffle tickets. After traveling and having such limited space, I just don't need a lot of the craft type items, but it was nice to look around.
Then we headed to Panera for lunch where I got the Asian sesame chicken salad and we chatted for a while. I made it home just in time to hop in my car and meet my friend, Alicia, at the movies to see A Bad Moms Christmas. The movie was sooo good. I was laughing so hard at parts, I was crying. I would totally watch the movie again or even better watch the first one and then the second.
After the movies, I met up with some of Brian's family for dinner at Applebees. Honestly I was still full from lunch so I just had appetizers for dinner, a small salad and some spinach and artichoke dip and chips.
When I got home, I finished up the last 2 episodes of This is Us that I needed to watch and now I'm fully caught up. It only took a month with my limited amount of tv time. Now my co workers will be happy because they can talk about the show over lunch again.
I was really tired Saturday night so I headed to bed shortly after 9. Of course then Lucy decided to join me and get a belly rub. Eventually I turned off the light and rolled over ignoring her. She just pushed closer to me to try to get attention and then slept for a bit before jumping off the bed. Without Brian home, the dogs really seem to like taking turns on the bed.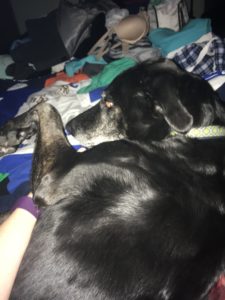 I know moms don't really get daylight savings time and extra sleep, but you don't with dogs either. The dogs were walking around between 4 and 5 in the morning and it was hard for me to get back to sleep. Again they took turns jumping on the bed and I got some wet kisses early in the morning. Finally Lucy curled up towards the bottom of the bed and I fell back asleep for a bit until it was semi light outside.
I was up around 7 and made my protein pancakes and then headed off to the gym. I was surprised that at nearly 8am the gym only had a few people in it. I thought with daylight savings there would have been more people, but I like it quiet so no complaints from me. I increased my squat weights and I think I will be ready to increase deadlifts soon.
When I got home, Brian's mom packed up her and the dogs and headed out. I then enjoyed the day at home to myself until dinner. I made Monique's pumpkin chicken chili on the stove (I premade the chicken and quinoa so I could quickly throw it together and simmer for 20 minutes) and it was so good!! I had it ready in time for an early lunch.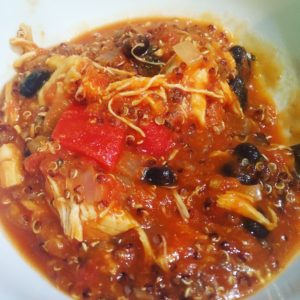 I think the time change threw me off and I was ready for lunch at 11:30. After lunch, tiredness hit me. You know when you are go-go-go for so long and then you stop and are like, woah I'm tired. I don't usually nap, but I was so exhausted so I put on a podcast and closed my eyes for about 40 minutes. I was listening to the podcast the whole time, but just relaxing and closing my eyes for a bit helped tremendously.
Finally I was able to tackle some things on my to do list and then I decided I wanted cookies, only to discover mid cookie making that we only had a quarter cup of white flour left. At least I had just enough wheat pastry flour leftover from scone making so I used a combo of that. I think the cookies turned out a little different due to the whole wheat flour, but overall they tasted delicious.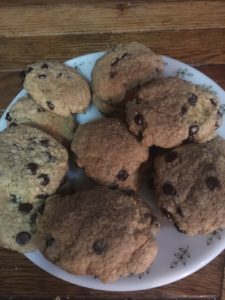 It was kind of a dark and rainy day so it was a good inside day. I worked on some reading through the afternoon and then it was time for the usual Sunday dinner.
What's your favorite fall food?




Sharing is Caring: