Sharing is Caring:



We made it through a Halloween weekend and while I didn't dress up, I did enjoy some fall foods. My weekend was kinda a roller coaster in how I was feeling. I don't really know why, other than to say I plan to far ahead and so I had this mile long to do list in my head when I can really only focus on a foot of it. Anyone else like that? I am trying to remember to be in the present moment and focus on what I can do NOW and not what happens in 3 months or so.
Anyway, the weekend started off on a good note. Brian and his brother bought some chicken wings for dinner and I enjoyed bbq wings and my leftover broccoli. The pairing was delicious and balanced to me. I then finished off some cookie dough Artic Zero ice cream. I had a free coupon so I got some at the store last week. It was delicious.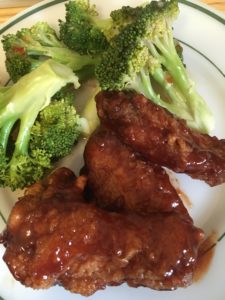 Brian and I actually headed out Friday night to do something different, to see the Binghamton Philharmonic Orchestra perform some Harry Potter music. Thanks to Facebook I found out about the event months ago, but of course, Brian can't plan anything in advance. When he mentioned last week that he would very likely be home Friday, I begged him to purchase the tickets. Thankfully there were still a few seats left. It was totally sold out by the time Friday came.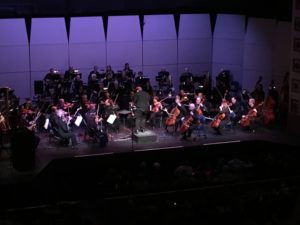 It was so cool to sit there and hear the Harry Potter music come alive. They also had the best guy giving little tid bits of commentary and even reading short passages from some of the books to explain the music coming up next. Not only did I enjoy the music, but I also learned about the directors for the movie. Overall it was a great night out. Each time Brian and I go out to enjoy some of the arts, we think, wow we need to do that more. It's just hard because we have to book things last minute with his job and never knowing when he will be around. I was glad we made this happen though to kick off the weekend.
Saturday morning, I headed to the gym. I've had new workouts for a week now and I realized last week I needed to push harder. I did just that on Saturday and it felt really awesome. I also took a couple videos of my squats and deadlifts on my phone.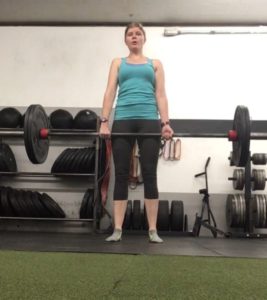 So I wanted to talk about videos and photos at the gym. I couldn't totally tell if the one guy who commented "it's not selfie Saturday" was serious or sarcastic. I take videos so I can see how deep my squats are since we don't have mirrors and I want to see how I am doing. It's also a way to mark my progress. I prefer to not have my phone out when at the gym, but I love my new iphone and the videos it takes. It's also good for me to have some videos or photos to send to my new coach online. Not sure how other people feel about videos and yes I hate to be that person setting up my phone against my water bottle in the gym, but hey, I try to do it when there aren't many people around and for myself and progress. Just putting those thoughts out there.
After running a few errands Saturday morning, I came home and made Nikole's pumpkin lasagna and while I would have loved to keep it vegan, I wanted to share it with Brian and I also didn't have any of the ingredients to make the tofu ricotta so it would have cost me more. I simply subbed regular ricotta. The plan was to have it for dinner but then other plans came up so I had it Sunday for lunch and it will be my dinner during the week. It was really delicious even the next day.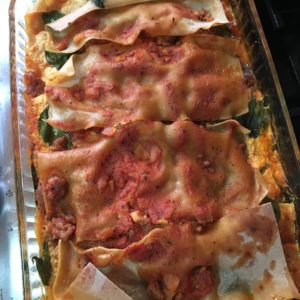 The rest of my afternoon was spent finished season 1 of This is US so now I'm not too far behind and doing lots of reading. My Saturday afternoon was brightened up when I got a Halloween card from one of my friends in the mail. I love snail mail!!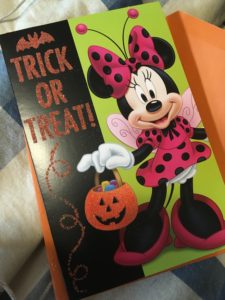 For dinner, we headed out to a new brewery which also has a taco food truck parked outside so you can enjoy food with your beers. I'm not a beer person so I just stuck to water, but I did enjoy a farro arugula salad and one of Brian's tacos.
The rest of the evening, I needed some alone time to get back to some of my to dos. The day seemed to go by quickly and I felt I didn't accomplish as much as I would have liked. I know we all have those days.
Sunday morning I woke up still a little annoyed. It was a rainy day with a predicted 4 inches of rain to come. I headed to a yoga class since I didn't get my Friday yoga. I loved all the stretching and fast flow we did. I worked up a sweat.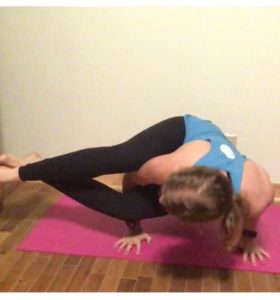 When I arrived home, I got back into the kitchen roasting some veggies and then baking some more pumpkin scones, a double batch so I could bring some to work.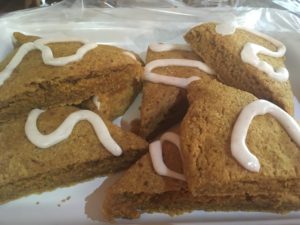 I think the baking was the most therapeutic for me and then I was able to get back to accomplishing some to dos in the afternoon. Oh and I also ordered half of the Christmas presents I am getting other people this weekend. Even if the gifts are for others, I just felt happy doing a little online shopping. Now to wait until Black Friday to find myself a new winter jacket because I have only been wearing mine for about 14 years and it's a child's XL or something…
What's your favorite Fall recipe?




Sharing is Caring: