Sharing is Caring:



Back sometime around 2004/2005, my sister and I wanted our own cats. We had a cat growing up, Mr Tony Macaroni as I liked to call him and he was my parents cat since they had him even before I was born.
In the Spring of 2005 we went to the local animal shelter and they happened to have two young cats who were not siblings but they were fostered together and they didn't want to split them. We met them in the back and fell in love. They weren't kittens but they were only just over a year old. While they came with different names, we renamed them as Tom and Skittles. My friend Mercedes actually came up with the name Skittles as she was fast and would skid on the floor a lot. Tom became my cat and Skittles my sister's. Our older cat, Tony, didn't care much for the two little ones but in his old age he was fine as long as they left him alone. Good thing we got two so they played with each other (I couldn't find a picture of Tom and Skittles together, but I did find one with Tony).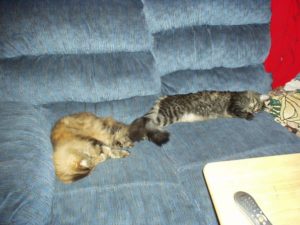 Tony lived to a good 21 years old when he was put down in 2008. The kittens were influenced by Tony though because he went outside. They became interested in the outside world. My parents decided they wouldn't declaw the kittens because of the pain Tony had been put through and with their interest in outside. Tom was quite the hunter outside while Skittles was shy and timid.
As Skittles got older though and we put in a cat door, she would explore the outdoors a little more.
Christmas was always a fun time for the cats. A tree, ribbon, bows and boxes.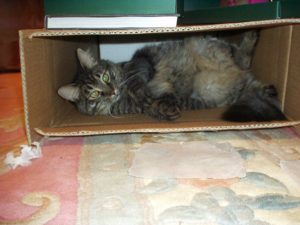 Skittles didn't like being held unless you held her just right on your left shoulder. She liked to sit on laps or snuggle under the blanket to not be seen. She was smart though because if you held her with two hands under the blanket and someone else came to pet her, she was suspicious. It was a rare moment when my dad could pet her. I think their relationship started off a little rocky when he would only come around to trim her claws. Eventually we gave up on that and when my mom went back to working, Skittles sought attention from more people. As Skittles grew older, she became very curious about everything. Even though she would run away from strangers for the most part, if you did approach slowly with your hand out so she could smell you, you might get a chance to pet her.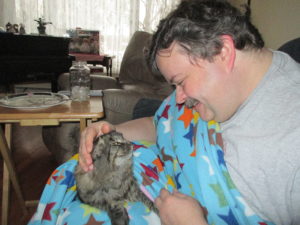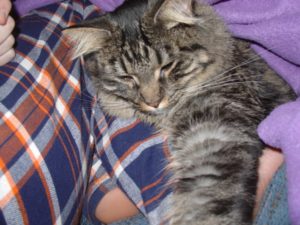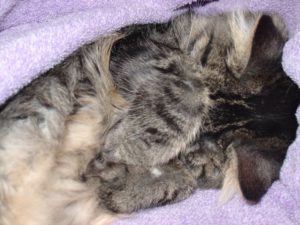 If you wanted to wake up Theresa in the morning, you simply put Skittles on her bed. Of course Skittles would soak up all the attention and loved her belly being rubbed. I always see a belly rub as the animal trusting you.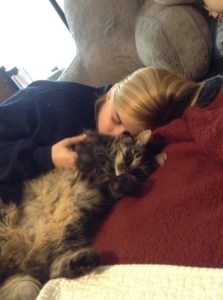 For almost 13 years, Skittles was with us. A month ago, I got to see her when I was unexpectedly home. I'm glad I got to see her then as just a couple weeks later my mom discovered a tumor on her leg and it was super aggressive. To have it removed would have been very invasive and would have left Skittles with 3 legs. In addition, there was no guarantee that would remove everything. It had seemed to already spread, so the family decision was to let her go peacefully.
I don't know how my big boy Tom will do without you. We will all miss you.
Thank you Skittles for all the good memories. Rest in peace.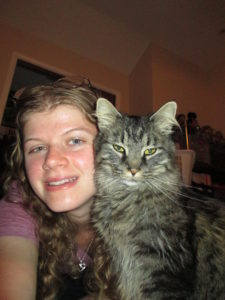 Linking up with Amanda for Thinking Out Loud.




Sharing is Caring: