Sharing is Caring:



I can't believe we are halfway through October already. I guess it is hard to believe because we had another weekend of 70 degree temps. I'm not complaining though. I think this week as we might get our first frost, I may need to bring out my Fall jacket. Though I also wonder by the time I bring out my Fall jacket, it may be too late and I might just need a winter jacket. Speaking of winter jackets, I've had mine since I was like 14 years old and I think this year I am finally going to search for a new coat. Any recommendations for a warm winter jacket appreciated.
Now back to the weekend. Friday at work actually went by fairly quickly. I am starting to get a few projects to do and that helps the day go by. I headed to my usual yoga class after work and it felt so good to stretch. I was good at doing yoga at least 3 times a week a couple months back but now it's more like twice a week. I need to work on doing some on my own at home, maybe a quick 15 minute morning routine or something.
When I got home, Brian and I chatted for a while. I called a few people and then before I knew it, it was 9pm and I got into bed, watching Netflix for a bit. Saturday morning I slept in just past 7. It's getting easier to sleep in with the sun rising later. I had some breakfast and then headed to get an oil change on my car. Luckily I was the third customer for the morning and it was done pretty quickly.
Once I got home, I had a bit of time to eat a snack and then head out for a massage. I am loving monthly massages. Not only do they help me destress and especially help my tight shoulders from sitting at a desk daily, but it has also improved my workouts.
I made a quick stop at Target and then picked up with ribs for lunch and headed home. Shortly after eating lunch, Brian and I headed out for the afternoon. We drove to Ithaca and walked around the top part of Taughannock Falls State Park. It was such a beautiful day and the parks were crowded.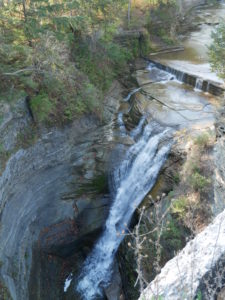 We had planned to make a stop at the lower part of the falls as well, but when we drove down, we found out you had to pay for parking. Apparently it's the last weekend they are charging but it seemed late in the season to still be charging. Somehow we lucked out with the top being free.
So instead we just took a ride and Brian (being the passenger) found a brewery to stop at on the way. I think Brian likes me driving so he can drink beer ;). Brian got 4 tastings at Hopshire Brewery. I made him get the hard cider to try and that was pretty good. As usual, Brian made me try each beer as well to see the look on my face, but I was surprised when I actually tolerated one of them quite well and took more than one sip. So my pick would be the Cohoperation that had a citrus and grapefruit taste and I think that's why I liked it.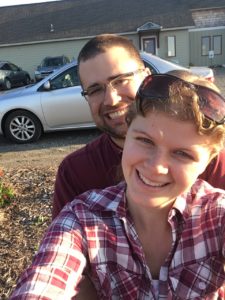 After the brewery, we made a stop at a cider place where Brian picked up 3 gallons of apple cider to make his own hard cider at home and I got a small bag of golden delicious apples for only $5. Golden delicious has always been a favorite of mine.
Along the drive, Brian and I enjoyed the country scenery. It almost felt like we were on vacation for a minute (at least to me) as we drove around. We then headed to Marathon to meet up with some family friends and join them for homemade pizza night. I don't eat pizza often, but homemade sounded delicious to me and it was, along with ceaser salad. We enjoyed chatting and catching up since I probably won't see them again until Thanksgiving.
We finally arrived home at about 9pm so it was a good afternoon and evening out and about. I wasn't super tired, so I decided to read in bed for a bit before heading to sleep.
Sunday morning, I was awake and ready to start the day at 7:15. I got up and quickly ate and then changed for the gym. I was excited to do some squats again. From issues with my right hip to traveling to having a terrible cold, it had been a good month since I have done squats. While the squats were challenging, they felt pretty good. I really have to build strength in my glutes again.
After a sweaty gym session, I splashed water on my face and turned on the AC in the car and went to Wegmans. I think I looked somewhat presentable…I also think my legs will be like jello for a while.
I got my groceries for the week and got right in the kitchen when I arrived home. I made some vegan pumpkin scones which turned out so delicious and also prepped my meat to marinate for tonight's dinner.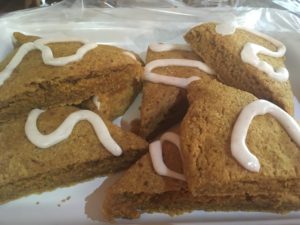 I was amazed how much I accomplished before noon. I'm writing this as Sunday afternoon has just begun so I'm not sure what I will be doing the rest of the day. I'm thinking an episode of This is Us and then some reading.
What's your favorite apple?




Sharing is Caring: