Sharing is Caring:



The first quiet weekend since the beginning of August, so I soaked it all in. I'm off work today so I plan to go to the gym, do some yoga at home and probably bake something.
Friday at work was month end close so I was fairly busy. Luckily, we were able to leave shortly after 3 still which I was surprised and happy about.
I kicked off the weekend with some chocolate almond milk soft serve on the way home. This was part 1 of my weird dinner combo.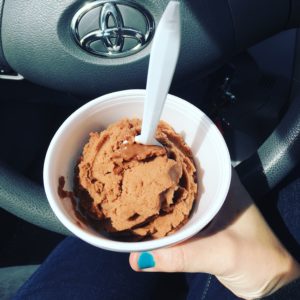 I then had a few slices of cheese and some chips and salsa for dinner haha!
Since I was home early, I had a bit of down time to work on my computer for a bit and then I headed to 6pm yoga. I was feeling pretty good since I had my second chiropractor appointment during lunch and the chiropractor said my spine seemed 1000% better compared to Tuesday's visit. My back has also felt better so hoping I am on the road to recovery but don't want to jump into weights too fast. I did light squats on Thursday morning and I was DEFINITELY feeling it on Friday in my quads. It had been almost 3 weeks since I last did squats.
Yoga Friday night though was absolutely what I needed! The vinyasa class went by so quickly. Like I didn't look at my watch until an hour had gone by and then I knew we only had 15 minutes and I didn't want it to end. Normally I find myself stare at my watch and only 20 minutes has gone by and I wonder how I will survive the class, but this class was good.
When I got home from yoga class, I finished working on a project on my computer and then watched New Girl on Netflix until finally getting sleepy.
Saturday morning was wonderful since I got to sleep in. I didn't have somewhere to be until 10am so I enjoyed sleeping in until 7 with no dogs around. I got up and made some breakfast and did some meal planning thanks to the help of Pinterest.
A quiet weekend to myself means cooking and baking. Also with the morning temps of 45 degrees, I no longer can feel bad for warming up the house with the oven to roast veggies or bake something.
I decided to go shopping for a bit before my hair cut appointment. I was really looking for more work pants and even though I tried on the same brand at Kohls, I seem to be in between sizes now and that is just super frustrating. Well I walked out with a sweater and a shirt at least. I then headed to Dick's sporting goods. I am getting a bit bored with some of my workout tops lately since I pretty much live in workout clothes when not at work. It was actually strange that I wore a normal shirt and jeans on Saturday to run these errands. I didn't find any shirts, but I did find a sports bra half off and some of my sports bras are a few years old so quite worn. I am trying to not accumulate too many clothes as I don't really have the space so I am going to try to get rid of some as I get new things.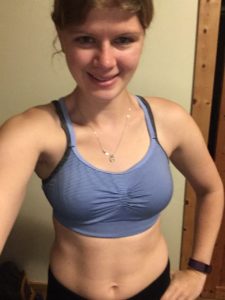 Finally it was time for my hair cut appointment across the street. I last got my hair cut in March while staying in a hostel in Australia, so my hair was due. I got a couple inches off but it's always hard to tell until I wash it and it curls. I enjoyed the straight hair for the day though as it doesn't tangle when it is straightened.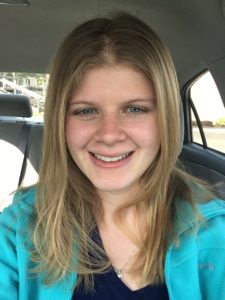 After that I went to Wegmans with a long list! I had some time to meal plan some recipes this week and knowing I would be home alone and responsible for my food got me excited. Cooking and baking are great therapy!
When I got home, I put together some lunch. I had to eat up some spinach and cheese in the fridge and bought some veggie sushi. Somehow I went vegetarian for both breakfast and lunch. After I finished eating my sister facetimed me just to say hello and we had some catching up to do. It was nice to talk to her for a bit and see her new bedroom and house for the year while she is in her last year of college in Iowa.
In the afternoon I was motivated to do some organizing. I decided to move the bookshelf into our new bedroom and organize my pantry items into baskets. I quickly drove to Target, which was a madhouse of college students, and picked up two brown baskets that work nicely to keep my snacks in place.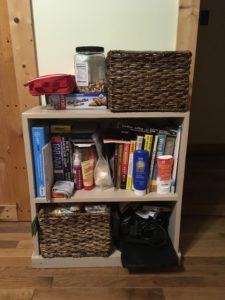 I then roasted some veggies for dinner and put together a delicious meal. This time with some meat, a turkey burger I had in the freezer.
After dinner, I spent most of the night watching Netflix. I just didn't feel like doing anything more productive in the evening.
Sunday morning I slept until 6:45. That seems to be the time my body is ready to wake up no matter when I go to bed on the weekend. I made some protein pancakes for breakfast and then headed off to the gym.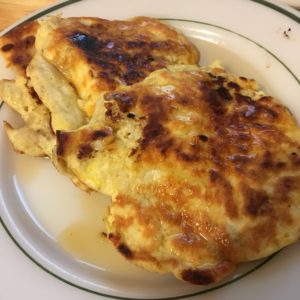 I need to make some new workouts, but as I slowly get back to what I was working on, I decided to do squats again today and increase the weights. Still not at the weight I was doing before, but getting there. The workout felt much better today. My back is feeling much better, just having some issues with my right hip still. Trying to focus on my hips being even as I think I was leaning into one side more without noticing before. A band around my thighs is helping me so I have been doing that and then some more glute bridges just to strengthen the area.
I left the gym with some free tomatoes. Back when I first joined the gym in May, the same guy gave me raspberry plants which have really taken off being outside in all the rain. No raspberries that I know of yet, but the plants are much bigger than before. I'm thankful for the rain at times because that means I haven't needed to remember to water the plant.
When I got home, I decided to take a bath. Home alone for the weekend has its benefits. I put on Yoga Girl's podcast and enjoyed listening along and soaking in the salt bath.
After my bath, I decided to get my file drawer from the basement. I actually forgot I still had that. I had to empty some junk from the drawers (that happens when you leave empty things in the basement) and then it was a challenge getting it up the stairs alone, but I managed. I grabbed my box of files and did some organizing.
Once I was finished with that, it was nearly lunch time. I decided to look up a vegan cauliflower pizza crust and make that with some tomatoes and veggies on top. I ended up making a totally vegan pizza, which you are probably thinking that's not pizza because no cheese, but yes it was just veggies and some grapeseed oil drizzled on.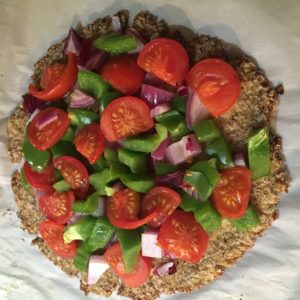 Honestly the pizza turned out so pretty but eating it was another story and not very pizza like. The crust crumbled, as cauliflower crust tends to do and I ate my veggie mix with a fork. I do have to say I think that was the best cauliflower pizza crust I have made. However it was only my second or third time making cauliflower crust, first time that it was vegan. The crust baked really well and had I topped with pizza sauce and cheese, might have held up better.
In other cooking news, Brian's mom didn't want her food processor so FINALLY after years of saying I should buy one, I got one without having to actually buy one. I brought that up from the basement (we don't have much kitchen storage) and made some vegan cookie dough bars.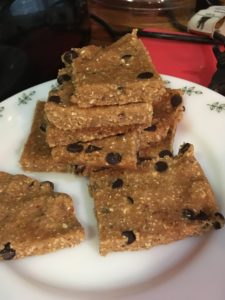 I'm not a huge fan of dates, but I liked this recipe as the dates were not overpowering. I cut up the bars after letting them set in the freezer and wrapped them individually and put them back in the freezer for an easy grab and go snack.
The afternoon was mostly spent doing some reading. I also snacked a lot so I wasn't super hungry for dinner but had some chicken and beans to keep me full.
I wrapped up the evening by doing some writing and reflecting before getting back to New Girl on Netflix. Overall a much needed to myself weekend. I thought about traveling somewhere for my 3 day weekend, but I'm glad I stayed home. With Sunday being rainy most of the day too, it was a good day to spend inside cooking.
What's your favorite thing to do when you are home alone?




Sharing is Caring: