Sharing is Caring:



I may have grown up in Illinois, but I still haven't been to the Illinois State Fair. I believe that would be about a 3 hour drive South from the Chicago area, somewhere among the corn fields.
Well now I live in New York State and just an hour from the place that the state fair takes place. Definitely more convenient.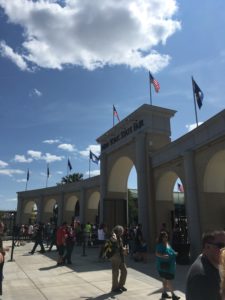 When Brian brought up the state fair a few weeks ago, I was totally game to go. Brian later second guessed why he brought this up, but he ended up having a great time and too many beers…I tried to stop him, but only had so much control. I guess this is why I am the chauffeur now and he loves it.
We left around 11:30 am on Sunday. Usually with big events, I love to be there first thing when they open, but that wasn't an option this time with my schedule and I figured it would be great to get there around lunch time and grab fair food. We arrived in the Syracuse area around 12:30 and then there was traffic to get to the fair parking. It took about 45 minutes to get to the parking lot and park.
We parked way way down the lot and walked over the bridge to the state fair. There was a shuttle bus, but the line was packed and we wanted some steps anyway. We arrived and paid the $10 each to get in and then we headed to find food. I settled on some bbq chicken wings which were a spicier bbq than I imagined so I had some nose running in there, but they were good.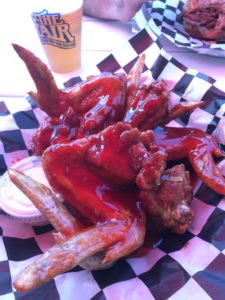 I then had to get a lemonade to help cool off my tongue. I got the refillable cup and we discovered during the day that we could just ask the lemonade stands to fill it with water for free. Filling with more lemonade would have been an extra $3 each time and after the first cup, I didn't really want the sugar.
We headed to the cow building first. Throughout the day, I noticed that the bathroom line in the cow building was always the shortest, just a tip!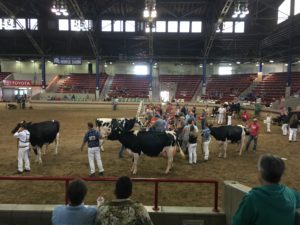 From there we went to the poultry building. All sorts of chickens, turkeys, guinea pigs, bunnies and more. As we walked through I took my time and was amazed at all the different birds and how "fancy" some of them seemed. Brian laughed watching me as I was like a little kid saying "Brian look at this one! Oh isn't he cute? Look at this one." I nearly lost Brian in the crowd a couple times as I was going slow and he was breezing by like it was nothing.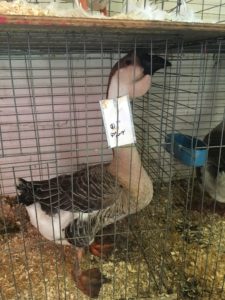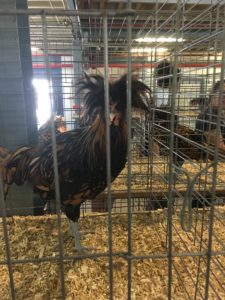 They had some giant bunnies. I actually babysat for a girl when I was 17 that had one of the giant bunnies as a pet so I was a bit familiar with them. I think my favorite were the velveteen rabbits though. I just love their floppy ears and they remind me of the book Velveteen Rabbit storybook.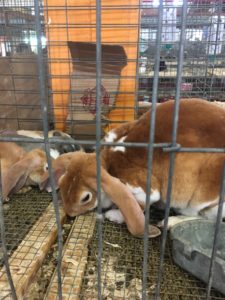 We then had to make our way to the dairy barn and find the butter sculpture. I was so excited to see a butter sculpture in person!! It was super cool. [Side Note: There is a movie called Butter that used to be on Netflix and after finding it, my family and I watched it a few times together, since then I have wanted to see a butter sculpture.]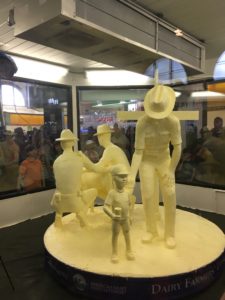 While I couldn't have all the dairy ice cream around, I did try some New York wicked sharp cheddar cheese and it tasted pretty good.
We walked through more buildings. I bought a bar of tea tree soap and we enjoyed chatting with the company owners about our Australia travels as they mentioned an Australian ingredient in their shaving cream they sold. Ever since traveling and using bars of soaps that are handmade, I have been into tea tree soap especially. I couldn't pass it up as I was nearly done with my current bar at home.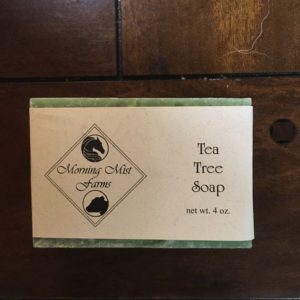 It wouldn't be a New York state fair without Maple products. We decided to get a small Maple popcorn to split. We actually couldn't even manage to finish a small between the two of us. I was tired of the sugar honestly and just wanted water. Was thankful for that lemonade cup and refills of water along the way.
Brian enjoyed many beers. So many beer places and every time we passed somewhere he had to check out their offerings. I think even I lost count, but he had like 4 beers and 1 cider or something. I tasted the supposidly grapefruit flavored beer and cider, but they didn't taste very grapefruit like.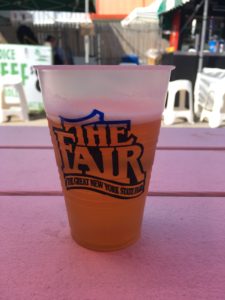 We could not have asked for better weather for the state fair. It was the perfect 70 degrees. It did get a little hot mid afternoon, but thankfully there were many buildings to stop in at.
We watched a blacksmith demonstration which was a great opportunity for us to sit for a bit. Then we tried to find the horses and discovered that there were not many there Sunday. Turns out they arrived later in the evening on Sunday.
We ended with getting some deep fried oreos. Honestly, I am not a big deep fried person and just wasn't feeling great with all the sugar I had had earlier and the last few weeks. Brian needed some food though and when at the fair…
I tried a small bite. Basically it tasted like funnel cake oreo, which essentially is what it is. Personally I like my oreos crunchy and not deep fried.
Walking around and exploring the fair together was fun and Brian and I were both glad we went. Sure it was crowded, but it's a fair, so what do you expect? It's definitely an interesting experience being in a smaller town as people aren't used to traffic and big crowds so their road rage and such is on a whole different level.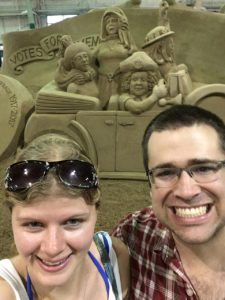 We left the fair between 6 and 7 and then headed to a friends house that was just a quick 15 minute drive from the fair. They were cooking up burrito fillings. While I didn't think I was that hungry, the food was delicious and I was happy to have some veggies and non fried food for dinner while enjoying the company and checking out our friend's house.
Shortly after 8, it was time to call it a night and get back on the road. There were some crazy and stupid drivers out, but eventually I was able to mostly cruise on the way home.
Have you ever been to a State Fair?




Sharing is Caring: