Sharing is Caring:



I knew July would pass by in a blink with 3 of my weekends being booked with things. I really can't believe summer is nearly over. I feel a little gypped from summer with all the rain we have had. Plus I am one of those people that bugs like to bite so I can't sit outside at the house. The park with more openness/ less woods seems better but I run errands and such on weekends that I don't get much time there. I am glad I got my summer fix in Australia this year.
Anyway, July goals. I did really well. The only one that didn't happen was getting to a state park which I knew was a reach goal.
Study yin yoga – success! Even after the first weekend I came out knowing so much more about yin and what it is.
Blogfest/ IDEA world – major success!! Flights were thankfully all on time. Landed late in Detroit coming home but still made my connection with a sprint through the airport. Also thank goodness for motion sick pills. I connected with so many bloggers and personal trainers. I traded some of my business cards with people and overall the convention was a dream with blogging and fitness people sharing my interests. I am now really hoping to make next year. I already started looking up approximate flight prices to San Diego. In case you missed it, I wrote about my Blogfest/IDEA takeaways here.

IDEA world party my roommate Linda

Yoga 2 times a week – If I count my yin training, I did yoga 2-3 times a week most weeks so I would say success again.
Go to the mall – over July 4th weekend I was excited to go to the Syracuse mall. I like walking around big malls even if I leave with only 1 bag. I love my new jeans I bought and I know in time I will find work clothes I love. It was also nice to have an afternoon with Brian.
Going to a state park – like I said, this was a fail but hopefully in the Fall with the pretty leaves and when I am done with yoga training I will be able to go. Nicer to hike in cooler temps too.
August goals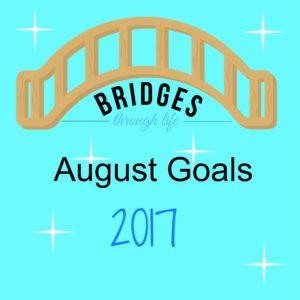 Set up photo gallery on blog of bridge photos – This is one suggestion I got from Blogfest during peer review of blogs and I love it. Of course I have no idea how to set up a photo gallery but there are always new things to learn so hopefully I can figure it out. I already have a good portion of my bridge photos in a separate folder on my computer so once I figure out the gallery set up, should be easy to upload the photos. Already got a head start on this on the 30th, check out my page so far.
Update Yoga page – I haven't updated this page since 2015 and want to add in my Yoga Workshop Friday posts with thumbnails hopefully too
Pass yin yoga training – Just two more weekends of yin training and it will be complete. That goes so much faster than a 200hr training over 6 months. I have learned so much and I really think yin yoga balances me out with my weight training. Even though I learned weight training is more yin like, I feel more calm in yin yoga and it reminds me to breathe and be OK in stillness.
Explore bullet journaling – I don't know if this is a new thing or it just recently became so popular but I have been watching Caitlin's corner on YouTube and she does so many fun bullet journaling videos. I love the artsy part of the bullet journal and I recently listened to The Chatty Sisters bullet journaling and love how there are many different ways you can do it. Of course I want to use lots of colors and just bought a starter pack of Tombow pens.
With yin training, August is feeling pretty busy. I think these goals are pretty good for focusing on. I am definitely processing my notes from Blogfest and Idea world and feeling inspired and motivated to continue to work on this hobby of mine. It's nice to have something to look forward to at the end of the day.
Have you tried Bullet Journaling?
What is one of your goals for August?




Sharing is Caring: