Sharing is Caring:



Happy Monday!! I missed you all on Friday. I am heading into my second week of work. I think this week will involve more work as last week was orientation, meeting everyone and shadowing people to see what they do. So far I love all my coworkers and I am already thinking of ways to make things more efficient. All of my jobs post college have been in such different environments and so far I have been continuing the trend of moving into larger companies. Someday I will have to write a post on my experiences. For now, let's get to the weekend.
It was finally a beautiful weekend. Friday started out foggy, but by lunch, it was so warm and bright outside. I was even able to get in a short walk after work. I took a few more rest days this week as my knee has been bugging me a bit and it was nice to just stretch my legs and get some walking in the sunshine.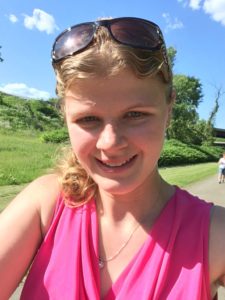 I arrived home and was greeted by Holly, Brian's aunt's dog, whom we were watching for the weekend. My night was split between playing with her and watching Netflix. By 10, I was ready to sleep as I had a rough night sleep the night before.
Saturday morning I headed to yoga and ran some errands before returning home and seeing that Brian was home. We had the afternoon to spend together. Brian wanted to nap for a bit and gave me instructions for working the smoker. I cooked up some sausage patties for lunch and then we decided to walk Holly to tire her out. She is still a puppy, not a year old yet, so we need to tire her out so she isn't all hyper. Brian decided we would walk through the woods and park area, except not on a trail. While I was OK with the clothes I was wearing and didn't mind getting a bit muddy, I wish I had worn bug spray and my hiking boots. Anyway, I survived and Holly learned to jump over tree logs on the ground and enjoyed the water in the creek.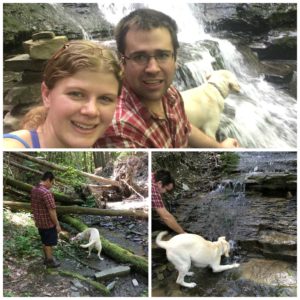 That was a good workout for the afternoon and since we were mostly in the shade, it didn't feel as hot. After that, I felt we deserved some ice cream. I don't know why, but I was actually craving some and knew the ice cream place down the road had almond milk ice cream. We headed out and the flavor was orange.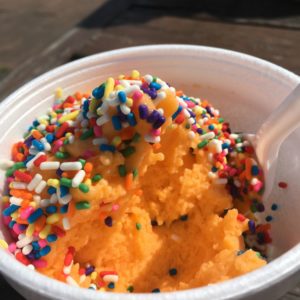 I swear it tasted like orange soda ice cream. It was sooo good. Also sprinkles are always necessary. I ate it so fast and was like, wow that was the best probably since the coconut soft serve with cookie dough bits I had in Melbourne Australia which still ranks #1 best dairy free ice cream I have had and this orange almond milk one would be #2 now. I think they rotate the flavors weekly and this might be a place I have to make multiple trips to this summer. I honestly haven't craved ice cream much since realizing I was lactose intolerant and suffering in pain after eating it, but it is a nice treat once in a while on a hot day. I am glad more places are offering a dairy free option.
By the time we got back, it was time for Brian to head back to work. Ice cream kinda took away my appetite for dinner (totally worth it) so I snacked my way through dinner. The evening was relaxing which was nice since I don't have as much down time during the week now.
Sunday morning I was up earlier than Saturday and I didn't even set an alarm. Don't you hate how you want to sleep in on the days you have an alarm set but can't and then the day you can sleep in, you just can't…
Anyway I made some breakfast and watched Netflix and did some stretching for a bit and then decided to go to the gym. I wasn't sure if I would go or not based on how my knee was doing, but I decided to go and work up a sweat. I did my box squats but went back to the 18 inch box instead of the 12 inch plus 2 pads. I have been working on deepening my squats and have definitely built a lot of strength my legs didn't have before. However with my knee aching a bit, I decided to just go back to the 18 inch box that I started with about 6 weeks ago. I have to say, the box felt so EASY!! My first training session in the beginning of May, it was even a challenge for me to get my butt to that box but now it was like, oh the box is there, time to stand up. I am so happy to see these results in my workouts and have it feel a bit easier or increase the weights. I am definitely less sore than I was in the first two weeks as well. I hope to get a new workout routine soon to continue to challenge my body.
Overall the workout went well and my knee was good. I then headed to Wegmans for weekly groceries. Yes I go to Wegmans straight from my workout in my leggings and sweaty because I don't feel like stopping at home in between when I am already out.
One thing on my list was applesauce. I want to experiment with it in a recipe but I don't buy it often. I think I spent 15 minutes or so going down every aisle and was about to ask someone when I found it with the canned fruit. I guess that makes sense for location. I am used to the fruit and applesauce to be in the baking aisle at other stores.
After getting all my groceries, I came home and poured myself a bowl of cereal. I bought some of the Love Grown Honey O's cereal as one of my impulse buys this time around. I was just craving a bowl of cereal. So that was my after workout/pre lunch snack.
The rest of the afternoon wasn't too exciting. I went back to studying some anatomy for a while, caught up on blogs and played with Holly in between. I then did a bit of meal prep for the week, cooking lentils for the first time. I think they turned out pretty good. I had some dinner and then ended the night with a lavender salt bath and some reading.
Thanks Katie for the link up.
What's your favorite ice cream?




Sharing is Caring: