Sharing is Caring:



I ended my Europe travels with a short visit to Dublin. This was because it was cheaper for me to fly through Dublin after being in Barcelona to head back to Chicago and they have direct flights to Chicago which is always my preference. I decided to leave Barcelona on a Thursday and the next flight to Chicago was Saturday. Another thing I loved about leaving to the US from Dublin was that you do your American customs in the Dublin airport so when you land in the US, you just go to bag check and you are set. Keep this in mind if you are headed to Dublin, as you will want to get to the airport at least 2 hours (preferably 3) before your flight.
While my visit to Dublin was short, I got some great recommendations from an old co worker's daughter who lived there and enjoyed my short time, even though I was also fighting some sort of stomach bug.
My number 1 recommendation if it is your first visit to Dublin, would be to do a walking tour. I discovered Next City walking tours while in Barcelona through my hostel there and noticed they had tours in Dublin. It's a "free" tour, as in pay what you wish, and takes about 2.5 hours or so. Our tour guide was super knowledgeable and took us around Dublin to the popular sites. If I had stayed longer, I would have loved to do more of the guided tours at the specific places we stopped, which I will list below.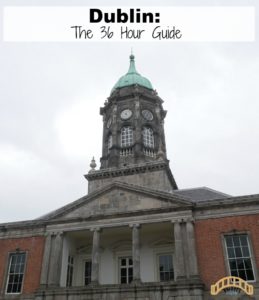 Here are a few places you won't want to miss while visiting Dublin. All of these places are within walking distance of each other and can definitely be visited within 2 days if you time everything. If you are visiting Dublin for a longer period of time, there are many more sites to see, but these are the top places and things I did for a short stay.
Arlington Hotel Dinner and Celtic Dancing show

This was recommended to me to see some Irish dancing and enjoy an Irish meal. Keep in mind you should book online. Also there were two times, 6 and 8pm, but the show doesn't start until the later time so if you go early, you may be done eating by the time the show starts. I really enjoy Irish dancing and Celtic music so the show was great, though I left early due to not feeling well.

St Patrick's Cathedral

A medieval cathedral and The National Cathedral of the Church of Ireland. There are also tours you can go on to see the inside during the day.

Dublin Castle

Though there only remains one original piece of the medieval castle, the castle has been kept up and rebuilt over the hundreds and hundreds of years and is used for the Irish government now. There are castle tours daily, but go early in the morning as they sell out of guided tours quickly. There is always a self guided tour though for a small fee.

Trinity College

Ireland's oldest university and home to the Book of Kells. It's amazing how much history fills the walls of this university. Definitely a must to walk around and try to get a tour at least into the library to see the millions of books and the Book of Kells.
My short stop in Dublin was kind of a sneak peak for me to learn what I should visit next time. I unfortunately didn't make it to any guided tours of the inside of Dublin Castle and Trinity College, but would love to go back and do those. I would also take a tour of the Guinness Storehouse, even though I am not a beer drinker, the tours are interesting and I know it is something Brian would enjoy. I would also love to stop in the Temple Bar area to take a yoga class at Samadhi. I've taken workshops with Greg Walsh, one of the teachers, in Philadelphia at The Yoga Garden but unfortunately didn't have time to meet up with him.
I hope this guide helps you start your list of places to see in Dublin and if Dublin wasn't on your bucketlist before, it should be now.
Have you been to Dublin?
Do you like Irish Dancing?




Sharing is Caring: