Sharing is Caring:



I know it has been a couple weeks, but I am finally sharing what to do, see and eat in Barcelona. I don't usually have a guide to food, but my friend's sister took me around to many delicious places. I loved having a private tour guide since she was studying there for the semester and already knew her way around. It definitely was less stressful since I don't speak Spanish even though most people do speak English in Barcelona. One thing I learned when going grocery shopping for a few items is that there is a scale somewhere in the store that you need to weight and get a label for any produce you buy. Both times I went to the store, the check out person did this for me as they must have known I was not from Barcelona.
While I tried to book an Airbnb for my stay in Barcelona, I didn't have much luck due to high travel season (spring break time) and opted for a hostel instead. I stayed at the Bed and Bike Hostel and shared a room with 3 other girls. We had our own bathroom which I loved. I was mostly there to sleep and eat breakfast, but it was a very nice hostel. You can also borrow a bike for the day with a simple deposit that you will get returned when you return the bike. Biking is very popular around Barcelona. I didn't get time for a bike ride but one day I walked 38,000 steps around Barcelona.
Below you will find a list of some of the places I stopped at and some delicious places to eat.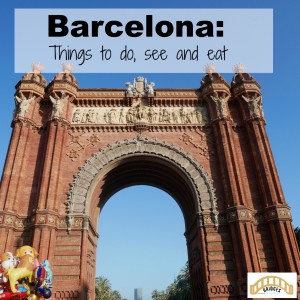 Things to See/Do
Park Guell

The draw to this park besides the architecture and the beautiful view of Barcelona, is the park bench. The bench requires tickets for about 6-8 euro. I would recommend booking your time online. There is a timeslot every half hour. I went in the evening as my friend recommended to see the sunset, but unfortunately the bench tickets were sold out. There are still beautiful views all around the park and a great place to go during the day or evening.

Picasso Museum

Why it never occurred to me Picasso was from Spain, I don't know. I learned about him in art classes growing up and associated him with Paris because he did spend some time there as well. I really enjoyed this museum. It was around 20 euros as I purchased the audio guide as well. I recommend the audio guide for art museums especially in foreign countries so you can get the background in your own language. It took me about 2 hours to go through the museum. Obviously you could spend as much time as you want, but that was listening to enjoy of the audio guide segments and looking around. Also buy these tickets online because then you can show up at your time and bypass the line to go in.

Santa Marie Del Mar

One of the many churches you will come across in Barcelona. There is free entry before 2pm and after 5pm. Definitely worth a walk around.

Sagrada Familia

The famous Roman Catholic Church in Barcelona designed by Gaudi. The construction began in 1882 and rumor has it completion is anticipated to be in 2026. The church is funded by the daily tours. Again, I would recommend buying a ticket online. I arrived there shortly after 9am one morning and couldn't get a ticket because they were sold out. Sadly I missed seeing the incredible inside of this church, but hopefully I will go back to Barcelona another time, maybe around 2026 when it is finally done.

Montjuïc

I don't know an English translation for this other than it's a mountain. There is a gondola you can ride up to the top, or you can walk like I did (this was my 38k step day). I would suggest bringing water and maybe a snack to go up. Then from the top, you can get some incredible views of the city again.

Olympic stadium

Near Montjuïc is the 1992 Barcelona Olympic Stadium. I personally love seeing old Olympic stadiums and just imagining the huge crowds they were built for.

Arc de Triomf Barcelona

Built for the 1888 Barcelona World Fair, you will definitely want to stop by the Arc de Triomf for a picture. I definitely feel like the Paris Arc is more famous, but this one is a reddish color and absolutely beautiful.
Places to Eat
Recapping all of what I saw and ate in a short 3 days makes me want to go back to spend more time. I literally did no research beforehand, putting the pressure on my friend, but she didn't mind. I hope this list helps you get ready for a trip to Barcelona.
Have you traveled to Spain?




Sharing is Caring: