Sharing is Caring:



After 4 days exploring Rotorua, I decided to put together a few places that are fun to see and fit a budget. All of these activities could be done in just a couple days if you plan it out. We visited quite a few parks and one thing we noticed was that many parks charged an entrance fee. Essentially everything had a fee, which can make a trip quite pricey. To help you be more prepared than I was for the trip, I have put together a list of a few of the activities we did that were a lower price fee (under $40) or free.
What you should know about Rotorua is that it is the volcanic area consisting of lots of geothermal activity. It is important to stay on marked paths because even if you think something looks solid, it might crumble beneath your feet and you may not be far above boiling water. With that said though, I don't want to scare you, as Rotorua is a beautiful place. Due to all the hydrogen sulfide in the air, certain areas may smell like rotten eggs, but I honestly didn't find the smell that bothersome (if you have ever been to Hawaii Volcano national park, I felt it was worse in some areas there). Below are some ways to enjoy the variety of activities the area offers.
Price: $32.50 per adult
This was definitely one of my favorite parks that we visited in Rotorua. I recommend getting there by 10am to see the Lady Knox Geyser first. They set it off at 10:15am every morning. It would go off by itself about every 72 hours, but they have a way of inducing the geyser which is cool to see. After watching the geyser, you can take a walk through the park. What I loved about this park was that there were 3 trails clearly mapped out on the guide and there were about 30 places marked to see along the 3 trails. I recommend taking the longer trail which only takes about an hour and a half, but if you don't feel like you have that much time, there are 2 other options. The map is easy to follow throughout the trail(s) and it gives a little bit of information about why they named certain areas a specific name. My favorite was the artist's palette, easy to see why they named it that because of all the different colors you see. This is purely natural and just the way that different minerals react with one another. Nature really is beautiful!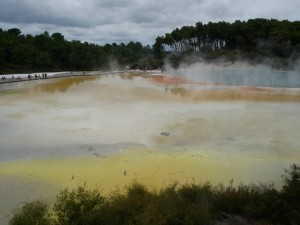 2. Skyline Rotorua luge track
Price: Gondola and 5 luge rides regularly priced at $56 but Christmas to the first week of February offers Night ride package at $39 starting at 6:30pm
If you are looking for more adventure, Skyline is one of the places to go. There are tons of different activities like zorbing and sky diving and more through Rotorua, but they definitely don't come cheap. I found the Skyline luge track to be pretty affordable. It worked out for us that we were traveling at a time that they offered a night rate at a discount. So if you aren't visiting Rotorua between Christmas and the first week of February, this is a bit more pricey at $56 for 5 rides (cheaper if you do fewer rides), but if you are visiting during the summer, they offer the gondola and 5 luge rides at $39 between 6:30 and 10pm. I didn't even know about the luge track until we were on the bus to Rotorua and asked some other people what they planned to do. I was a little hesistant at first with how fast they went, but the luge is controlled by you and there are 3 tracks; scenic, intermediate and advanced. It is required to ride the scenic one first I believe and then you can do any of the others for your other rides. This is a great activity for a family with kids as well. Little kids can ride with you on the scenic or intermediate track and if they are a certain height, they can drive their own luge down the track. Super fun!
I will also mention that we upgraded to add in the zip line and 10m freefall for another $40. This is optional, but shows you how there are many options at this park area. I love zip lining. I was afraid about the freefall, though it's not that high really. It was just really hard for me to drop off backwards, so I was pushed and it was quick, but not something I personally would normally do. If you are into that though, by all means, go for it!!
Price: tree walk $25; other walks FREE
On our last day in Rotorua, we checked out the Redwoods forest. We had plans to do the treewalk, but when we found out it cost $25, we just decided to pick a trail to walk. We picked the green trail which I think was about a 2 hour walk with some fitness level. We didn't realize how much uphill we would be walking but honestly that was a short amount of the entire trail and then it was flat or downhill. It is free to walk the trails through the park and I honestly thought it was much better to see more of the part that way than the tree walk would have given us. We even crossed some of the tree walk towards the end of our trail.
If you don't want to do a 2 hour walk, no worries. There are walks that start at a length of 30 minutes and of course there are longer than 2 hour hikes if you are into a half day hike or something. It felt really refreshing to walk among the trees and smell the fresh air.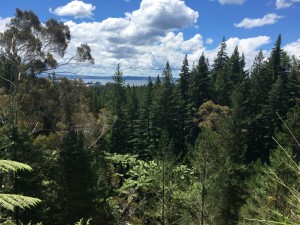 4. Government Gardens
Price: FREE
The Government Gardens is a park right next to the center of town. This was another place we enjoyed going for a walk. We started at Sulfur Bay and walked the trail that went around part of Lake Rotorua. There were beautiful views of the mountains/volcanos and also some geo thermal activity from sulfur bay. This area is also a protected wildlife area. You will notice many birds around the area. They tend to be near the geo thermal activity as insects are drawn to the warmth of the areas and then end up dying if they touch the water and it makes a great place for the birds to get food that way.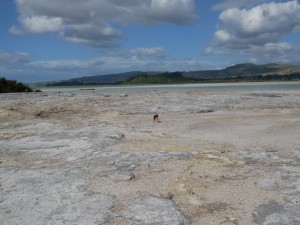 Price: $29 per adult
Polynesian Spa is right next to the Government Gardens and contains many mineral water pools. They source their water right from the geo thermal area and have pools filled with Priest Spring water as a Priest came to the waters and claimed sitting in the waters relieved his arthritis. There are both acidic and alkaline waters. The slightly acidic pools (Priest springs) are good for relieving aches and pains and the alkaline waters aid in nourishing your skin.
The Polynesian Spa is open late so this is a great activity for after dinner to relax in the evening. It is also nice when it is slightly cooler outside. The temperatures of the pools range from 100 degrees F to 107 degrees F. They offer an adult rate and also a family rate and have separate family pools. If you wanted, there are also private rooms with a pool for a couple. This is also $29 but limited to 30 minutes, whereas if you just bathe in the adult pools, you can stay as long as you like. The adult pools were nice, there were 3 slightly acidic and 3 alkaline pools as well as a pool that was at least 4 feet deep and 100 degrees to stretch out your legs a little more.
Polynesian spa also offers massages as well which would obviously be more expensive. I think the adult pools was a great way to experience the Polynesian without spending too much money.
If you are looking for a mud bath option, I would recommend Hells Gate. This is not really a budget friendly option, but for a mud bath and mineral water pool experience, you can get the combo package with the park for $90 a person. You get 20 minutes in the mud pool and then as much time as you want in the 2 other mineral pools. I loved this as I had never done a mud bath before, but it was a fun experience and definitely made my skin feel softer. You could also do just the spa activities for $75.
Have you ever done a mud spa bath?
Where are you planning your next vacation?




Sharing is Caring: