Sharing is Caring:



This weekend went by in a flash. It was so fast but I do feel I was productive with my time which is always important. Let's get into the highlights of the weekend.
Saturday was my day to run errands and also fit in my swim. I was able to swim 2 miles and it went much better this week than
last week
. One guy at the pool was watching me swim and asked why I wasn't at the Olympics. HAHA I laughed and said "I'm not THAT fast." Though I feel like I probably have improved since my 1 year on the swim team in high school, I am still slow compared to swimmers but I enjoy my time in the pool and appreciate the comment.
In the afternoon, I helped my friend make some cookies and helped with party stuff for her 3 year old son. I then spent an hour at the pool beginning to read my new book The Yamas and Niyamas which I heard about from Alisha Leytem in her recent video of book recommendations. I also just got the Harry Potter book so need to read that too.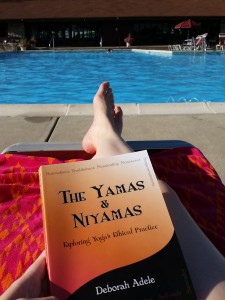 I came home and made some dinner. My goal this week was to use up meat from the freezer so my grocery bill was finally a bit lower. I also plan to snack/eat out for dinner two nights this week so I knew I didn't want to buy too much as I usually do.
I think my dinner turned out pretty colorful.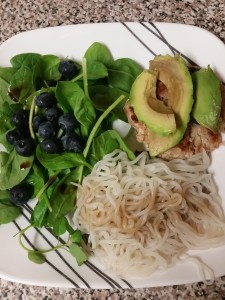 I then made some blueberry scones. I kept seeing recipes for scones and had not made them in forever. I searched for some dairy free recipes and came across that recipe I used. My usual scone recipe uses buttermilk and I feel better when I am dairy free (or at least dairy free milk options). The scones fresh from the oven were amazing.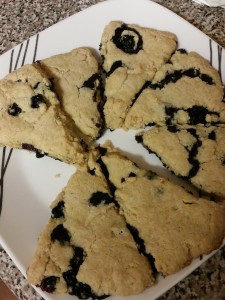 Sunday was my productive morning. I worked on food prep and cleaning up. I barely ate breakfast I was so motivated to get things done. Oh hey you can see my table again!! I never eat at the table but my sister is coming to visit this coming weekend and I wanted to have it clear to eat meals together.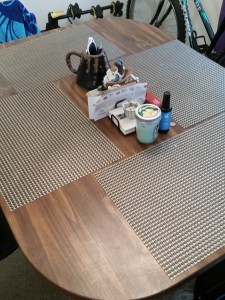 I had some brunch at 11 and then headed out to teach yoga. Straight after yoga, I headed to a nearby park where my friend was having a birthday party for her 3 year old. I came towards the end of the party which was fine and just chatted with other neighbors and munched on popcorn, cupcakes and cookies (my second lunch?).
We wrapped up at about 4pm and on my way home, I somehow got stuck in the middle of some parade of jeeps with US flags. I wasn't sure if it was a funeral line as I didn't see funeral stickers but I don't believe you were supposed to break up the line and there were tons of police escorts. There must have been 50 cars/jeeps or more. For a half mile a police car was behind me but I was pretty sure he wasn't pulling me over and I was just trying to get off. I had to take 1 exit early as I was weaving between cars and seemed to not be able to get around them so I took a bit of a detour but finally made it home.
Then it was off to the pool again. I can't get enough of the sun. It brings me so much happiness. Some more reading and sun time was nice and then put together some shredded chicken and veggies for dinner.
This shirt sums up my Sunday, "Sweat Now Dessert Later" and I definitely sweat and ate dessert on Sunday.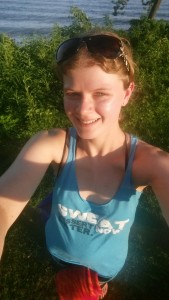 My evening was spent watching the Olympics from Gymnastics to Swimming, those are the two I like to watch. I got hooked on Gymnastics during the 2012 Olympics watching Gabby and now there is Simone who is killing it! I am hoping we can keep the Olympics on at work so that every time I walk through the kitchen I can see what is on.
Have you watched any of the Olympics?




Sharing is Caring: